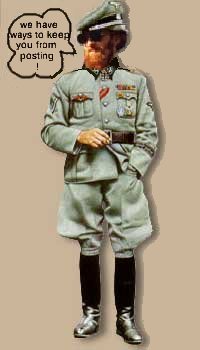 Page for Scott Eiler
---
Quick Bookmarks... Home Mail Web Usenet Weather Maps Church Cartoons Bible Social Shopping Everything .
Contents: My Bookmarks My Other Links My Search Engine Stuff About Me Back Home .
---
Well, this is my page full o' links. I keep it around for my own use, but you may like it too.
Here are some of my favorite bookmarks for my own benefit, so I can get useful stuff from any Web browser. But who knows, you may like them too.
Here's some other stuff I provide links to for my own occasional use, and as a public service in addition. Nobody can keep up with the Web, so these may be out of date. But the crowd once went wild for... , why not custom patriotic flags?

Join the Fight Against Spam! Did you know that junk e-mail costs you money to receive? I've joined an organization which promises to annoy our Congressmen until they make people stop sending us junk e-mail.
Hero System Combat Applet. It does not realistically simulate a comic book. (For instance, I think if Thor fought a ninja, the ninja would hide.) But it's still a useful tool in who can clobber whom all-out.
CaringBridge

I now support the use of Google, which catalogues the entire Web whether or not you pay to have your web pages included. All search engines that make you pay for inclusion can bite me. (In case historians ever wonder how the word "google" entered the English language, I like to think my support helped.)
---
---
Scott Eiler, Secret Master of Webitude
email seiler@eilertech.com
Yes, that's my real e-mail address, right here on the Web. And it isn't changing any time soon. If you're a real person and as smart as a lab mouse, you'll have no problem with my spam filter. If you're just a spammer and you somehow make it through anyway, then enjoy your very short and non-productive victory.
Copyright © 2012, Eiler Technical Enterprises