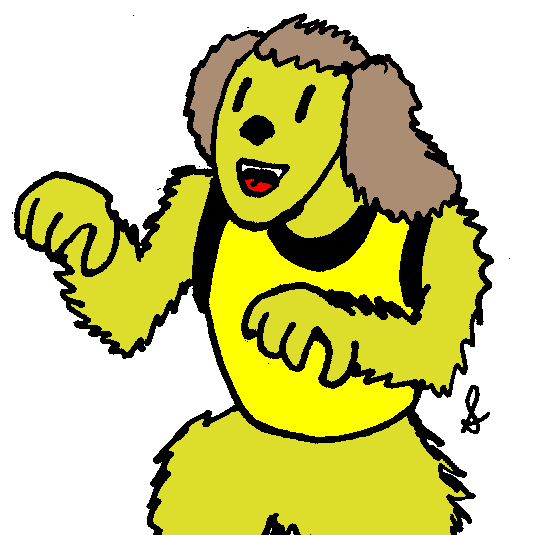 History
Quick story: Doctor Fu has bred a dog. She named him after his favorite food, Pizza. Of course there are details...
As a teenage girl, Grace Fu fled Fujian province in southeast China, to Taiwan in 1949. She eventually worked as a farmhand on a ranch near Pendleton, Oregon, U.S.A. So she gained interest in animals. She then got a doctorate in biology - then one in animal husbandry. She went back to that same ranch, and bought out the owners. She runs that ranch, even today.
After experiments, Doctor Fu bred one special dog in 2006. He was such a mathematical prodigy, he made a sponsored appearance on Wall Street, New York, USA once. He quickly snarfed some free-hanging pizza. So the Doctor's dog became known as Pizza Fu.
By 2008, Pizza Fu had met superheroes on talk shows. Those included a journalist Sylvester Morrow, a broken-down 80's pop star/mystic named Christine Lassiter, and the lazy patriotic hero Private Danger (whom Doctor Fu also sponsored). They teamed up on adventures filmed by reality TV. The first one took them to Maquoketa, Iowa, home of the infamous Evil Mayor Russell Anvernacht. That adventure exposed some governmental corruption, involving hyper-bred cows. But it also made Anvernacht a (minor) national celebrity.
In the uprisings of 2010, Lassiter and Private Danger got mind-controlled away from the Fu clan. Morrow was drawn away in their adventure. But Doctor Fu barely noticed. Her dog had grown past expanding its sociability. She commenced to train the dog's higher intellect.
As of 2011, Pizza Fu was a mature and highly-trained dog of his breed. He and Doctor Fu were presented with a portal to a new world, during the Powernaut Rapture. The doctor and her dog chose to go together.
On the other side, the Fu clan had changed. The Doctor was youth-ized, about twenty years. The dog had lost a corresponding three years. So he was barely more than a puppy again.
Doctor Fu has therefore started to retrain her dog - but this time as a human-level student, in the nearby Power School.
---
Personality
Pizza Fu is a well-socialized young dog. He may growl at threatening strangers, but he makes friends easily. He even makes friends of disinterested humans.
---
Powers and Abilities
Pizza Fu is well above average size, strength, agility, and intellect for his breed. He even exceeds human abilities in some aspects, such as computer abilities and martial arts.
However, Pizza Fu is fixated by treats - especially pizza. Doctor Fu has considered whether her life is still long enough, to try to bio-engineer a solution to dogs who want treats... She's given up.
---
Appearance
Pizza Fu is a breed of bloodhound and spaniel, suited to hunting. He always wears a specially-tailored human-style shirt, but keeps his groin and legs unclad.
---
Publications
---
Author's Notes
Heh. When I envisioned Pizza Fu, I did not consider it would come to anything other than a cheap tribute to a certain cartoon mystery dog I grew up with. But then came Powernauts vs. Hypno-Buffaloes (vs. Obamas, heh). And so I had to infer the existence of one Doctor Fu. She's about the biggest plot hole I've ever had to fill, other than Hypergaard. Like Hypergaard, Doctor Fu has flowed the plot hole over. As for the darned dog, I now declare him Most Likely to Ever Take Over Powernaut Comics. So I suppose I should document Pizza Fu.
(signed) Scott Eiler, 29 July 2017.