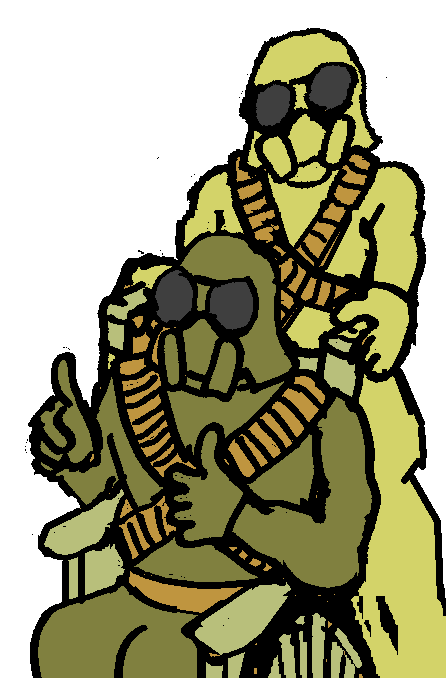 History
The first Bandolier faced superhumans as an equal, with his own technology. He could throw personally-crafted grenades at people, and usually get the effects he wanted. He intervened in the affairs of superhumans from the early 1990s to the end of the next decade after, almost twenty years.
The second Bandolier retired toward defense against most everyone, but got into a diplomatic row with Iran to free her father.
---
Personality
First: Obnoxious. Second: Increasing acceptance.
---
Powers and Abilities
Grenades. Plus armor and a gas warfare mask, at about the maximum extent any United States soldier might ever wear anywhere.
The second Bandolier has superhuman strength and reflexes, plus contorionist-level malleability. She is the daughter of superhuman parents, both deceased. The first Bandolier adopted her.
---
Appearance
Whenever outside a full suit of armor... a highly trained civilian. Whenever inside the armor... Kind of scary.
---
Publications
---
Author's Notes
They've been with me all along. One of these Bandoliers debuted alongside Psychovant the Duck. Now they've made the big time.
(signed) Scott Eiler, 30 August 2017.