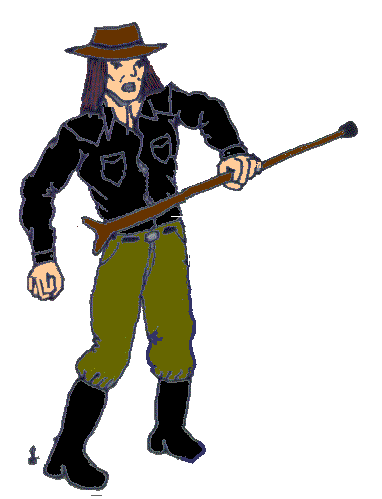 History
Wyatt Ferguson (born June 1961) is one of the oldest active superhumans of his world. He has been involved in superhuman affairs since he was eight years old. At that time, an extradimensional supervillain abducted him and several other children who would one day exhibit superhuman powers. The Powernaut of 1969 rescued the children, but the experience was so traumatic that Wyatt did not psychologically recover until 1971.
Wyatt had a normal youth and young adulthood thereafter: public school in Clermont, Indiana; university in the engineering co-op program at Purdue; defense contracting in Massachusetts. This persisted until 1988, when Wyatt began his life of adventure. He kept an journal, which is one of his world's leading primary sources of superhuman history. It would be silly to reproduce that history here, but some summarization is useful.
---
Personality
As a young adult, Wyatt Ferguson sought adventure. Now he does not, but he is a weirdness magnet and usually finds it anyway. He is not a standard hero, but he seldom refuses to help when someone asks him to. He is not a journalist, but he is obsessive about journaling his own travels and adventures. He is also highly moral in his own way. Together these characteristics make him prominent in his world, well beyond what anyone might expect of him.
Wyatt is extraordinarily well-connected among his world's superhuman community. They know, his motivation level fluctuates greatly. But he's considered to be experienced, resourceful, and calm at all levels of weirdness. He really has seen it all.
Wyatt's relatives are compicated.
His mother died naturally in the 1990s. But she still haunts him, and more often his sister.
His father is presumed dead. He is now alive, but disappeared. Most likely he is hiding out in northern Labrador.
Wyatt, along with his siblings Calvin and Lauren, are grandchildren of the World War 2 hero Secret Commando, who still lives in central Labrador. Wyatt and Calvin get along well with their grandpa, but he likes Wyatt best (despite thinking Wyatt is a dumb$#!+ at times).
Among the siblings, Wyatt was the beleagured middle brother. Calvin was the protective elder brother, while Lauren was the bossy little sister. They all get along nowadays, though. Calvin Ferguson has wielded U.S. Government shrinking armor. And Lauren seems to have a secret life.
Wyatt can freely travel where he likes, yet he almost always has more important things to do than personally interact with his relatives. He has arranged to live thousands of miles from them.
---
Powers and Abilities
Wyatt Ferguson has decent gadgeteering skills, and has trained in the martial arts. He has also acted on stage. Wyatt can read and speak the Russian language, at about a fifth-grade level.
Wyatt has some innate powers, coming from his family bloodline. Males of his bloodline enter a healing coma the first time they die, and acquire these powers when they recover. However, barring supernatural intervention, the second death is permanent. Wyatt had his first death in 1996, and was brought back from a second death in 2003.
Wyatt has fairly reliable access to these mostly-innate powers.
Some of Wyatt's trenchcoats, hiking sticks, vehicles, and martial arts items have been exposed to his "Flight" and "Tracker" powers so often, the powers have migrated to them. But they retain their powers for Wyatt to draw upon, and will go to his side upon need.
Wyatt's innate powers once manifested themselves as a random "Power of the Day", sometimes enhanced by outside forces. This is a nearly-complete list of those.
Wyatt has at times been granted the following extrinsic powers.
Wyatt has proven resistant to intrusion by mentalists such as Ellipsis and Lateran. They find his mind silly and distasteful.
Wyatt has maximum baseline-human resistance to the effects of alcohol. He has kept up with physically-powered superhumans in drinking sessions. He also knows the proper pre-emptive measures to take for recovery.
Due to an infection inflicted upon him by The Trillions alien species in 2009, Wyatt can breathe carbon dioxide in place of oxygen.
---
Appearance
Wyatt is medium-height, 175 pounds, with long black hair and no facial hair. He formerly had more facial hair, but this has declined over the decades. He has at times shaved his scalp, but not recently. <.p>
Wyatt typically dresses in street clothes appropriate to the weather. He usually wears a floppy wide-brimmed hat with a strap, and often a trenchcoat. He usually carries a walking stick.
Wyatt is of mixed ancestry: mostly German, with a history of English, Irish, and Mashantucket Pequot (American Native) elements. Genetic testing might reveal traces of most anything. Wyatt is officially 1/16th Pequot, which entitles him to a small cut of proceeds from the Foxwoods Casino in Connecticut. So he is independently wealthy, as long as he is thrifty.
Wyatt is slightly hard of hearing, and has minor arthritis of the knees and elbows. From 1995 to 1999 he had a heart condition.
---
Publications
---
Author's Notes
Wyatt Ferguson is one of the "ruling" trinity of my stories, alongside Ellipsis and the Powernaut. His adventures originate from comic-book satire I wrote in 1988, plus a dream diary I got rolling in 1995. I later used him as a supporting character in Ellipsis role-playing games, to great effect. The existence of Wyatt and Ellipsis in the same stories basically makes my world a "shared universe", even when I'm the only writer. However, I now cooperate with other writers. Some are receiving this Wiki with interest. He even has a rival Wiki entry for an interdimensional counterpart. Who knows, maybe there will yet be more sharing in the story of Wyatt Ferguson.