Proprietary System Notice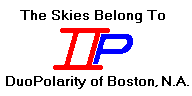 DuoPolarity of Boston, North America
Our mission: Do work, have fun, get paid.
World Wide Web Page

News Releases:

DuoPolarity of Boston, North America is a forward-looking company whose mission is to exploit the full potential of modern technology in all its forms.

And also to do work, have fun, and get paid.

Work = what society needs to keep going.
Fun = do useful and challenging work.
Paid = do work someone wants.

Corporate Directory
People, Organizations,
Locations, Services
News & Information
Employee & Media Relations,
Investor Relations
Applications & Projects
Internet software, software
applications, major projects.
---

What Else You Can Do On Our Web Page:

Meet the Employees of DuoPolarity

Eiler Technical Enterprises, provide a wide range of up-to-date technological expertise. Our products are used by NASA, the United States Air Force, NOAA, and several phone companies and hospitals.
Systems Programmer. Two positions are open. Applicants will have 2+ years of programming experience in UNIX/C or C++ environment, and be able to justify their strong opinions on Why Things Should Not Be Done The Way They Are.
Project Lead. Applicant will have programming experience (any language) plus 2+ years project management experience, and be able to justify any proposed use of the phrase "You Do What You Have To Do" to a workforce that can find jobs anywhere.
Assistant Quality Assurance. Applicant will be thoroughly anal-retentive, with experience on any project (preferably government) where people actually follow rules.
Showcase on the Universe || Eiler Technical Enterprises || Contact Our Web Maintainer

Not to be disclosed outside the DuoPolarity Companies, Eiler Technical Enterprises, or their trading partners without prior written permission.
Web site content copyright © 2003 DuoPolarity of Boston, N.A.
Web site format copyright © 2003 Eiler Technical Enterprises.


The Webmaster of DuoPolarity Says Hello

The Webmaster of DuoPolarity Said Hello