| | |
| --- | --- |
| Travelog of the Lake Michigan Shore, 2006 | |
Domination of Eiler: Home The Declaration of Domination What is the Domination? Latest Fiction The Dominator
Journals (by US state code): Typical VT WI WI IN IL MO WI WI IA IL <!a href=journal11.htm> MI WI WI WI ?? ON Blog.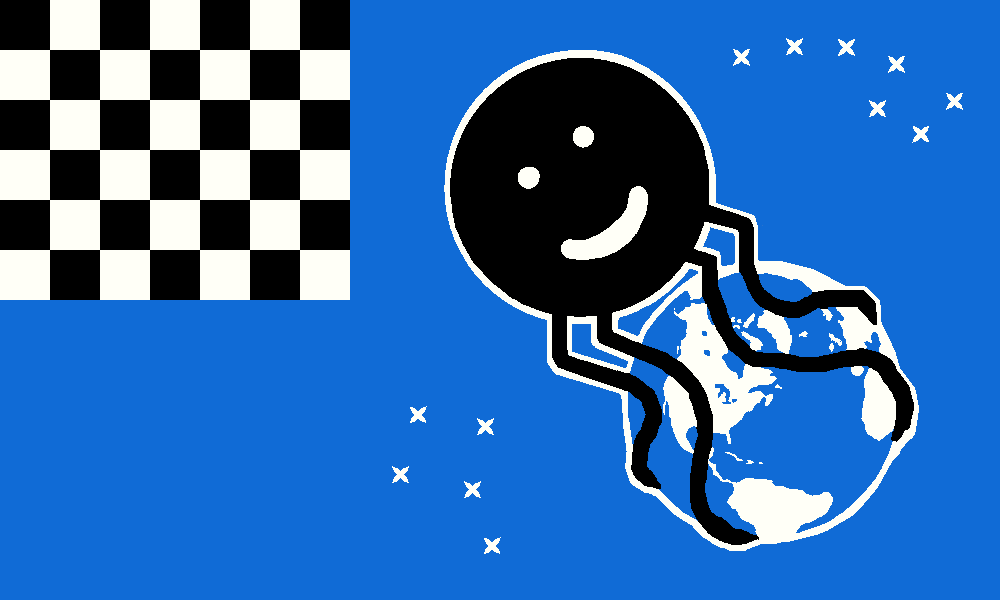 Domination of Eiler Journal #11: Operation Freedom Rider
---
What Is the Domination of Eiler?
---
In one sense, "The Domination of Eiler" is a political entity modeled upon the Holy Roman Empire. Which is to say, it works through national and local political entities, but transcends nation-state boundaries. You may already be a citizen without knowing it!

In another sense, "The Domination of Eiler" is a pen name for an amateur but very prolific web journalist. Perhaps you may enjoy these travel writings, given this simple guide:

The Domination of Eiler is led by, of course, the Dominator.

Its chief military force, and bodyguard of the Dominator, is the Domination Guard.

The Domination's world headquarters is in Scumburg-Illinois, near Chicago. And he has associates in Kalamazoo-Michigan.
As such, the south tip of Lake Michigan is already subjugated. But the remainder cries out for Domination.

The Domination of Eiler has gone to extraordinary lengths to prepare this offensive. To make it possible, the Domination declared its Day of Glory, and cast itself loose from major corporate sponsorship.

Therefore, for the first time ever, a Domination offensive is open-ended. Get used to it, citizens. The Domination of Eiler can now come to you, anywhere in North America! Which is to say, North Eilerania.

This operation brings the Domination of Eiler to all the shores of Lake Michigan. All U.S. states bordering that lake have already submitted to the Domination, but many of their lakeshores have not.

<!a href=../ribbon.jpg> <!img src=../ribbon.jpg height=200 width=120 align="right" alt="Ribbon of Domination">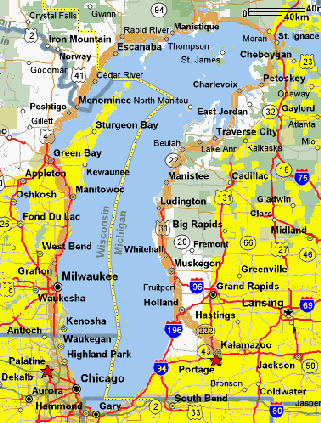 Day 0: Monday 29 May 2006
Operation was declared underway, when the Domination Guard automobile / bicycle combined arms force broke loose from the associate-EilerBase in Kalamazoo-Michigan. Breakaway occurred late in the day (after suitable summertime family-friendly festivities involving junior associate-Eilers). Operational music "Freedom Rider".
Given the lateness of the hour, the day's objectives were limited - but easy to achieve. Target Holland-Michigan submitted barracks at "Days-Inn", dinner at "Longnecks", and dessert at "Goog's".
"Goog's" bar is thermodynamically near its kitchen, so "Goog's" may be best for family dining... which is what it advertises. Eew.
"Longnecks" bar was cooler, therefore chosen for dinner. But it's a sports bar, therefore loud.
Throughout, opposition minimal. Facilities were all lightly occupied by rival forces (such as travellers and Michigan TV basketball fans).
Holland-Michigan is more industrial-class than tourist-class, at least along "U.S. Highway 31 Bypass" and its approaches along "Michigan State Highway 40". This is highly to be respected, as long as there's something for the visitors to see.
And downtown Holland-Michigan reportedly has targets including a museum and a brewpub! On the outskirts, there's the touristy "Wooden Shoe Tulip Town" or something (actually "Dutch Village Theme Park and Wooden Shoe Factory", nearby "Veldheer Tulip Gardens / DeKlomp Wooden Shoe Factory"!) nearer the main highway "Interstate 196". Far be it from the Domination of Eiler to deny a town named "Holland" an attempt at milking the Dutch-loving tourist trade.
Given that this Domination offensive is open-ended, an extra day of occupation to subjugate the local attractions is therefore heavily likely. Even unto the tourist town.
The hotel provides a convenient base for operations as far south as the Fancy Places in Saugatuck/Douglas-Michigan - possibly even by bicycle, since it's about ten miles each way! Oh, what fun. Might this be three days of Domination?
Day 1: Tuesday 30 May 2006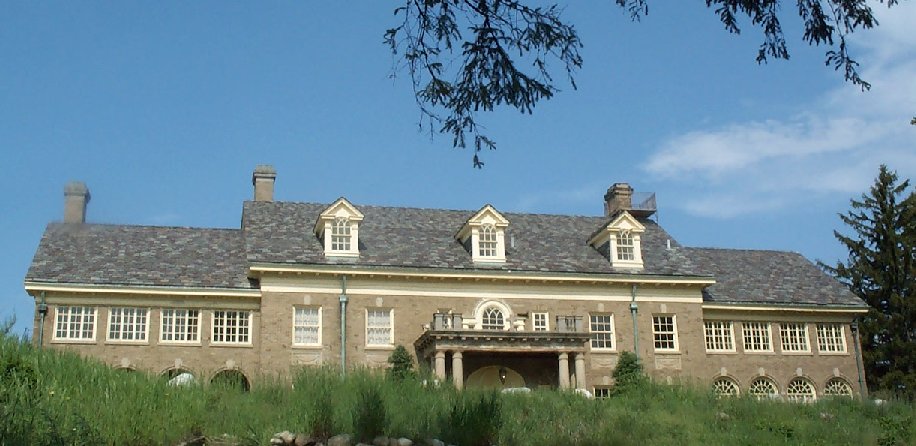 Creepy mansion at a Saugatuck township park. Open Sundays only.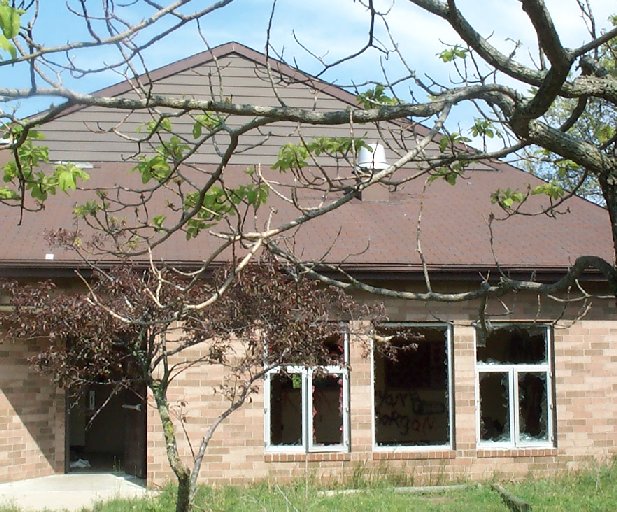 Other facilities at the Saugatuck township park are self-service and always open. Just mind the broken glass.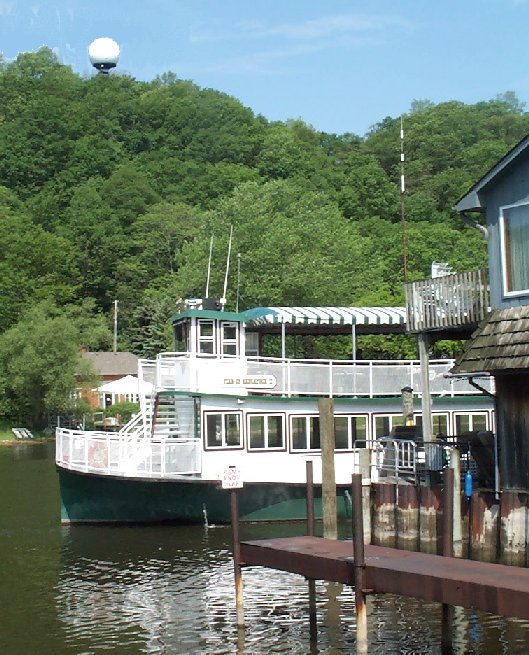 Saugatuck has a paddle-wheel tour boat and a weather radar.
A freakish lake-effect thunderstorm has risen to smite Holland-Michigan throughout the morning, while leaving nearby Saugatuck bright and sunny. The Domination armored force therefore moved against Saugatuck.
Saugatuck Dunes State Park resisted conquest. It requires six or eight dollars (in-state vs. out-state) for parking - on the honor system, to be deposited in envelopes still soggy from the morning rainfall. And a school bus had already unloaded there.
Nearby Shore Acres Township Park also resisted conquest. It has a scenic mansion - open Sundays only. But other buildings on site are open 24 x 7 - because the public has smashed its way through the windows! Just too creepy, even with free parking.
Downtown, the Sand Bar Saloon submitted a chili dog, washed down with the Sandbar Amber of Saugatuck. They card everyone, so the Dominator amused himself by submitting his Massachusetts ID card, not his Illinois one.
The Star of Saugatuck diesel paddle-wheel boat submitted a 1.5-hour tour of the harbor and Kalamazoo River estuary. And it gave information on other local targets to the patrolling Domination force.
The S.S. Keewatin resisted Domination. It is a floating maritime museum, permanently moored in Douglas-Michigan - and operated by schoolteachers in their spare time. School still being in session, the attraction was closed. It's rumored they'll go full-time S.S. Keewatin when this school year is over, though.
The Saugatuck-Douglas Historical Society submitted a fancy exhibit on architecture in Michigan towns Saugatuck and Douglas. Free admission, and just about worth it. But also a good source of local intel. (Hence the dirt on the S.S. Keewatin.) Go in twice, so they can take credit for you twice!

The Dominator amused himself by telling the Historical Society he was from Douglas-Massachusetts, just like his Massachusetts ID says. He also captured some postcards of Douglas-Michigan to send to friends in Douglas-Massachusetts, and arranged to have them postmarked Douglas-Michigan. The two Douglases are practically made for each other.

Mount Baldwin has an old weather radar installation - apparently inactive, judging from the disrepair of the fence around it. The town's even mounted an electric pentacle on the assembly, of the sort that towns like to light up at Xmastime. Accessible by stairway from the Historical Society; trails lead on to waterfront.

The Domination's engineering force found a good stick at the top of the stairway, trimmed it for better utility - then let it go free. The Domination Law of Sticks says, if you find a stick at a trailhead, you leave it for other hikers, because other hikers left it for you.
Back in Holland, Domination forces had some down time, then (with storms having cleared) mounted up to subjugate dinner by bicycle. New Holland Brewing Company in downtown Holland was the obvious choice. Entirely acceptable.
Day 2: Wednesday 31 May 2006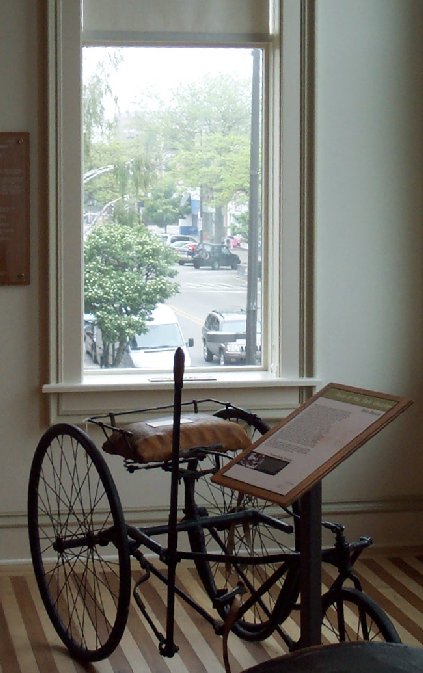 Historical museum in downtown Grand Haven, with plentiful free public parking nearby! The Domination expeditionary vehicles are visible in the background.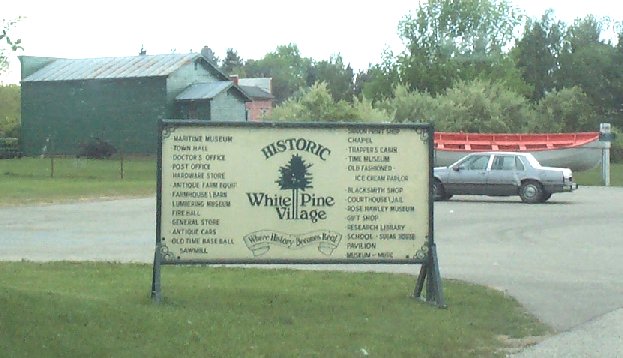 Historical village in Ludington. It has everything!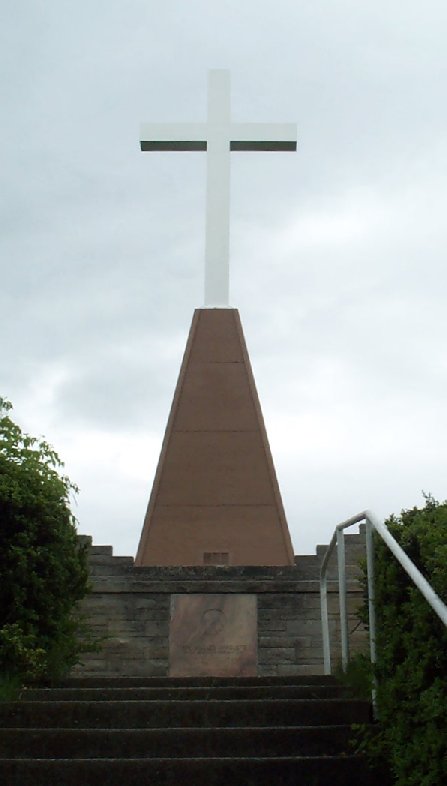 The really-maybe-true death site of famous Father Marquette. No, the Indians didn't kill him.
Domination forces intended to subjugate the Dutch-themed tourist attractions of Holland on the way out of town, but all they saw were heavy traffic and trashy antique malls. Bypassed.
Instead, up the road, the town of Grand Haven submitted a maritime museum and a town historical museum - both fancy, and free admission! (But leave a donation.)
The maritime museum is very proud to point out, Grand Haven is the U.S. Coast Guard's favorite city, due to an emotional incident involving the U.S.S. Escanaba in World War 2. (How does Escanaba-Michigan feel about this? The Domination will find out in a few days, because it's on the travel plan.) Grand Haven actually has a Coast Guard proclamation proclaiming it to be "U.S. Coast Guard City"! Now, how many favorites does the Coast Guard have?
There's also a newly-opened bicycle museum in town, $5 admission. Their attraction is, they hang old bikes from the walls. The Domination wishes it luck, but still this was bypassed.
A Walgreens drugstore was subjugated, but there was resistance. Employees have to enter a code to let you into the bathroom - and the lock is faulty. Once inside, the Domination forces were trapped! The Domination Guard engineering force actually had to dismantle the lock with its "Great Blade of Fredericksburg" Swiss Army knife to gain egress.
Further up the road, the city of Ludington submitted many things:
Lunch at the Jamesport Brewing Company. The Domination knew there had to be a brewpub in this cross-lake ferry terminus town, and the Domination's beer-sense worked perfectly to find the brew. ("Right turn here, Dom!") 11 of their own beers on tap, most $2 during Happy Hour!
Thirty buildings worth of self-service museum exhibits at the White Pine Village. Well worth $7 admission. And they trust you with all the exhibits, at least during the week when volunteers aren't around to guard things. The snack bar is even self-service on the honor system!
A scenic lighthouse view (across the bay from downtown), and the maybe-really-true death site of the famous 1600s Jesuit explorer Father Marquette. He got sick while out on mission. The body's back at his home base of St. Ignace-Michigan (and the Domination knows where), but a memorial cross is erected here.
That's certainly enough for the afternoon, so Luddington will be garrisoned tonight at the Stearns Motor Inn. Antique-y lobby, functional rooms, and not expensive nor pretentious. And convenieht to the Jamesport Brewing Company, which will submit Happy Hour dinner, of course.
The town park faces the lake, for the sunset. Skies were pissing down rain all day, but have cleared just in time for vesper-helio-Domination. Domination of sunsets, that is. Operational music "Free as a Bird".
Closing beverages, munchies, and basketball television provided by Sportsman's Irish Pub. Apparently our Detroit Pistons are still in the running for the championship. For at least one more game, judging from tonight's results.
It becomes obvious, the forces which drive the Domination of Eiler are not letting up at all since the Day of Glory; they're just aimed at dominating different things than they used to. Like nice sunsets. The Domination plan for this operation will exploit this advantage to the fullest.
Day 3: Thursday 1 June 2006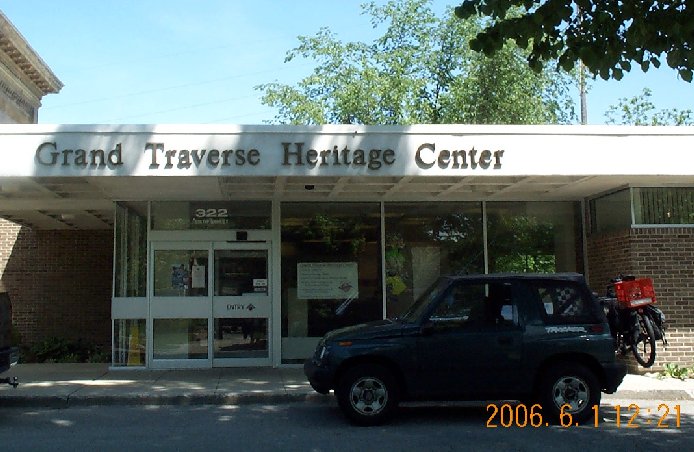 Historical museum in downtown Traverse City.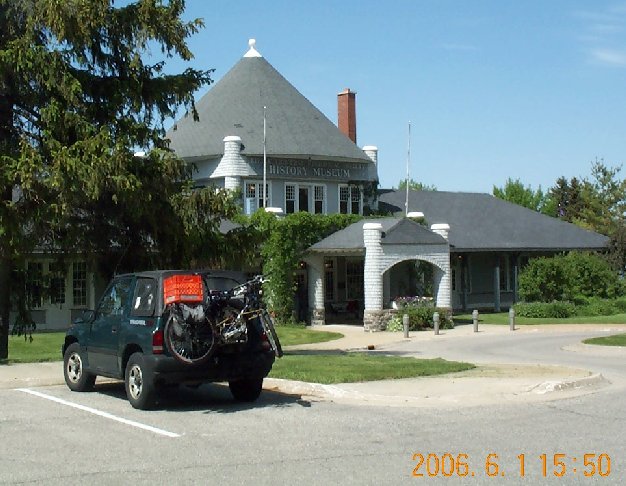 Historical museum in downtown Petoskey. And the Domination's distinctive vehicles are there.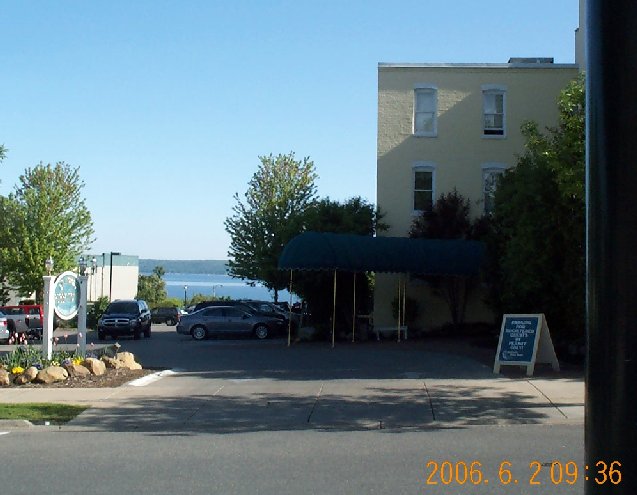 Grand hotel in downtown Petoskey. Check out the lake view!
A very useful brew pub map of Michigan was obtained at the Ludington brew pub last night. Traverse City has a brew pub! If Traverse City has anything else to offer, it is probably today's only destination. Rapid deployment mode brought the Domination frontline to downtown Traverse City before noon.
The North Peak Brewing Company has fancy soups and sandwiches, plus seven of their own beers. The soup and some beer were conquered, and the sandwich was captured to go on picnic with the Domination at a convenient roadside rest stop.
The Grand Traverse Heritage Center has a small hodgepodge of exhibits, including the history of summer stock theatre. Michigan trivia: Practically every 1970s TV star did summer theatre in Traverse City, and Pat Paulsen ran the theatre!
And that's about it, aside from shopping and an art museum, for which the Domination of Eiler is not the target audience. Bike trails (by which the Domination is targeted) are rumored but not obvious.
So, on toward Mackinaw!
There was massive resistance from governmental barricades. It's road construction season on U.S. Highway 31.
Of course, this just made the Domination forces even more eager to break through. This was Charlevoix's loss, because the Domination drove its frontline all the way to Petoskey. Mackinaw City less than one hour away tomorrow.
Downtown Petoskey is a big Fancy Place called the Gaslight District. Of course, that name has nothing to do with how the district is currently lit at night. People in northern Michigan are apparently proud of their land having been fashionable all the way back before electricity.
Stafford's Perry Hotel is a grand old Gaslight District landmark. It submitted fancy barracks (after traditional haggling over a quiet room not facing the master air conditioning duct) and mess hall; it has at least two restaurants open on any given day.
The Little Traverse Historical Society defied Domination - for now. Its museum opens for the summer at 10 am tomorrow!
Petoskey also has many cute shops. Some minor trophies were captured for associate-Eilers. The See North activity-zone even submitted a free display about Petoskey stone, suitable for children.
Day 4: Friday 2 June 2006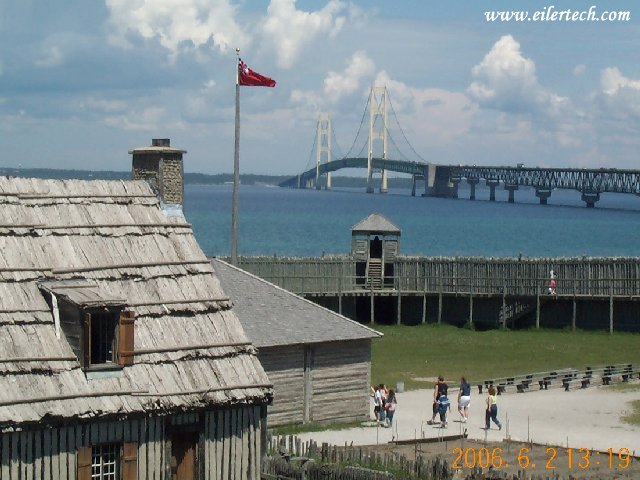 Historical fort in Mackinaw City, plus the big bridge between Michigan's two peninsulas.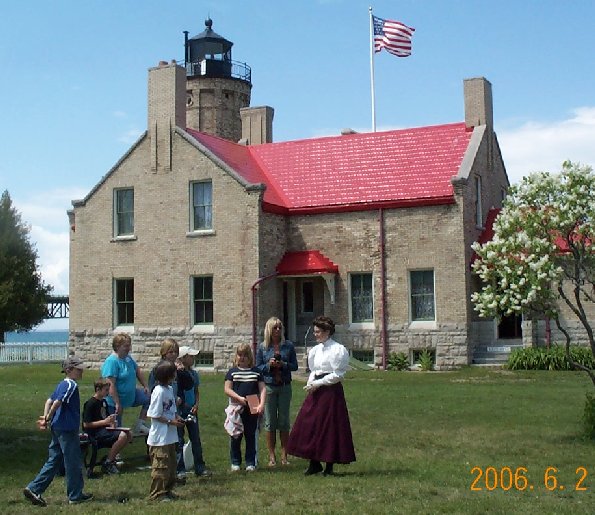 Historical lighthouse in Mackinaw City, overrun by tour groups. An antique-dressed tour guide is attempting to deal with them.
The Dominator was the season's first visitor to the Historical Society museum in Petoskey. He gave double the recommended $1 donation, and got a guided tour. Main exhibits: (1) the naming of the town after Indian chief Petoskey - even while local resident General Custer was on campaign in the West, and (2) the extermination of the passenger pigeon, which made their final stand as a species around Petoskey, shortly after General Custer himself was exterminated.
Then, on to Mackinaw. One more rebellious construction barricade was conquered. In return, the Domination forces sped past the Michigan Fisheries Visitor Center without granting it a visit from the Dominator.
The Mackinaw region will be crazy this weekend. Besides the usual tourist stuff...
A conference of metro-Detroit mayors is dominating Mackinac Island. It seems when they want to discuss attracting businesses and tourists to Detroit, they sensibly get out of town.
On the mainland, a charity motorcycle rally is dominating Mackinaw City.
Given that choice, the Domination of Eiler stands with the bikers.
EilerBase established at Vindel Motel at the edge of Mackinaw City. Cheap and apparently quiet. Two nights here will cost the same as one night at the Petoskey Grand Hotel did!
Noon mess at JR's Tailgate Pub. Cheap and quiet, at least until the bikers arrive. But Happy Hour should be hoppin'.
First wave of tourist stuff at Colonial Michilimackinac. The four largest tourist attractions around here are owned by the same company, so you can buy admission for any three of them at once.

Mackinac and Mackinaw refer to the same area. The French colonists spelled it with a C, the British with a W, but they both pronounce it "Mackinaw".
Colonial Michilimackinac is not to be confused with Fort Mackinac. Colonial Michilimackinac was itself a fort, but the fort got moved to Mackinac Island, when the British heard George Rogers Clark might be coming (with two hundred freezing men) from Vincennes (five hundred miles away) during the American Revolution.
The British fort commandant also reacted to the oncoming hypothetical wrath of the American rebels, by writing ten pages of patriotic poetry to recite to the Indians! This actually worked even better than moving the fort did, because Indian warriors appreciated a good bit of rhyme.
When the fort moved, the colony stayed behind... burned to the ground for the benefit of the Domination's archeologists and tourist trade, which rebuilt the colony (in its original fort form) centuries later, and put the artifacts and the commandant's poetry on display.
Today the colony was overrun, not by mayors nor bikers, but by schoolchildren. Enthusiastic and mildly annoying, but not in open rebellion against the Domination. The Dominator therefore tried not to interfere with his junior citizens' enjoyment.

Second wave of tourist stuff at Mackinac Lighthouse. The Domination Guard managed to storm the tower, despite some resistance from schoolchildren and an overwhelmed staff.
Bike helmet mirror broken at lighthouse, by normal wear and tear. Bike handlebar mirror purchased as replacement, and ingeniously installed by staff of Coffman Hardware store. Bike stores back home said it couldn't be done, but hardware store did it!
Trailhead of bike trail to nearby Cheboygan-Michigan was then conquered. But as much fun as a 30-mile ride on a gravel trail would be, there are more important things to conquer here.
Happy hour at Tailgate Pub for locals, with $1 Busch drafts. Happy hour at Keyhole Bar and Grill for bikers and the Domination. (Well, it's not really Happy Hour; the beer's always cheap, at least when it comes from closer than Kalamazoo.) Whitefish filet platter and $2.5 pints of brown ale (the same ale as in Traverse City yesterday) were conquered.
Dixie Saloon near the shore was touristy and expensive, and sensibly avoided by bikers. According to historical plaque, saloon named after "Dixie Highway" from here to Miami. Highway founded by Carl Fisher who also founded Miami Beach and Indianapolis Motor Speedway. Isn't it fun to get around?
On the way home, the town beach yielded a stick, made of birch and therefore easily carveable so as to impress tourists who will pay upwards of $80 for a carved stick here... Also, beach had a spectacular view of two or three Great Lakes.
For dessert, the Bridgeview Diner didn't have pie. What kind of diner is that? But Audie's Restaurant did! Also elk steak, to be considered for dinner tomorrow. And they serve breakfast too, in their Family Room. The hostess will even tell strangers the story of how her pants got stuck in the kitchen! Raspberry cheesecake was conquered there.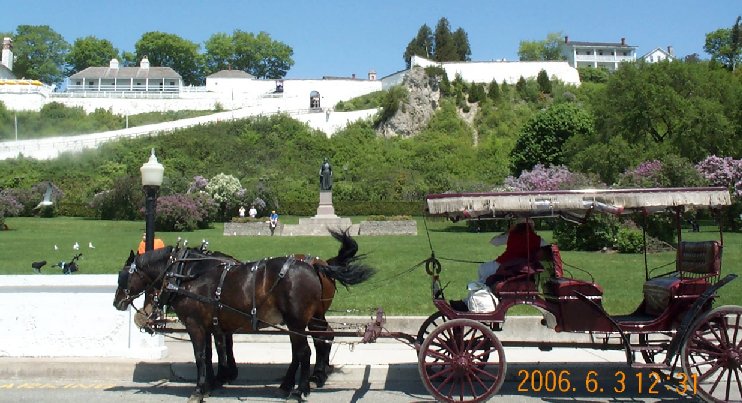 The historic fort, and the local transportation.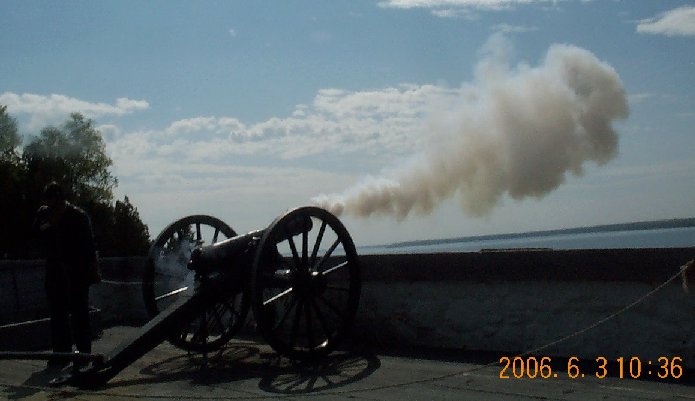 Authentic fort, right down to the cannons. Aww, they missed the freighter!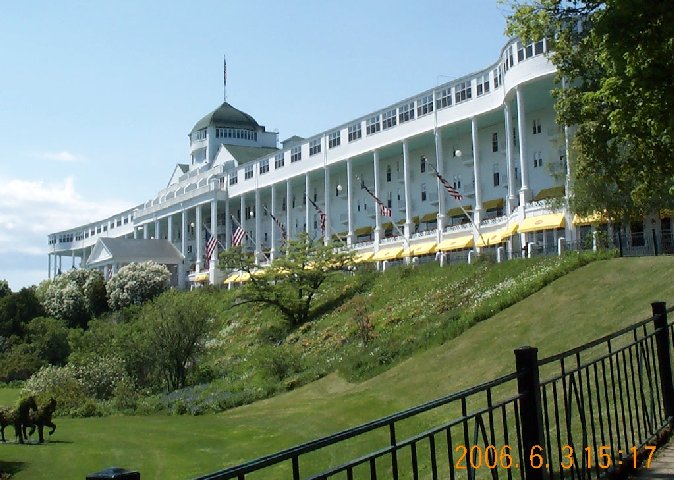 The Fancy Place that everyone talks about here.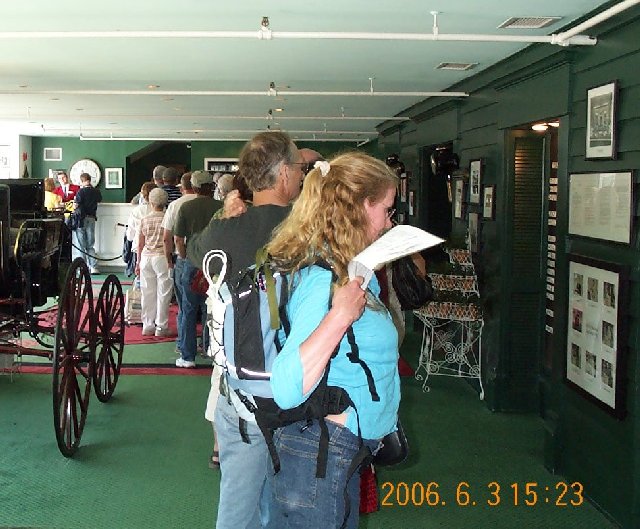 The checkin line at the Fancy Place on Saturday afternoon.
Today, Mackinac Island finally submits to the Domination of Eiler! The island has been defiant since 1998, even when all nearby mainland points submitted. But finally a Domination expeditionary force has the time to embark for subjugation.
All major ferry services to the island charge $20 per person round trip, plus $7 or $7.5 for the Domination's bicycle. Sailings every hour or so, more at the height of summer, less in winter. The "Star Line" ferry was chosen just because it left at 9 am instead of 9:30.
No cars allowed on the ferry - or the island! Freight is moved by horse-drawn carriage. As a result, the island has many street sweepers.
The Domination Guard got ahead of a ferry-borne wave of Girl Scouts, and therefore had an extra hour to subdue Fort Mackinac without undue interference. The fort personnel were already bracing for the Girl Scout onslaught.
Most exhibits at the fort are military. One was "Attack - 1812!", commemorating a British surprise attack which captured the fort and started the War of 1812. This first attack was even more surprising, considering the Americans declared that war. In the exhibit, animatronic American soldiers utter these heroic phrases:

"Oh, we're badly outnumbered, only sixty of us in the fort and they've got hundreds!"
"We're going to have to surrender... or be slaughtered trying to save this fort. What else can we do?"
"Prepare for sodomy, rum and the lash!" (Okay, they don't really say this one, but they should, since those things are reportedly what made the Royal Navy great.)

The rest of the fort was set up along U.S. military 1880s lines. These things are apparent about said military at Mackinac:

They had spiky helmets. The Prussians had started defeating the French (instead of vice versa) by then, and the U.S. was kind of annoyed with France then, so it was suddenly cool to dress like a German.
They spent most of their time on Mackinac Island acting like park rangers. Mackinac Island had the U.S.'s second national park by then, but no National Park Service, only Company K of the U.S. 23rd Regiment.
They spent much of their remaining time getting court-martialled, according to records of Company K of the U.S. 23rd Regiment. The records say about 55% of those soldiers got the courts-martial during a five year period. The tour guides say, it was more like 85%.
Even so, it certainly beat going out west to fight the Indians.
Lunch at the conveniently-placed "Sinclair's Irish Pub", then off for a bike ride in the Mackinac Island State Park and environs.
A winding route was chosen, which went within half a mile of every point on the island. The island is eight miles in circumference, so this ride might have been fourteen.
Much fun with the local militia was had. No operational music was chosen, because riding on Mackinac Island is the most social of experiences, and it's hard to be social with the Violent Femmes singing "Country Death Song" in one's headphones.
Many attractions conquered, including Arch Rock, British Landing, the 1814 Battlefield (American counter-invaders lost there, and had to wait for peace settlement to get the island back), Point Lookout, Fort Holmes, Skull Cave, and Mackinac Island Airport.
Two butterfly-arboretums were bypassed. The Domination's already picked enough butterflies out of the grill of its automobilie, on the drive up here.
Some public service was done... The Domination Guard served as third responder at a bike accident!

It is not the Domination's policy to stop and gawk at accidents. But it's never a good sign when there's a body sprawled on the trail, with a pool of blood nearby. That would be one of those Red Cross Training moments, therefore worth a stop.
Thankfully, this was an easy one without a threat to life. The victim was conscious, and first and second responders were already administering first aid and calling 911. It was a nose injury, more bloody than dangerous.
Amusingly, the first wave of responders had to catch a ferry. Yes, that would be tourist emergency response. So the Domination Guard relieved them. (The Domination Law of Emergency is, serve until relieved. As long as it's a real human life emergency, that is, not just a missed delivery for some corporation.)
Mostly the Domination's shift involved handholding, making bets on whether the ambulance would be horse-drawn, and storytelling. Via storytelling, it was learned...

The victim just sort of collapsed while on the bike, and tipped over into another biker. Both bikers are Girl Scout leaders from a town in lower Michigan, and travelled with their troop - which was halfway to the ferry by then.
These Girl Scouts also travelled on a different ferry line from other Girl Scouts. (How many Girl Scouts are here this weekend?) The Girl Scouts are not here for conference, though; they just congregated here naturally.

Professional emergency response arrived after twenty minutes or so. They even had a gas-powered ambulance; according to the driver, the State of Michigan requires it of them. (Yay, Michigan!) The main delay in driving the ambulance the three miles from town, was getting surprised tourists out of the way.
Apparently the professionals of Mackinac Island did their job well. The victim showed up in town later, admittedly with a nose bandage, but walking on her own, and reunited with her daughter.
(The Domination of Eiler learned even more than that, but is trying to respect the victim's privacy here. The Domination's photographer even refrained from taking a picture... though the other Girl Scout leader didn't.)
Grand Hotel Mackinac (where the Detroit mayors are staying) was of course raided during the bicycle exercise. The Domination force amused itself by taking pictures of the line for tourist checkin, while smugly thinking about its already-secure quarters back on the mainland.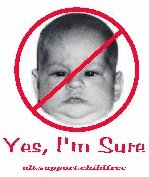 Then, time for refreshment - other than water and lemonade, which the Domination force had already sucked in constantly, at venues down to and including a kids' lemonade stand. But bars here have Happy Hour on Saturday! And many of them are near the same pub as for lunch.
SeaBiscuit Pub has $2 giant Labatts Blue drafts during Happy Hour on Saturday! Also, sadly, clueless parents and their screaming toddlers.
Horn's Gaslight Bar has $2.5 pints of Bell's Oberon during Happy Hour - but not on Friday or Saturday, when it's the more standard $4. But the Busch tastes good right now at $2. Plus a menu of Mexican food, of all things. Also, sadly, clueless parents and their whiny infants. One suspects, all of Mackinac Island is considered a family playground.
Oh, let's go catch the ferry, two hours before the last boat out. There's always more fun closer to home. After all, the bikers are still on rally in Mackinaw City!
The rally had cans of Labatts so cheap, the Domination forces paid extra because the proceeds go to charity ("Hospice-of-the-Straits"). But according to one biker, the bikers were kind of unenergetic from being out in the sun all day - wearing black, of course. The Domination was out on two wheels all day, probably drinking just like the bikers did, but wore light colors and sunscreen. Silly lightweight no-fun bikers.
Nonna Lisa's Italian restaurant had pricey large Blue Moon $5.5, and decoration largely taxidermy, but also some very amusing tourists other than bikers and grandmas. And their parking lot yielded a hiking stick!
Other restaurants along the Mackinaw City waterfront are family diners with some bottles of Bud for Grandma - or in one case, fresh draft Bud from St. Louis, but nothing else on draft. Bypassed in favor of Audie's Restaurant from last night. Blueberry pie was conquered there.
Day 6: Sunday 4 June 2006
It would be a Domination day of rest, except the forces which drive the Domination of Eiler are not relaxing. In fact, it's a full travel day.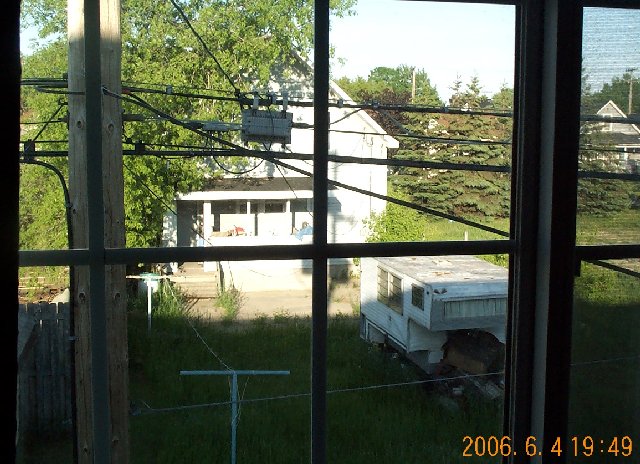 The best view available from the cheap hotel in Escanaba.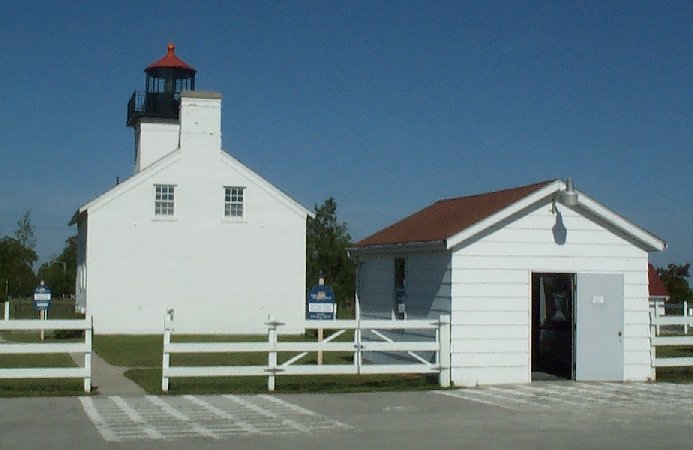 Scenic Escanaba, with the Coast Guard shrine.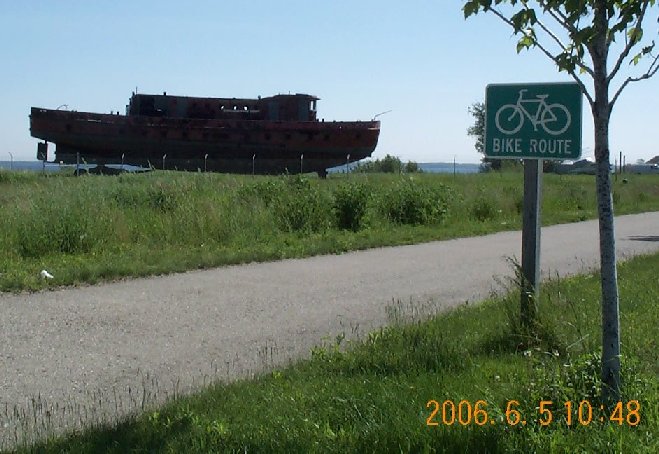 Chicago's rusting hulls are decoration for Escanaba's scenic bike path.
First, it's time for Kingdom-of-Heaven obeisance. The churches of Mackinaw City put up posters everywhere. So, this being an open-ended vacation, there's really no excuse to miss Sunday morning service. "Church-of-the-Straits" Methodist/Presbyterian church was chosen.
After that, the Domination crosses over to the Upper Peninsula. Travellers there have a westbound choice of Lake Michigan shore or Lake Superior shore. Lake Superior has more attractions, such as brew pubs and shipwreck museums. But Lake Michigan is more direct and less expensive, therefore chosen.
Much travelling was done, because there were very few attractions other than trees, sun, southward-facing sandy beaches, and cheap hotels. This should make the area attractive to many citizens, but the Domination is getting overloaded on these.
Curtis-Michigan is inland, overlooking the Manistique Lakes. It's a recreational fisherman's town, with lots of cottages - but not cheap. Hoteliers either charge full price, or they close for the season! Not a bad place, but the Domination of Eiler can get the same ambiance 500 miles farther south, near to its Core Territories.
Manistique-Michigan is on the Lake Michigan shore. Working-class, and not a bad place - but it being Sunday afternoon, half the town is closed. A bottle of sweet rhubarb wine was conquered at the local Mackinaw Trail Winery - and they also gave valuable intelligence on the next town down the road, Escanaba - which has a brewpub!
Escanaba is strange. Today is a warm sunny summer day, and tourists have been in town all weekend for a big auto show - but local restaurants are missing out on the Sunday brunch trade, and are closed until 4 pm! Now the tourists have left, and the town looks like the neutron bomb went off and left the buildings standing - but the restaurants and coffee shops are opening for Sunday evening!
The winery in Manistique recommended the Lincoln Host Inn for cheap lodgings. It is a fairly modern motel. There one may choose a view of redneck backyard, or Wal-Mart. The redneck backyard view is more expensive, but the Domination splurged for it.
The brewpub is Hereford and Hops. It submitted a fish dinner plus a choice of six traditional beers on tap. All beers are a very reasonable $2.75.
Escanaba is rumored to have a historical museum - which will give it a fair chance to comment on the strange relationship of Grand Haven-Michigan and the U.S.S. Escanaba. Now, is Escanaba's museum open on Mondays? ... It is! Daily 9 - 5.
Escanaba also has some premium beachfront parks, with bike trails. Also an antique hotel "House-of-Ludington" overlooking the lakefront, with cheap rooms - but closed Saturday and Sunday. Escanaba is strange.
After-dinner beverage provided by 8th Street Coffee House, open until 11 pm! But the business was kind of slow. The town is showing some more signs of life (mostly redneck) tonight, but it still mostly looks like the neutron bomb went off. Escanaba is strange.
Day 7: Monday 5 June 2006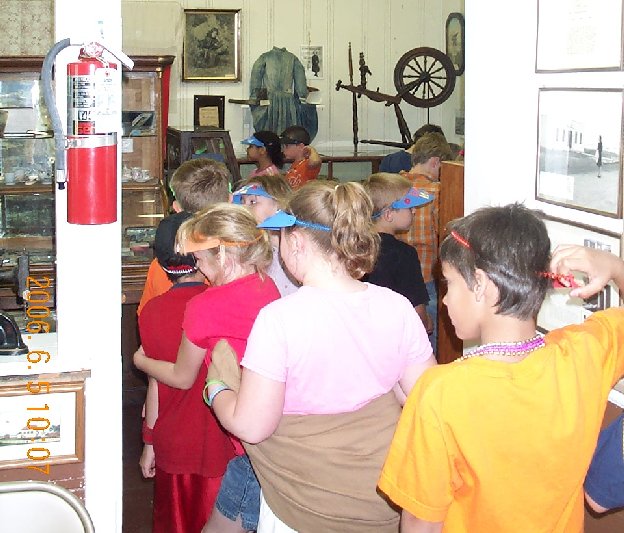 Escanaba-Michigan: More children than museum to put them in. It's like the Junior Ho Chi Minh Trail.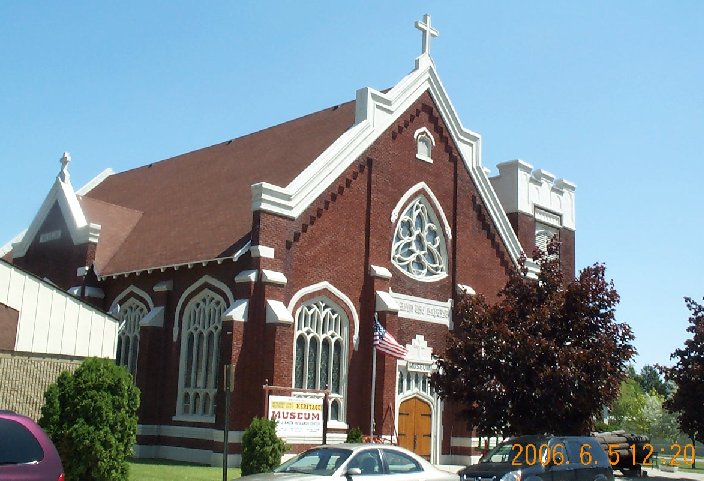 Menominee-Michigan: Hey Kids, let's stash the next local history in an old Catholic church.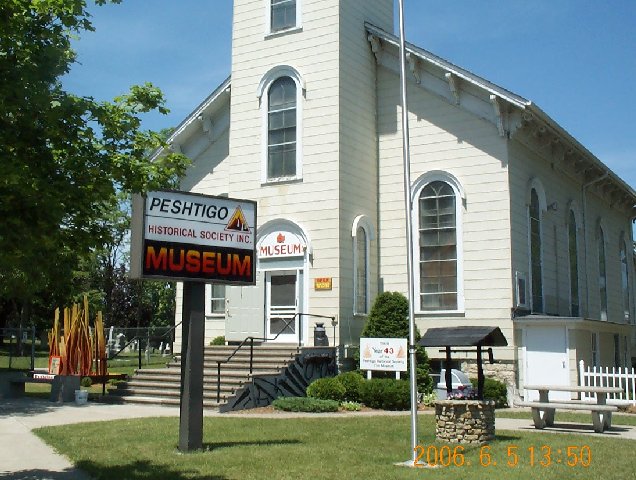 Peshtigo-Wisconsin: Another popular museum with the children, because a big fire was involved.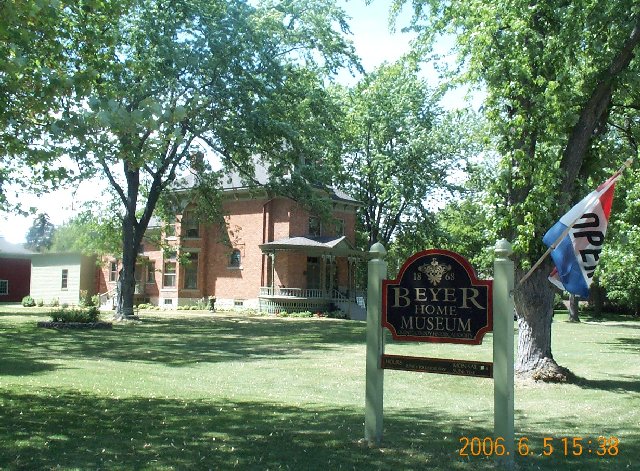 Oconto-Wisconsin: Another famous house. Way off the travel paths.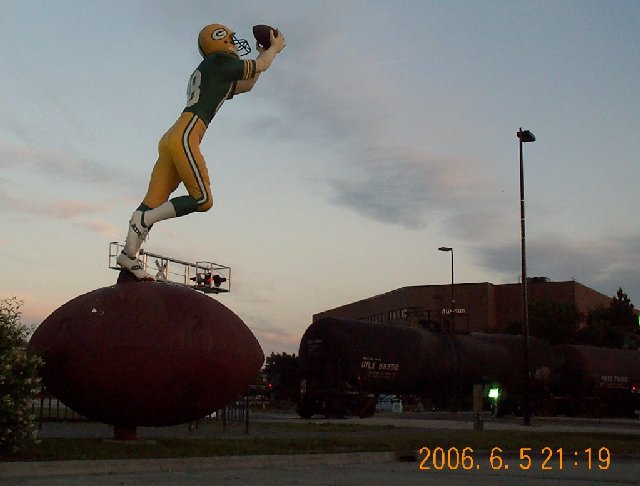 Green Bay-Wisconsin has a historical museum, but that has nothing to do with the exhibit.
Today: Blitzkrieg! Which is to say, "lightning warfare" (German term) which will subjugate all important resistance while bypassing the unimportant parts.
If all goes well today, the Domination expeditionary force will make it to within half a day's easy travel of its world headquarters at EilerBase Scumburg - maybe as far as Sheboygan, which has defied the Domination during an earlier operation.
With that in mind, the Domination's force rolled down the coastline, attacking the local historical societies (the prime target in any town, other than brewpubs) one by one.
The Domination has evolved a blitzkrieg policy to quickly conquer local museums. Basically, "Artifacts. Check." Then speed-read the placques and learn the story of the town. Then, move on. That policy worked well today - but only to an extent.
Escanaba's historical society submitted a lighthouse climb, plus a bunch of local artifacts. And a separate shed dedicated to the Coast Guard and the U.S.S. Escanaba. Escanaba holds no grudge for the way the Coast Guard likes Grand Haven-Michigan better; it's all on the record in the newspaper clippings they display. Free, but give a donation.

Unfortunately, two busloads of schoolchildren attacked the museum during the Domination's patrol. There were almost more schoolchildren than places to put them. Fortunately, the Dominator had been through the museum by then. And the Camera of Dominance recorded the spectacle!

The historical society in Menominee-Michigan submitted a large church building filled with local artifacts. If you visit them, ask if they've caught the bat yet. Free, but give a donation.

The museum says the incoming French traders had to talk the Indians out of eating their local beaver pelts instead of selling them to the French to make fancy hats from! Hey, if you're ever on the edge of starvation, and you ever catch a beaver, you'll probably eat its hair too.

The historical society in Marinette-Wisconsin resisted assault. Open Tuesday - Saturday. If they'd been open, they'd have talked about logging.

But a nearby pub at the Radisson Hotel submitted lunch.
And the town has a Wisconsin Welcome Center, which always provides useful info when subjugating Wisconsin. Always ask for the Attraction Guide and the Lodging Guide!

The historical society in Peshtigo-Wisconsin (better known as the Peshtigo Fire Museum) submitted a large church building filled with local artifacts - plus a mural of the Great Peshtigo Forest Fire, which is their claim to fame. Schoolchildren were occupying the place, but it was big enough for everyone. Free, but give a donation.
The Oconto County Historical Society submitted a small building (the "George E. Hall Annex") filled with local artifacts (get the picture about local museums?). But they also had so much more stuff, they'll have to call it a Historical Village soon.

Their feature is a Victorian mansion (the "Beyer Home") filled with Victorian furniture and knick-knacks. Imperialist white people of the late 19th century loved to collect trophies of their world domination - just as much as the Domination of Eiler does. The Victorian fashion was, if there's an aisle to walk through each room, that's good enough! Good enough for the Domination too.
Plus a barn (the "Carriage House") full of horse-drawn stuff.
Plus a log cabin (the "Log Cabin") filled with, oddly enough, surplus Victorian furniture.
Betty the senior-volunteer Swede-descended tour guide gave an extensive, detailed, and individually guided tour of all this stuff. Ya, you betcha! The Dominator was her first guest of the season, and she'd been on duty for four days waiting for him. She would have described every toy if given the chance. And she'd talked with some of the maids who'd lived in that mansion, so Betty was herself a historical attraction.
Not free; $4 admission! But they definitely put the effort into it. Which doesn't exactly count as resistance, but it definitely broke the Domination blitzkrieg today.
After today's time-consuming Domination Battle of Oconto, it became obvious that today's blitzkrieg would not go as far as Sheboygan's attractions. But Green Bay-Wisconsin is still within range for Domination. And it seems Green Bay has a historical museum, a brewpub, and a choice of hotels - all within easy walking distance of each other!
The Neville Public Museum was subjugated first, because museums tend to close first. It has the standard stuff about the history of its town since the Ice Age, only fancier. Also, a picture of an Indian lady ceremonial dancer holding a Super Soaker pistol. About the best thing there. Maybe available for sale; ask at the front desk!
The Days Inn was chosen for barracks, just because they seemed less busy than the Holiday Inn across the street. It was much cheaper than other places in (for instance) the Quad Cities, so the Domination trusted it to be cheaper than the busy place. And it's obvious, the Dominator got the extra cheap and quiet room, facing the parking garage instead of the harbor.
The Titletown Brewery has Happy Hour 3-6 pm - $1.75 for 20 ounces! ("Title" Town = Green Bay Packers.) Sadly the Domination forces arrived around 5 pm, because it's been an especially full day of Domination - even with an extra hour from crossing a time zone westbound. But the local staff was more than accomodating, thanks.
And that's about it for tonight. Five towns and their museums have been toured today - not counting where the museums were closed! The Domination forces are just too tired for anything else, partcularly barhopping.
Day 8: Tuesday 6 June 2006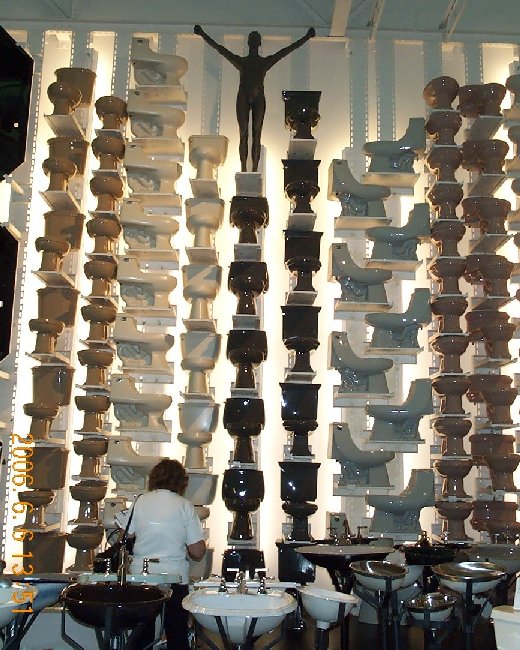 The Bold Look of Kohler, as exemplified by toilets.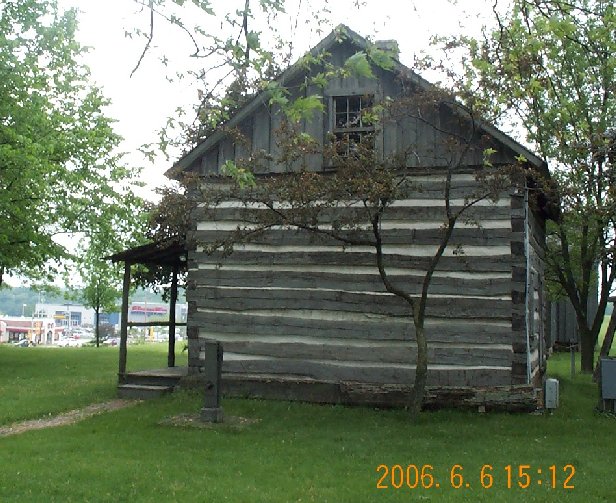 Some of the historical buildings of Sheboygan. Note the "CostCo" in the background.
Domination day of rest. Besides, it's raining. One could go see things and still easily get home today, but let's keep today even easier than that.
Technically, Green Bay-Wisconsin submitted to the Domination of Eiler in 2001. In that year, a Domination armored force crossed Green Bay on the way to subdue Door County-Wisconsin. In Green Bay, one gift shop and one sports pub submitted then.
Now, at last, the Domination of Eiler has occupied Green Bay for an evening, which is much different than just passing through. There are some other attractions here, but these will be bypassed.
The "Heritage Hill" village is interesting... but closed Mondays and Tuesdays. Doesn't this just suck that last night is Monday and today is Tuesday.
Lambeau Field (where the Packers play) might be amusing, but a tour there costs more than any three museums.
Instead, on to Sheboygan / Kohler.
The Kohler Design Center serves as its town's museum, because it's a corporate town; the town is named after the company, not vice versa.

Kohler is the nation's (if not the world's) leading maker of toilets and other plumbing-related devices, but they're quite proud of how their toilets contribute to gracious lifestyles.
Factory tour every weekday morning at 8:30, by reservation only, though the practice of arriving at a corporate facility at that hour kind of defeats the purpose of a vacation.

The Sheboygan County Historical Society serves as the town museum for every other town in the county. Artifacts and news clippings abound, plus exhibits on circuses and a few historic buildings too; tours of the buildings at 11:00, 1:00 and 3:00.
The Hops Haven Brew Haus defied Domination today. It's closed every Monday, plus this Tuesday too for construction. And it only opens at night, so it won't be submitting Wednesday lunch even if the Domination sticks around town to subjugate it. Rebels!
Instead, the Brisco County Wood Grill submitted grilled swordfish for dinner, washed down with brown ale of New Glarus-Wisconsin.
The Weather Center Cafe submitted after-dinner beverage: warm milk with honey and spices. This beverage is likely to become a regular part of Domination life from now on. Plus, like many other places around Lake Michigan, they have the Weather Channel on TV.
La Quinta submitted lodgings. They wanted to charge $80 for a room, so they were very surprised when the Domination produced a coupon (courtesy of the Wisconsin Welcome Center) for a $50 rate. Fortunately, they adapted. If you don't have a coupon, you might as well stay right downtown, near all the restaurants, and pay less.
Day 9: Wednesday 7 June 2006
Okay, the operation is not quite open-ended. The allies back in the Core Territories of Illinois are crying out for the return of Domination. That's because they like to party on Thursday nights, and the Domination of Eiler is always good for a party.
But a week and a half has more than sufficed to drive around Lake Michigan. The Domination once circumnavigated the Gulf of St. Lawrence and conquered Labrador in that time. More recently, Brazil was conquered in that amount of time. For the Lap Around Lake Michigan, the forces are coming home a day early. From Sheboygan, the Domination forces will go into rapid deployment mode and get home in three hours.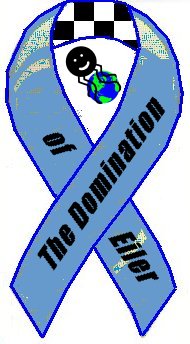 This operation shows these magnificent signs of success:
Targets subdued each day, including many of cultural or historic value. Indeed, this operation may have set a record. Five were subdued in one day... but there's been cross-reference with previously conqured places in St. Ignace-Michigan, Vincennes and Speedway-Indiana, Mineral Point-Wisconsin, and even Miami and Key West-Florida!
Trophies captured, of a small and easily preserved nature. The Dominator has a rabbit's foot now!
Much bike riding done. Usually when renting the cheap hotel room at the edge of town and then riding in for a good dinner, admittedly. But this seems like good Domination doctrine.
Much fine beer consumed.
Some pulpy science fiction read. But not much.
Work done on the Domination's fiction-blog May episode. But not much. Real adventures always take priority, but the fictional ones seem to be taking a vacation or something. They've certainly earned it, just like the real-life Domination of Eiler has.
And two sticks to carve, thank you Mackinaw City.
Domination of Eiler forces return triumphant as ever, all praise to the One Maker.
(signed) Dominator S. Eiler, Fist of the One Maker, for the Domination of Eiler.