| | |
| --- | --- |
| Travelog of Lake Geneva, Wisconsin, 2006 | |
Domination of Eiler: Home The Declaration of Domination What is the Domination? Latest Fiction The Dominator
Journals (by US state code): Typical VT WI WI IN IL MO WI WI IA IL MI WI <!a href=journal13.htm> WI WI ?? Blog.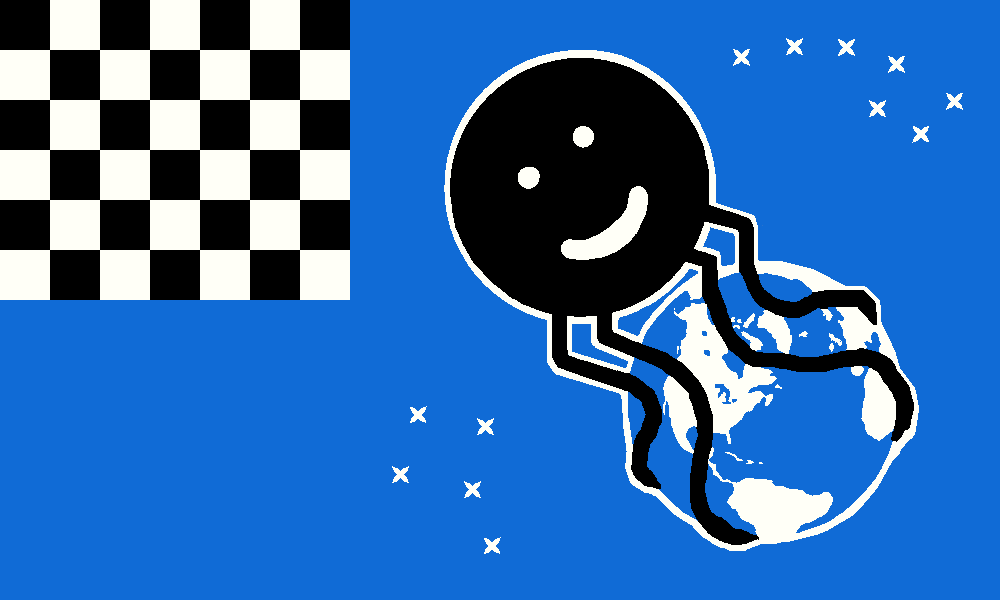 Domination of Eiler Journal #13: Operation Darkflower 2006
---
What Is the Domination of Eiler?
---
In one sense, "The Domination of Eiler" is a political entity modeled upon the Holy Roman Empire. Which is to say, it works through national and local political entities, but transcends nation-state boundaries. You may already be a citizen without knowing it!

In another sense, "The Domination of Eiler" is a pen name for an amateur but very prolific web journalist. Perhaps you may enjoy these travel writings, given this simple guide:

The Domination of Eiler is led by, of course, the Dominator.

Its chief military force, and bodyguard of the Dominator, is the Domination Guard.

The Domination's world headquarters is in Palatine-Illinois, near Chicago - and Wisconsin. As such, Wisconsin is a target for Domination patrols.

The Domination of Eiler loves November. The trees are bare so as not to impede the view of the sunsets, and the snow hasn't started yet... usually. So, it's worth its own holiday. And a vacation... usually northbound, to places like Maine and Wisconsin!

These vacations have recently been designated "Darkflower". This seems like a good designation to keep. If the Domination observed proper numbering, this operation would be Darkflower 5. It seems time to call it Darkflower 2006 instead.

This year, only a two-day weekend is available for road trip. For maximum relaxation, the Domination force has chosen to drive only one hour away from EilerBase - and spend three nights there! Lake Geneva-Wisconsin has been chosen for occupation.

<!a href=../ribbon.jpg> <!img src=../ribbon.jpg height=200 width=120 align="right" alt="Ribbon of Domination">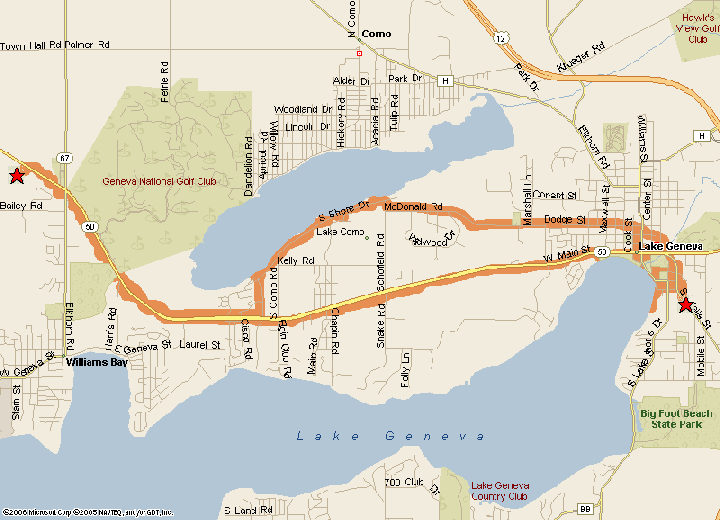 Day 0: Saturday 29 November 2006
Due to a drastic life change after the Day of Glory earlier this year, the average Domination weekend starts on Saturday night. Hence, this expedition has started on Saturday night.
Domination expeditionary force deployed from place of work, the venerable "Sparrow's Nest Thrift Store" of Palatine-Illinois. Resistance by a needy customer and a credit-card machine delayed departure half an hour, until 5:30 pm. Not a major obstacle, though. The Domination told its barracks provider its forces would arrive at about 6:30. Actually arrived at 6:31.
Barracks prearranged at Lake Geneva Motel, which also served the last operation. This time, it serves the entire operation, for three days. Cottages are closed for the winter, but hotel unit seems entirely congenial. All of Lake Geneva-Wisconsin seems only lightly occupied by tourists.
Dinnertime deployment to downtown Lake Geneva by foot, 0.7 miles each way. When the Domination forces can't hike a mile for its dinner unassisted, the Domination will probably start using canes - and still hike a mile.
Mess hall at Champs Sports Bar and Grill, which also served the last operation. Steak sandwich and some pints of beer were conquered. Not exactly proper pints, though. And pricey at $3.75 or more apiece. But lots of drinking by locals.
Thumbs Up Drinking and Dancing Establishment (read: saloon) provided some more proper pints, but also pricey. And no dessert. But lots of drinking by friendly locals. The Conquering Cell Phone made friends for the Domination, due to its ability to let one bar patron play solitaire while telling another patron that the Purdue - Hawai'i football game doesn't start until 11 pm tonight. Games in Hawai'i just suck for eastern North Americans (which is to say, North Eileranians) to watch.
Other restaurants and lounges are crying out for Domination. But it doesn't all have to happen tonight, because there are two more nights here! The local Caribou Coffee installation is instead chosen for sleepy-time beverage - though it closes at 10 pm! Warm milk should suffice.
Day 1: Sunday 26 November 2006
Primary target for this operation is the Geneva Lake Museum of History, which defied Domination the last time. It currently observes winter hours: Friday through Sunday, 10 am - 4 pm.
Secondary target, Lake Geneva Animal Gardens, west along the lakeshore from here. It isn't quite closed for the year yet, because it's Dancing Horses Christmas Review season. It offers a trained parrot show at 12 noon, and dancing horses at 1 pm. After the dancing horse show, the place reverts to a family petting zoo.
Tertiary target, church. It is a Sunday, after all. The local Congregational / United Church of Christ reportedly has service at 10 am. Nearby Methodists at 10:15, nearby Episcopals at 9:30.
All three targets may be subdued, even by bicycle because the weather permits - but only if attacked in reverse order of priority, and in lieu of Sunday midday dinner! This could be an interesting day.
Inspirational sayings of death, at the local Episcopal church.
Horses get up close and personal at the local animal show. See also:
A typical artifact at the local museum. See also:
Forces moved out in excellent order at 9 am. Episcopal Church of the Holy Communion chosen for Kingdom-of-Heaven obeisance. There swapped stories with the pastor, about what it's like to not have an organist. This is a more common phenomenon in Episcopal churches than one might imagine.
Deployed by bicycle to the animal show. Admission starts at $27 - but it comes with a dessert buffet!

The Dominator paid $5 extra for a ringside seat. Guides say for that price, the horses will be in the Dominator's face. The Domination says, bring it on.
Bird show featured vocal and tabletop tricks by parrots. It is impressive when a parrot rides a bicycle. But the rest was a lot like watching a stage full of two-year-old children; the trainer herself admitted that. The show was actually more fun when the birds didn't play nicely with the trainer. For entertainment value, the Domination of Eiler prefers falcons.
Horses weren't quite in the Dominator's face, but they did present themselves to other members of the audience. And they did actually dance and pose at times, though mostly they ran around like horses often do. At one point, a horse was performing to an instrumental version of "Herod's Song" from "Jesus Christ Superstar". Not exactly Xmas music, but still fun.
There were some curious performances: a human ballerina for three songs of the Nutcracker Suite, and a water fountain light show. Inspired by the latter, the Dominator took the opportunity to do the Dance of the Waters of Dominance at the men's urinals.
Video recording is prohibited. But flash photography is allowed at all times, even into the horses' faces! The horses have been trained not to mind. And after all, no mere photograph can really capture the phenomenon of a dancing horse.

Deployed by bicycle back to Lake Geneva city, thankfully mostly downhill. There, one hour remained to subdue the museum. Half an hour was sufficient. Typical collection of town artifacts, only in a fancy "Main Street" setting. The museum staff is still working on a town historical timeline for display.
Made it back to hotel, then lazily walked back downtown. Carved a stick (brought from home) by the lakeshore, and watched what would have been the sunset, had the clouds not interfered. Then dinner at Popeye's: Bavarian-style pork, washed down with cheap proper pints of the Leinenkugel Sunset Wheat of Chippewa Falls, Wisconsin.
Then, early bedtime. It's been a big day of Domination.
Day 2: Monday 27 November 2006
This day had been set aside for an exploratory expedition to Wisconsin targets Milwaukee, Brookfield, Pewaukee, and Waukesha. It makes sense to do this from Lake Geneva, which is less than an hour's drive from all these places.
But instead, the Domination is inclined to take its post-vacation recovery vacation. In other words, just stay in town, read books, carve sticks, eat lunch, eat dinner, write Xmas cards... and go see a movie. All these things can be conquered by foot patrol!
Target of opportunity: Tenacious D movie at little midtown theatre! Shows at 12:25, 2:45, 5:00, 7:45, and 10:00 weekends - but only 5:00 and 7:45 weekdays. Oh well, more sunlight time on the beach.
Lakefront hiking trail conquered, south of town. It's a private path, about 0.25 mile long, with spotty unmotivated maintenance. When the maintenance died out in the middle of some mansion's back yard, the troops turned back.
Many cute shops raided, but only one trophy taken. The Breadloaf Book Shop submitted a current affairs book on the emerging nations of Africa... vintage 1962. $0.5 USD was sacrificed to obtain this treasure.
At Mac's Roadhouse, conquered the Breakfast of Champions: pulled pork sandwich, washed down with proper pints of the house amber beer. Lakefront view too! But unsurprisingly for 11:30 on a Monday morning, the Domination had the place to itself.
Many pubs here are closed today, which is understandable under the circumstances. Some don't open at all on Monday, even when the Packers are playing. Oh well, no Domination publicity for them.
There followed some hours of checking junk e-mail at the public library, reading pulpy science fiction on the very scenic beach, and taking a nap.
After nap time, Geneva Java coffee shop submitted some coffee. Also a place to plug electronic devices in.
Fat Cat's tavern gave a $1.5 short draft, as preparation for the movie.
The Tenacious D movie was about what might be expected, from a band which once wrote a song about defeating a demon, and then had to spend two hours building a plot around that song. Oh well.
After the movie, the well-advertised local pub Carvetti's gave both chicken wings and Miller beer on special. Also a sweet young apprentice barmaid who poured the most proper pints in town. Also Monday Night Football. Go Packers.
At this point, Wisconsin football customs deserve some comment.
The Domination of Eiler only observes football at bars. Wisconsin bars are no exception.
This particular part of Wisconsin gets both Chicago and Milwaukee weather forecasts. And they support both the Chicago Bears and the Green Bay Packers. It's unknown how they react to Bears/Packers games.
Domination forces do not often observe Green Bay Packers games in Wisconsin. This is the second time ever. But within the Domination's limited experience... Whenever the Packers are on TV at a Wisconsin bar, the bar offers a Mystery Liquor Shot for every Packer score! Carvetti's of Lake Geneva-Wisconsin is no exception, but they do it for most Bears games too.
Unlike the other Domination Wisconsin football bar, Carvetti's doesn't make everyone sing a "Drink, Mother@%er" song with every victory shot. No, the fans at Carvetti's surrender their dignity individually.
Of course, they try to cheer loud enough to be heard in Seattle... but don't football fans do that everywhere?
The Domination forces stayed long enough to watch the Wisconsin team deliver three victory shots for their fans... and still lose to Seattle. Aww!
Day 3: Tuesday 28 November 2006
Semi-rapid deployment to the District of Dominance, to start the work day at 1 pm.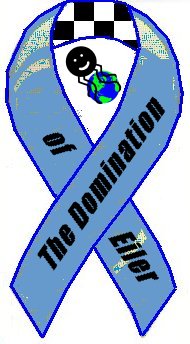 The operation shows these signs of success:
Not all bars in the town of Lake Geneva-Wisconsin have been subdued yet. But the town is now mapped for the purpose of Domination beer consumption, with all resistance and holdouts identified. Given the number of bars in Lake Geneva, this is quite an accomplishment.
One trophy taken.
The Domination will admit to these operational shortcomings, though:
No new lands conquered. Even within the Domination's existing lands, only five miles of state road was subdued - and only because it led to a parrot and horse show. Oh, the shame.
No new sticks conquered. Chicago suburbs are better for stick-collecting than Wisconsin resort towns are.
But Domination of Eiler forces return triumphant as ever, all praise to the One Maker.
(signed) Dominator S. Eiler, Fist of the One Maker, for the Domination of Eiler.