| | |
| --- | --- |
| Travelog of the Quad Cities, 2006 | |
Domination of Eiler: Home The Declaration of Domination What Is the Domination? Latest Fiction The Dominator
Journals (by US state code): Typical VT WI WI IN IL MO WI WI <!a href=journal9.htm> IA IL MI WI WI WI ?? Blog.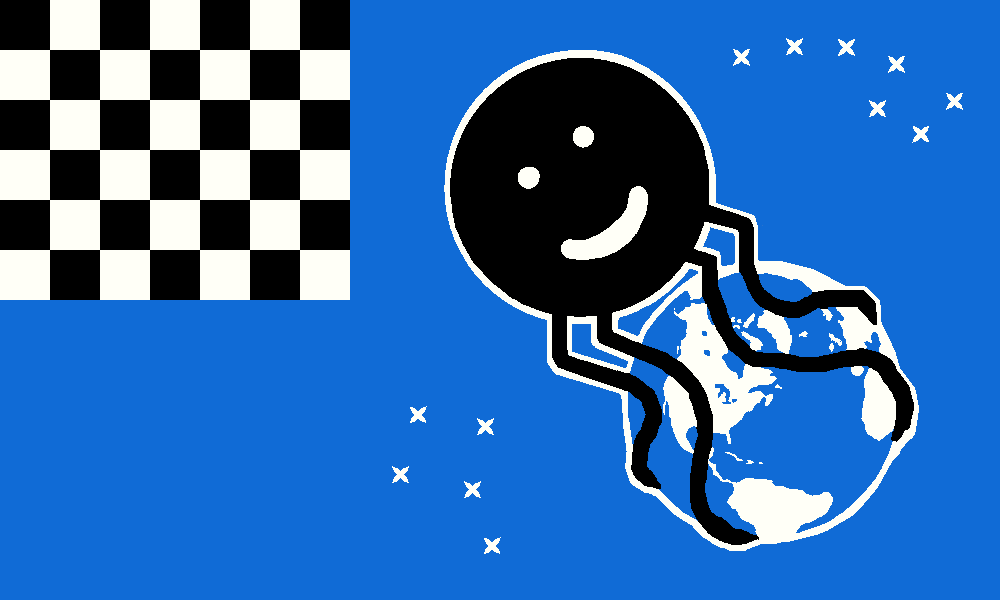 Domination of Eiler Journal #9: Operation Hardroad
---
What Is the Domination of Eiler?
---
In one sense, "The Domination of Eiler" is a political entity modeled upon the Holy Roman Empire. Which is to say, it works through national and local political entities, but transcends nation-state boundaries. You may already be a citizen without knowing it!

In another sense, "The Domination of Eiler" is a pen name for an amateur but very prolific web journalist. Perhaps you may enjoy these travel writings, given this simple guide:

The Domination of Eiler is led by, of course, the Dominator.

Its chief military force, and bodyguard of the Dominator, is the Domination Guard.
The Domination's world headquarters is in Scumburg-Illinois, near Chicago. As such, Iowa is an occasional target for Domination patrols.

The Domination of Eiler is continuing an annual tradition of March offensives to establish bridgeheads across the Mississippi River. March is almost always after the Domination holiday of Pavement Day, so roads are almost always clear of snow.

In March 2004, St. Louis-Missouri submitted to Domination - by bicycle patrol. In March 2005, Hannibal-Missouri and Fort Madison-Iowa followed suit. Now in March 2006, the Quad Cities submit! They have museums, brewpubs, and places to ride bicycles, and have therefore been deemed worthy of Domination.

<!a href=../ribbon.jpg> <!img src=../ribbon.jpg height=200 width=120 align="right" alt="Ribbon of Domination">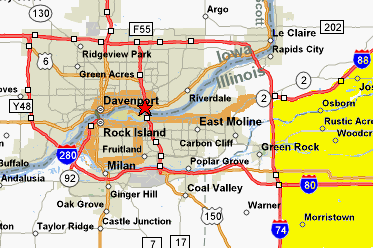 Day 0: Wednesday 1 March 2006
For early stages of the operation, the Domination subjugates DeKalb-Illinois, home of Northern Illinois University!
As for many previous operations (such as Waka Pig and Darkflower III), the Domination conquered its weekly ration of pictoral literature from provider "Dreamland Comics", then snuck out of Chicagoland at 6:30 pm, via back roads south of Elgin-Illinois.
But unlike previous operations, Domination armor avoided The Great Barrier Road ("Interstate 90", in non-Domination terms) and stayed on the back roads! (Operational music "It's a Long Hard Road". Road easy so far, though.) Speedy advances through small towns resulted, and a Domination garrison was established in DeKalb before 8 pm.
DeKalb-Illinois has been considered for Domination garrison before this, because it has many hotels and restaurants, and therefore makes for a perfectly decent night out. But the geography of the town deserves some consideration by visitors.
Most visitors will probably arrive in DeKalb via Interstate Highway 88. But they'll have to drive all the way into town and then beyond, to find any of the hotels.
Hotels are in two clumps: one on the northeast side, one on the southwest. The northeast clump is convenient to shopping malls and chain restaurants such as Applebee's. The southwest side is convenient to the university and student hangouts. The Domination chose to garrison the southwest side.

The hotel in DeKalb was very convenient to a very historic railroad.

But the hotel in DeKalb had a very quiet courtyard, especially in March.

The southwest side is somewhat seedy, even more so than one might expect from student hangouts. For instance, the railroad tracks run through there. And these are busy railroad tracks: two trains in fifteen minutes so far tonight.

All hotels in this neighborhood are up against the train tracks, so may have noise problems. But barracks "Best-Western" gave courtyard-facing access (away from roads and trains) to Domination forces tonight. (Light occupancy.)
Nearby mess-hall provider "Fatty's Pub and Grill" gave a huge chicken salad and pints of Blue Moon. The rest of the menu (besides other salads and three British Islands import beers) is sandwiches and American macrobrews, mostly light beer. Other dining choices are available within walking distance, but not many.
But hey, it's still a good night out.
Day 1: Thursday 2 March 2006
Railroad noise thankfully not a problem at fine hotel "Best-Western" of DeKalb-Illinois. But yes, the trains do come by every fifteen minutes or so.
The historic railroad to Rock Island is mentioned in many museums, so Rock Island couldn't ignore it.
It's actually a historic railroad. Rock Island-Illinois had the first railroad bridge across the Mississippi River, way back when they were still building the Transcontinental Railroad. St. Louis-Missouri built its own first bridge just because they said, "We can't let Rock Island become the Gateway to the West!"
In the end, St. Louis won. Amtrak doesn't send passenger trains down the railroad toward Rock Island any more. (Which means the Domination had to conquer by car.) But plenty of freight trains still come this way.
Geography of the Quad Cities is a consideration for this operation, especially because bicycle conquest is in order.
"Quad Cities" is just a fancy Latin way of saying "four cities". And these cities are in about as much balance as four cities can get. The four cities involved are Rock Island and Moline in Illinois, and Davenport and Bettendorf across the Mississippi River in Iowa.

All four cities are adjacent to Arsenal Island, home of the Rock Island Arsenal and Museum - the primary target of Domination for this operation, and the original reason the Quad Cities exist in the first place.
Most brewpubs ring Arsenal Island. Most major museums and other points of interest are scattered throughout the area. So, a central location near Arsenal Island will be an asset.

Moline-Illinois and Bettendorf-Iowa are the younger cities (though Moline is not younger by much). Their hotels are conveniently near Interstate Highway 74.
Rock Island-Illinois and Davenport-Iowa are the elder cities, and have downtown hotels (Radisson of Davenport and Sheraton of Rock Island), and bridges between them which aren't highway bridges, therefore accessible by bicycle. Therefore, either Rock Island or Davenport will probably be chosen for the Domination garrison.
But one thing that might $#@! this up, is casinos. Illinois and Iowa both tend to put casinos in slum towns, not in towns that are fun to visit anyway. And Davenport-Iowa and Bettendorf-Iowa each have a casino. Unless Rock Island-Illinois is substantially more classy than (say) Elgin-Illinois, it's unlikely that Illinois would pass up that action. And indeed, Rock Island has its own casino.
Another thing that might $#@! this up, is railroads. Each side of the Mississippi River has very active railroads, very near the hotels as far as the Internet can tell.
In short, it is necessary for this operation to scout the site first.
Domination forces reported for meager but complimentary hotel breakfast, and moved out in good order at 10 am. Moved quickly out the Reagan Memorial Tollway through farmland which is peppered with Republican campaign signs. (Operational music "Will Jesus Wash the Bloodstains From Your Hands?") Then advanced cool and easy into Moline-Illinois by noon.
Moline has eastern suburbs, of course, and they're all very working-class. The easternmost is Silvis-Illinois, which is famous for having one street that sent more boys per linear mile off to war than any street in the U.S. They call it "Hero Street USA", and there's a monument there.

Silvis, Illinios is home to modern fuel.

But in the Domination's opinion, the main attraction of Silvis is a gas station that serves an 85% ethanol mix! E85 is made for Flexible Fuel Vehicles that can run on either gasoline or alcohol. This Quad City suburb therefore joins the ranks of advanced nations such as Brazil in not just talking about alternative fuels, but using them.
Further inward is East Moline, which likes to refer to the Quad Cities as the Quint Cities. Conversely, there's some sentiment outside junior city Bettendorf for calling them the Tri Cities. Local businesses spout both these alternate names. Where does one draw the line, so as to not disappoint towns that want to be a Quad City?
John Deere lets the public play with some big farm equipment.
Moline has a brewpub.
The following downtown Moline points submitted to Domination.
The John Deere Pavilion submitted an exhibit of historic tractors, and another exhibit of giant-size harvest equipment whose driver's wheels you can sit behind. The guards will even take your picture! Great publicity for the John Deere company, whose world headquarters is Moline. Souvenirs available in the company store.
The Bent River Brewing Company submitted a buffalo burger (for $6, which is extra cheap) and several interesting flavors of beer brewed on premises. But don't ask for Honey Porter any time soon; the Dominator's bodyguard sucked the keg dry.
Moline has a clean and interesting downtown area, small but with plenty of hotels, nightlife, and free parking. Still, to support the bicycle patrols, the Domination expeditionary force continued on to reconnoiter Rock Island and Davenport.
Those cities are practically slightly-seedy mirror images of each other. Downtown Rock Island has one hotel, one casino, one bikepath, and two brewpubs; downtown Davenport has two hotels, one casino, one bikepath, and one brewpub. Almost literally six of one, half a dozen of the other.
In the end, the Fancy Hotel Sheraton of Rock Island underbid the Fancy Hotel Radisson of Davenport, and was selected for barracks.
Iowa Cultural Zone... and Pawn Shop.
A cross-river bicycle patrol followed. Rock Island has the advantage of a riverfront bike trail, connecting to two cross-river bridges (one of which was technically closed, but that didn't stop the Domination) and then going 60 miles north! This should make access to Arsenal Island trivial.
The Quad Cities seem worthy of a three-night stay, especially if the Domination does it up right and patrols only by bicycle. For magnitude of Domination, this puts the Quad Cities slightly behind New Orleans-Louisiana; in the same league as St. Louis-Missouri, Taos-New Mexico, Charlotte-North Carolina, and Charlottetown-Prince Edward Island; and slightly ahead of Appleton-Wisconsin.
With three days to devote to Domination, the usual manic patrols have been postponed until tomorrow. Instead, some hours followed of hanging around the hotel, plugging a drafty window with folded-up pieces of cardboard, answering phone calls from work (on the third consecutive vacation!), reading comic books, watching the local news, and (of course) checking out the local brew pubs.
The Rock Island Brewing Company (or RIBCO) has about twelve beers on tap, but only two of their own! And mostly hamburgers and other sandwiches to eat. Maybe later.
The Blue Cat Brew Pub has six of their own beers on tap, and interesting food. They submitted pork / corn muffin / coleslaw casserole to the Domination for $6, which is cheap. But $10 for a growler refill, which is pricy. No Domination growler traffic for them!

But they swear the Rock Island Brewing Company brews more than two beers! Maybe later.

Later confirmed, RIBCO still has only two of their own beers on tap. But several other drafts are 50 cents apiece on special nights. Plus a band, but the band will take its own sweet time to start playing.
To close the night, Theo's Java Club submitted decaf cafe latte with whipped cream on top, chocolate cake, and a kickin' banjo band. Free admission! And the band was playing early, 'cause the coffee house closes at 10 pm!

The Dominator may be a bit overage for this crowd, but with his stylish handheld computer (yes, the computer he wrote this travelog on, citizen), he fit right in. The young people at coffee houses sensibly work on computers, scribble on paper, play cards, and do real-life things in general. People at bars could stand to take lessons.
Downtown Rock Island is a district known as "The District" for some reason, apparently short for "The Arts and Entertainment District". Several nightclubs are present, but not open at dinnertime, and some not even open at 9 pm Thursday night. But there are signs prohibiting public vagrancy from 3:15 am to 5 am. What, does Rock Island have that many people who want to stay up late instead of getting drunk right after work - and never on Thursday? Friday night could be interesting.
Day 2: Friday 3 March 2006
Much resistance to Domination today. Even so, the Domination of Eiler is conquering.
The Rock Island Historical Society and the German Heritage Center of Davenport are both open by appointment only, at least on most days this time of year. And they each declined to make appointments. They are hereby declared in rebellion against the Domination.

Mississippi River Locks and Dam #15.

Rangers keep bald eagles in their telescopic sights. All for the visitors, of course.

Historic home of a Rock Island Arsenal base commander. Closed, of course.

The Rock Island Arsenal Museum has lots of guns.

Arsenal Island has some big guns.

150 years from now, the enemies of the Union may be honored like this. Confederate soldiers are today.

A historic fort blends into the Davenport skyline.

The Rock Island Arsenal resisted conquest at first. The U.S. Army has a policy: Visitors are not allowed onto the base on bicycles!

The Domination of Eiler has a force doctrine, which emphasises maneuverability over brute force. Hence, bicycles are preferred over cars, especially on nice sunny days like today.
The United States Army also recognizes the superiority of maneuverability over brute force. The guard explained, bicycle visitors are just too hard to control, especially since "September 11th". If "September 11th" is a concern, it's a good thing the Dominator didn't come to the base in a jumbo jet.
But hey, the next assault could always be bicycle-based. One of the Domination's freelance consulting companies - which does improv comedy on the side - has actually predicted a bicycle assault on the Free World! Admittedly, the U.S. Army may have its own reasons to fear a bicycle assault. But in any case, the U.S. security concerns deserved an appropriate response.
So the Domination bicycle force went back to barracks, stowed the bike, and mounted up in its "Flagship" four-wheeled vehicle which carries the U.N. and Domination flags, plus the Last Ribbon that says "No More Ribbons!", plus storage for audio tapes in a bright red and yellow box marked "BIOHAZARD" and "RADIOACTIVE", plus lots of unidentified miscellaneous stuff covered by a pirate flag. The Flagship then penetrated the Arsenal barricades.
The U.S. Army guards kept their opinion of the U.N. flag (in the driver-side window place of honor) to themselves. And it's probably best for all concerned, they never noticed the other stuff.
Once the Domination forces made it onto Arsenal Island, several points of interest submitted to the Domination. (Operational music "Armageddon Days are Here Again".)
The U.S. Army Corps of Engineers maintains a Locks and Dam #15 Visitor Center, overlooking the navigable part of the Missisippi River. Upstream of St. Louis, the Lock and Dam system is guaranteed by the U.S. Government to make the river navigable for barges.

Domination forces visited Locks and Dam #12 in Bellevue-Iowa once, in an impromptu manner that its guards really didn't like. Locks and Dam #15 was much friendlier.
A picture of a bald eagle was taken through the Visitor Center telescope. (Bald eagles actually love locks and dams; in bald eagle cosmology, big flat pools of water are like supermarkets.)
Also, many trophies were captured at the Visitor Center gift shop.

The Colonel Davenport House, historic home of a base commander, resisted conquest. Open May-October.
The Arsenal Museum submitted several historical exhibits on U.S. Army manufacturing, plus a massive collection of small arms. A smiley-face pin was captured at their gift shop.
The Arsenal has an active manufacturing plant with motivational banners about terrorist-fighing, which was worthy of a photograph. Not that the Domination's camera actually did the job, because there was no good place to pull over to take the photo, and paranoid U.S. Army guards might not have appreciated a hiking excursion on base. We'll see how well a photo comes out while the car is rolling. (Not well at all, sadly.)
The island's park has artillery on display.
The Confederate Cemetery submitted a good photo-op. There's a National Cemetery on the island too.
The Fort Armstrong Blockhouse is adjacent to the bridge into Davenport. The Domination's bike force will be seeing a lot of that blockhouse.
When a traveller crosses Arsenal Island from west to east, this dumps the traveller in downtown Moline. For the Domination forces today, the opportunity was taken to subjugate some currywurst at the Bier Stube German restaurant, and then buy some Matchbox-scale toy tractors at the John Deere Store.
John Deere was overrun with whiny children. The weekend must be almost here.
One parent was kind enough to recommend some bargain toy tractors. But the Dominator paid full price for the bigger models, to properly convey the power and majesty of farm equipment to his associate-Eilerspawn.
Big terrarium.
Eek! Turtle on the loose!
The Quad Cities Botanical Center was subdued on the way back to Rock Island. It's mostly notable for its 70-foot-tall terrarium - complete with a live turtle that goes where it wants! And popular for weddings too; one young couple was hogging the prime territory for a photo shoot. Aww, sweet!
Domination forces returned to hotel, enjoyed some down time, then re-emerged for bicycle excursion along bike paths into Iowa to forage for dinner. (Operational music "The Other Side of Life.") Arsenal Island bridge surprisingly reopened for auto traffic. Aww, competition!
Cute village of East Davenport briefly occupied. It was absorbed into the greater Davenport a hundred years ago, but still clings to a separate identity, with an odd combination of saloons, cute stores, and brick alleys that they're quite proud of. Primary feature there was... another Bier Stube restaurant!
Domination patrol instead returned to downtown Davenport for a proper brewpub dinner, at Front Street Brewery. Six beers on tap, with some interesting flavers like cherry. And steak and mushroom pie, though many people may prefer the Friday night prime rib special. $8 growler refills (but they won't fill other places' growlers), and $2 pints during Happy Hour (3-6 pm weeknights)!
Front Street gave intelligence on other local brewpubs...
Granite City out in the Iowa suburbs only partially brews their own; they subcontract out the early stages! (That reminds the Dominator of how Samuel Adams Boston Lager is really brewed in Pittsburgh.)
And the Rock Island Brewing Company has reportedly given up brewing their own! Which would explain their poor stockpiles of their own beer. One wonders if they'll change the name of their pub when they run out.
Dessert back at the Blue Cat Brew Pub. Rock Island has other choices, but not many. One nightclub in The District was observed closing at 7:30 pm! And the local comedy club has one show a night - at 7 pm. This is the strangest nightclub district the Domination of Eiler has ever seen.
Oh well, tomorrow's a new day, and worth staying in town for. Free aerobics classes in the Fancy Hotel gym for guests! Then sunny again, with some targets left within bicycle range, including the Black Hawk Historical Site. If targets run out, it never hurt to sit and watch a mighty river and read a good book. Later, there is a (buffet) dinner theater "Circa 21" in The District, now playing "Grease". And an improv comedy club "Comedy Sportz", which is probably preferable to 1950s/70s music and a buffet.
Day 3: Saturday 4 March 2006
Judging from hotel hallway noise at 3 am, there is a nightlife in Rock Island. Oh joy.
Unlike night club clientele, Domination forces reported in good order for morning calisthentics. Unfortunately, the instructor didn't. Oh well, more time for bike riding. (Operational music "Take the Long Way Home".)
Mississippi River observation tower. The floods have come up to the middle story.
If Chief Black Hawk stood here today, he'd see a gravel mine.
Chief Black Hawk and his lodge.
The Belgians are among us in Old Town Moline.
The Rock Island bike path goes north 60 miles but south only to the tip of Rock Island, where the Rock River meets the mighty Mississippi. The Rock Island Boat Club has public river access there, plus a marker that shows how 1993 and 2001 floodwaters came up the observation tower, a story and a half. Said tower is good for watching the river with a good book... but today books come second, Domination comes first.
The Black Hawk Historical Site has a scenic view of the Fox River (and of a gravel mine), and two museum exhibits: one on Black Hawk's Fox and Sauk Indian tribes, one on their successors the last-Depression-era Civilian Conservation Corps. The Fox and Sauk built bark houses; the CCC built a big stone lodge which is useful for weddings. And of course a young couple is taking advantage of the CCC structure today.
The Old Town (or "Olde Towne") neighborhood of Moline (inland and invigoratingly uphill from the rivers) has a Belgian Cultural Center. Figure the odds that it's actually open. But eating bloodwurst at the nearby Belgian Village Inn is almost as cultural. Plus, it finally gives the Dominator the chance to cackle villainously and say, "Blood power fills me!"

And Dennis the bartender asked about the Domination's commentary device, "Is that a little typewriter?" That's a new twist on how people at bars get themselves onto the Domination's web page "So You Met My Web Site at the Bar". Usually they say, "Is that a computer?"

... The Belgian Cultural Center was actually open! It keeps regular Wednesday and Saturday afternoon hours, and extra on the first Saturday morning of the month when they have a Belgian waffle breakfast. Their exhibits are almost all news clippings, half of which are in Belgian. Still, that's infinitely more culture than the Germans over in Davenport were willing to share.
The Rock Island Historical Society may be closed, but their compound of historical houses in uptown Moline has a lovely view.
Domination forces then made it into downtown Moline, in time to watch shops close at 1 pm. Managed to capture some tasteful checkered pants at the Uniform Den, but the other offerings were pricey and/or licensed for police use only.
Then the bike trail made return to Rock Island trivial.
Not having had enough of bike riding, the Domination Guard refilled the water bottle, picked the flecks of Belgian sausage blood out of the Dominator's teeth, and then remounted to ride the Iowa bike trails and conquer Bettendorf! Downtown Bettendorf evaded conquest, though - assuming such a thing as "downtown Bettendorf" even exists.
Bettendorf is a post-riverboat town, whose center is not necessarily where riverboats can get to it. (East Moline proudly claims the same characteristic.) But the Bettendorf town center isn't even visible from the river!
In place of a Bettendorf riverfront is the Bettendorf casino, where the bike trail ends abruptly so casino patrons can walk across it via a very cheap covered walkway. The neighborhood consists mostly of muffler shops. Occupation was deemed irrelevant.
The Domination force retreated to downtown Davenport. $1 worth of incense sticks and some brochures on arts and neo-Paganism were conquered at "Bucktown" fancy art compound. What do frankincense and myrrh smell like, anyway? The Domination is now in position to find out.
Then, second lunch at Front Street Brewery, before return to barracks. (Operational music "Duke's End".)
Dinner at hotel restaurant "Bennigan's", courtesy of 20% off coupon for hotel guests. Bar mistress Theresa noticed the writing of travelogs. Hi, Theresa! And thanks for confirming, there is no downtown Bettendorf.
No evening entertainment for the Dominator at comedy club! The Dominator's bodyguard aborted the excursion, when a group of rowdy underage patrons was observed entering the venue. And by "underage" is meant "junior high school girls", enough to make a youth group. Accompanied by two haggard chaperones as required by church law, even.
It hardly matters how versatile the comedians are, if their target audience is masses of juveniles. So have fun at the show, kids; the Quad Cities' nightlife was made for you.
Dessert conquered at "Blue Cat Brew Pub" instead. Much travelog editing done there, even unto the incorporation of photos. The Domination of Eiler does not need to consume entertainment, because it produces entertainment enough for all.
All in all, a day of much Domination. Wise decision to spend extra day in Quad Cities. Some up-river points such as LeClaire-Iowa and Clinton-Iowa still call out for Domination, but that may be worth a return trip.
Day 4: Sunday 5 March 2006
Scheduled return to EilerBase Scumburg is aborted! Snowstorms are predicted near Chicago and most of the way back. Obviously with the Dominator out of town, the elements are disregarding his declaration of spring. Road too hard for the Domination. Operational designation "Hardroad" therefore oddly prophetic.
But there's no grand holy reason to be at work on Monday, especially when it's dangerous to go there. The upriver points would submit to Domination this day, except even just driving around town is unpleasant on slushy roads in the rain. So the Dominator will just hang around town(s).
Rock Island is good for finding churches. Walk two blocks away from downtown, and steeples dominate the skyline. The Dominator observed Kingdom-of-Heaven obeisance alongside Episcopalians, whose ceremony was more convenient than nearby Methodists or the freelancers who operate out of the Masonic temple.
Hotel-affiliated gym also open. Regular Monday workout thereby achieved in advance.
But the Rock Island "District" is especially dead on Sundays. The casino, the hotel Bennigan's, and one dive bar "Steve's Old Time Tap" were open and serving food, and "Grease" dinner theatre was promising to open the buffet in a few hours, but all other places were closed. Rock Island has therefore made it onto the Sunday Dead Page, now revealed to the Domination's public for the first time!
Casino restaurant jammed, and one has to navigate through slow-witted gamblers through an incredibly smelly nicotine-aroma casino to get to the restaurant anyway. Given the slow-wittedness of the gamblers, it may be possible to get preferential bar seating, but why bother?
Thereby discovered, "Old Time Tap" serves a perfectly good grilled tenderloin sandwich, washed down by the Michelob Amber Bock of St. Louis. Considered asking for water afterward, but Michelob Ultra's just as good. The St. Louis brewery dominates much of the nightlife around here, which may explain why local brewpubs don't all brew their own beer any more.
Finally, back to hotel to hibernate until the next business day. The Domination's been on enough business trips to know how to do this on a Sunday afternoon.
Day 5: Monday 6 March 2006
Rapid deployment mode directly back to the Domination's engineering facility. The extra day in Quad Cities only counts as half an extra day of vacation! This practice is to be considered in future.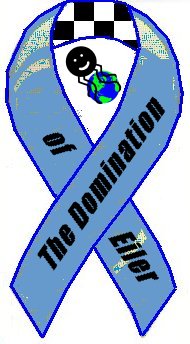 This operation shows practically all the signs of success:
Many trophies captured.
Much bike riding done.
Much fine beer consumed, almost entirely of brewpub quality!
Some work done on the Domination's fiction-blog February episode. But this real-blog episode is so damn adventurous and silly, it's taken priority.

One episode has a villain who storms a military base while flying a pirate flag, then celebrates by feasting upon swine's flesh mixed with blood, while cackling about blood power. The other episode has the fictional characters. They may be aliens, mages, and a mutant supergenius, but they're boring by comparison.
To commemorate this especially silly operation, the Domination is considering re-opening its Silly Towns page in honor of the Quad Cities. Is Rock Island sillier than Hoffman Estates? It's only fair to ask the Illinois public!

Some books (okay, comic books) read.
The Domination's frontline extended yet again, even if only across one county line. But the newly-occupied county is Scott County, Iowa! The Domination of Eiler considers this to be a good omen, for reasons having to do with the name "Scott" in Domination history.

But no sticks carved. Oh well.
Still, Domination of Eiler forces return triumphant, all praise to the One Maker.
(signed) Dominator S. Eiler, Fist of the One Maker, for the Domination of Eiler.