Me in Comic Books:
Startup Escalation 1999 2000 2001 2002 2003 2004 Prequel 1 Prequel 2 Prequel 3 2005 After Rapture A Sequel (?) 2006 2007 2008 2009 2010 .
---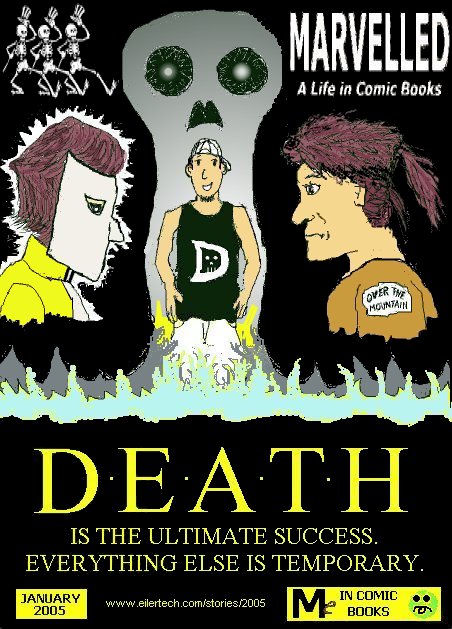 The Adventures of Me 2004-05
The Year After Rapture
So, how are people reacting to a mass disappearance - and all the other stuff that goes along with new limitations on reality?
Well, first let me tell you how I react.
---
2004:
Power in the Blood. Seeing as how we have a President-elect who swears to protect God-fearin' Americans against superhumans, and seeing as how I've been superhuman at times, and seeing as how I kind of live in America, I suppose I'd best check in with the Prez's staff.
That means, a road trip to South Carolina, where the Vice-President-elect lives. He's probably handling the discipline for superhumans, just like Dan Quayle did back in the last millennium.
On the way down, at a B&B in Virginia, I talk with a woman about a lost boyfriend. Then at the nearby sleazy bar, I talk with a man about how some people start fights over the jukebox toward closing time. This, of course, starts a fight.

The fights are teams of 2 or 3, taking turns sparring for 30 seconds while trying to solve crossword puzzles. Which is fine, only I can't see the letters on the wall.
Enough is enough. One punch, and my opponent is down. Last month's bit of gladiator training helped. (8 Dec 2004)

I've come into Columbia, South Carolina, on a Friday afternoon. Traffic is light, but there look like enough things to do. The Roches are even doing a CD signing! And there's a Sandesmark Hotel that's convenient to cyclists. (9 Dec 2004)

But more importantly, it's convenient to the SC State House, where the Vice-President-elect lives for another month or so. If I'm going to make my peace with the new Superhuman Control Initiative, that's where I have to go.
I finally get to talk to one of the Gov's aides. He tells me, go get some blood tests done at a facility in Texas, then we'll talk.

While in town, I tag along with someone who has a hero-power generator and wants a bar fight. He wants me to take some powers from the device too. But I duck out.

I wind up across the street, with some children harassing me. An old man says I have to play monkey-hopscotch with them, because I gave them candy earlier. That's how it's done in this neighborhood. Oh well, I still come out ahead. (11 Dec 2004)

My brother, another woman and I are awaiting blood transfusions in a Texas megachurch. It's having a barbecue too. (19 Dec 2004)

This church is where the Gov wanted me to go. This megachurch has its own hospital facility. Hey, why not, Catholics have their own hospitals too. It's just that I have issues with megachurches.
Still, my bro's glad to see me cooperating with authority for once. Goody for him.
As for the other woman... There was this one telekinetic I've met a couple of times, including at that last megachurch. She's reporting in too.
I knew going in, that when people from certain Southern states with proven rebel tendencies express an undue interest in my blood, there's really nothing good to come of it. But what else am I going to do?
If I just leave things alone, they'll just come capture me again - just like in January.
I've already heard from all my U.N. friends, the U.N. won't come defend American captives again. The Willow Farm Intervention already burned up too much political capital for them. Instead of setting a precedent, it seems to have created something for Americans to oppose.
And as of last month, most major international superhuman opposition to United States superhuman regulation has evaporated.
Well, boo, me, and all the people I was trying to defend at Willow Farm.
It's not that I hate our Republican President-Elect, at least not the way some people do. But so far, my experience with his supporters has not been good.
So, I can't help a small act of defiance: In my FERG Hotel West in Wisconsin, I take in two new roommates who want to fly a Gay Pride flag. Fine with me, as long as I can fly a Straight Pride flag too. (30 Dec 2004)
What FERG Hotel West? Well, I do enough business in the Midwest, that it's become worthwhile to open a dorm for my workers and visitors, in beautiful Brookfield, Wisconsin overlooking Interstate Highway 94. It's in a converted warehouse, so it's very sturdy, but kind of baroque. My friends from India love the lifestyle. But anyway...
My new roomies say, they've snuck in from Canada. There's a part of the 49th Parallel where you can cross with impunity and choose what Grange hall to have your harvest meal in, even though you're not supposed to. (26 Dec 2004)
Meanwhile, William Shatner's making a documentary about migration of Indians between reservations from Alaska to Florida. So, as soon as the roommates leave, he's on their trail. (30 Dec 2004)
So, here we have it. I wish I could come up with a nice clean heroic ending to the Story of 2004... but all I see coming, is a guerrilla war of Minorities and Superhumans vs. Big Government.
Oh well, this is real life, at least for me. When is real life ever clean?
---
2005:
City of the Early Morning Darkness. What happens when dreamers can no longer dream of other universes, because their own universe is under blockade? It isn't pretty. And I know, because I live among the dreamers.
I've come to Syracuse, New York, because that seems to be where a lot of defense jobs are gathering. Lockheed-Martin, and all that. I want defense jobs, just because I want jobs. And so do all my friends whom I employ.
Apparently a lot of dissidents are gathering there too, because that's what dissidents do. They hold up signs outside of defense factories. I know this because I lived through the Reagan years.
I meet enough of them outside of protests, to know that they're having trouble dreaming. They used to dream of better worlds - but now they're blockaded from them, even in dreams! Now they can only dream of the same old crap as happens in the real world.
Wow, I'm having real-world dreams too. I dream it one morning, then I hear it on the radio news that same day. This reduces my dream-entertainment factor... but it could be a major source of information transfer.
But there's a down side. The people who can't dream of good stuff, are walking around in the early morning like zombies! Local pamphlets are giving instructions on how to safely handle them.
I wonder if our blockaders knew about this, when they set up the blockade. Did they even care? (4 Jan 2005)
The Domination Cabaret! Oh, let's not have a rebellion, or a bunch of wandering zombies who can't cope with reality. Let's have a party!
I'm actually kind of famous for organizing nation-class parades and parties - most recently at DominationFest I. It's kind of early to have DominationFest II, but it's definitely time to have something.
I've chosen a baroque old hotel in St. Charles, Illinois for the festivities. They can't attract tourists 'cause they're so near to Chicago which has better attractions with hotels nearby, and they can't attract condo dwellers 'cause they're too far from Chicago, so they're good for me.
It is a full-weekend thing, though. And we have a ballroom set up as barracks, because the DominationFest crowd likes it that way. And we have Alice Cooper for our Saturday morning wake-up call. He gets people scrambling out of bed to proudly submit to, "Go To Hell"! Great song, but I do my best to sleep in.
For the final day, we've got Mick Fleetwood in a long-hair wig - and calling himself Mickey Fleet. I also got David Gilmour, but he's got his own Beatles-wig and calling himself Davey Gil. Finally, there's my friend Vara Hosea, but she's putting on whiteface and calling herself Tori Amos. One drummer, one guitarist and a pianist is definitely enough for a cabaret. You should hear them do "Pow R. Toch".
And there's spiritual warfare! Some people from the nearby megachurch all buy tickets - and then have a pray-in! I recognize someone from my high school there.
Oh well. It's still my kind of inaugural party for the new U.S. administration. (6, 25 Jan 2005)
Meanwhile in Wisconsin. Speaking of our new Republican President... Wisconsin news broadcasts are observing the inauguration of President Hatch, by showing how much of the state proudly voted against him. It was pretty much them, New York, and Massachusetts.
Oddly enough, even the Dells voted Democratic. They must think he hates amusement parks. Which was a reasonable conclusion, given how his home state Utah is not known for any kind of ongoing entertainment.
Back in Wisconsin... Not to be outdone by Democratic media, Republican militiamen go on local access television to simulate attacks by Godzilla. Jerry Garcia gets to help move the models. (20 Jan 2005)
But why do I care about Wisconsin? Because the FERG has its Midwest headquarters there now, in the Milwaukee suburb of Brookfield. And it visits the local Chambers of Commerce, in the local town halls.

In the town of Brookfield itself, the town hall is part of a major complex including parking, restaurants, and a cherry-packaging factory with tour groups. (19 Jan 2005)
In nearby Ashippun, the town hall is a stone building, and barely has functioning restrooms. Tourists mostly stop by for the free aerobics lessons in the gym next door, but even the equipment there is antique. (21 Jan 2005)
Return of the Turkish Empire. In another land, Turkey's on the brink of taking over New York City. And that's less far-fetched than it sounds, because the Turks have allies in New England... but hey, isn't my universe supposed to be blockaded from all other lands?
I've been enrolled as a junior member of a team of interdimensional secret agents. They want to prevent a Turkish power play, in another universe... and this universe is convenient to them.
What the hell? My universe is supposedly a black hole now! Anything can get in, but nothing can get out.
But the agents correctly point out, black holes are suspected to correspond to white holes which spew stuff out. That means, my universe can spew into at least one other.
In fact, that's what caught their attention: my universe is like a one-way tube.
The Turks in that other universe have noticed too. And they're taking advantage. They can take the roundabout way here, go straight back home, and get no interference from interdimensional cops, because my universe is under blockade.
We're meeting in my universe, in a beachfront town filled with marinas and sleazy motels. Kind of like Michigan City or the Rhode Island shore, but I think it's actually Oregon.
We're portraying a dysfunctional clan. I get to be the alcoholic little brother, which I do quite well. Here I do it well enough, that one guy tries to sell me satellite TV. But I'm not so drunk as to abandon my National Weather Service live feed on the Weather Channel.
The other agents, of course, are my elder siblings. Judging from their own assignments on this mission, they have the skills of deep-sea diver, bartender, hairdresser, martial artist, and billionaire. I'm impressed.
We're looking over plans to extend the Turkish Caliphate (no, it's not really an Empire; "Empire" is just a translation) all the way to North America. One scroll describes provinces: London to Basra on one side, New York on the other.
How is it that Turkey is so powerful? Apparently, it's because the U.S. lost the War of 1812!
We get "Disengage" messages from England and America, but we ignore them. My colleagues are supposed to be under radio silence. For all they know, the Turks really have taken over, and only we can stop them now.
So they're fitting my car with cameras - and balloon camouflage. It looks kind of like a green Parthenon now. Other of our vehicles look kind of like silly little SSTs.
My mission? Infiltrate the Thanksgiving Day parade in New York City, and observe, because that's where the Turks are apparently making their move, with logistical support from New England. Naturally, in this universe, Thanksgiving is in the middle of January. I guess every universe needs a mid-January holiday.
Naturally, I get captured by Turkish taxi drivers, and taken to rural New Jersey. I suspect my colleagues were counting on me to be a blazing bright target, as usual.
I get strapped into a chair for interrogation. But here comes a plot twist... The chair cuffs come open! It seems my rescue is here!
Then I fly away - with superhuman power!

I used to have superhuman power... but then it got taken away.
But people couldn't just believe that. They had to poke at me, and give me blood transfusions, and so on. I guess they've poked enough now.
Superhuman power is kind of overrated, given all the trouble it used to get me into... but it surely is fun to fly again.
Meanwhile, as I distract the Turkish force by being captured, my colleagues foil the Turkish plot. Of course, it involved a hostage situation and a mind control device. Doesn't that just figure.
They say they have another mission (I might find out more later), to go a little bit into the past and keep the Turkish Caliphate from rising in the first place. But before they go, they're kind enough to get me back home. They march me through a portal, and say I shouldn't ask where the portal is. Oh, well, I suppose they wouldn't be secret agents if they didn't have secrets.
Well, maybe I'd better tell my friends at the U.N. there's a way around this universal blockade. I wonder if they'll immediately set up an assault that way - or else be sensible enough to just use it when they need it?
But if the U.N. does set something up... I have a relative whose diary says he's been victimized - by Ellipsis. If there's an assault on, I want in. (7 Jan 2005)
Over the Mountain. Editor's Note, by Calvin L. Ferguson:
This story was found in the North Carolina State Archives last year, among geneaology records from the Revolutionary War era. The source document passes all tests for authenticity, but it was apparently written by the modern-day Wyatt Ferguson... my brother.
A copy of the original document was forwarded to Wyatt's company, the Freedom Engineering Research Group. We all agreed, Wyatt would want this on his web pages, with all his other stories. Wyatt's friends were kind enough to put in cross-references, but they asked me to write the introduction.
I have to be quick with this story, because I write it on paper, and not much.
It started when seven men broke into my office. They wore hockey masks and looked a lot like Scum Death. It's a long story.
Two of the men were really women. One was even the infamous Sweet Thing, my mom's cousin. Therefore mother of my missing relative. She'd gone around slutting, and landed with a Scum-Death-themed gang in the Bahamas. (17 Jan 2005)
Then she found out her son was missing, presumed killed by the superhuman Ellipsis. She and her friends were going after the killer. And they were taking me, 'cause they needed a guide.
My main objection: they couldn't beat Ellipsis. But one said, "Hell we can't." He was the original Scum Death - my evil twin with cosmic power! Those others were following him. And I'm pretty sure, Scum Death can go anywhere. So maybe they could beat Ellipsis.
So I told them how Ellipsis now lives in another universe, in Warsaw-St.-Lawrence. It's a long story. I meanwhile typed instant messages on my computer, 'cause I had to tell someone where I was going.
Good thing, 'cause then we went. I thought I'd have to set up a trip through a time machine or a secret portal or something, but then...
Scum Sweetthing said, "He died saying Yopp". Magic word, if you know your Dr. Seuss.
Then other Scums said, "Yoppside Yo' Head!" Magic word enough for them - and it broke us out of our universe!
When we got there, they started busting windows and yelling, "Bring Us Ellipsis!" I slipped away and found some contacts. Who my contacts are, is a long story.
When I got back, Scums were confronting the mercenaries Tyrmj. Tyrmj are the police here, since last I visited: 60 warriors, 60 battle maidens, 60 mages, 80 beasts of burden, and 80 deadly War Beagles. Scums said they'd find out what beagle tasts like.
But then I yelled, "Representation duel!" My contacts Andrea and Gail hold office here, and they said, if we challenged Ellipsis to a duel, the police would lead us straight to him. He's from our universe, so we had the right.
Then, people I know started appearing. Those instant messages I sent, paid off. I didn't get a U.N. intervention on the scale I wanted, but I got Morningstar and the Mighty Tim from there. I also got Julie Wolcott and her bodyguard Jill Stern. How I know them all, is a couple of long stories. And there were some others. Maybe they got enough help to win!
But then I heard a voice in my head: "Wyatt Ferguson. You at least I can be rid of." Ellipsis telepathy!
Then I saw a magic portal coming at me. Ellipsis can do that; he has control of the Siege Perilous! I had just enough time to say, "I already took that challenge! It's your turn!" Another long story. Then...
Here I am in North Carolina. The year is 1780. The Revolution is on in America, and King George III loses... unless I screw things up.
I'm here with the Over-the-Mountain Men, the rebel militia from what will later become Tennessee. We go into battle tomorrow, at King's Mountain. From what I remember of history, it's the beginning of expelling the British from the South, and eventually from Yorktown and all the United States.
I'm American, so I can hardly refuse to fight for the cause. Besides, I kind of had to join the Tennessee militia to survive, thank you very much Ellipsis. Besides, the future can usually take care of itself, but right now, I have to take care of the past.
So far, I've made out well. The militia loved my Sharpie marker; they marked up all their battle flags with it, then all their uniforms, with their slogan, "Over the Mountain"! They also liked some old plastic grocery bags I keep handy; the commander wears them as socks now. And I got a nice deerskin coat and coonskin cap in barter. Plus enough of the company provisions to keep me alive... except I'm always hungry still. I think they are too. Eating is hard enough here, when you aren't on a long march.
If I survive tomorrow, I can go home with a time traveller I met at the Cumberland Gap. He's with a team from the U.N. of my own time. They're doing a pentahedral time travel exercise, whatever that is, but I gather it involves Ohio and four other destinations.
Once I get back, I'll find out how that Ellipsis stuff went. I hope they kick his ass.
But whether I make it back or not... I think I'm done with that modern political crap. I've again been disposed of, by the Siege Perilous, which is higher than I, even if a rival of mine controls it. And it's put me where just one more fighter might make the difference for all of our history. Where I come from, I've never made the difference, I've just been the bystander.
Maybe reality is trying to tell me, I need to do more struggle alongside the common man - the kind who have to worry about their next meal - and less getting dragged into superhero fights.
God Save the Revolution!
Wyatt Ferguson
6 October 1780 30 January 2005
Editor's Note, by Calvin L. Ferguson:
The universal blockade was indeed broken, by a loose coalition of U.N.-sponsored and other dimension travellers, including the Caribbean independent operatives my brother refers to, plus United Nations heroes, plus some strategically-important people closely related to Ellipsis, plus a small group from the Church of the Super Savior, of all places.
All adverse effects of the blockade seem to be reversed now. In particular, wide-scale teleportation is once again operational to United Nations forces. These forces have yet to recover from the previous lack of teleportation, though. There's a movement on to revoke all United Nations peacekeeping, just because of its failures during the teleportation blockade, particularly in Tierra del Fuego.
Reports indicate Ellipsis actually was under malign influence, just like my brother's controversial stage play indicated. This influence has apparently dissipated, but Ellipsis disappeared afterward and is still missing. And so is Wyatt.
Wyatt was apparently pivotal in the organization of the action, and he was there for the start of it. I can say with authority, Wyatt is one of the most valued observers the United Nations has. Even in his report from 225 years ago, he's told us things we couldn't have known otherwise.
I have to mention, the United Nations assessment of this report only gives Wyatt credit for his observations that the U.N. can independently verify. It does not include whatever else he's done in behalf of our world. If we believe his stories, Wyatt's been a major beneficiary to all of humankind, as much so as any independent superhuman operative within United Nations history. And I can say with authority, the United Nations has no reason to blatantly disbelieve Wyatt's stories.
But whatever Wyatt's adventures have been, they're not his best accomplishment. His main gift to humankind, is his stories. Wyatt's legacy to history (so far) is that he gets in the middle of the action, and then tells stories about it, just because he loves to tell stories. And that literally is history in the making. If Wyatt had seen the whole battle against Ellipsis, I'm sure he could have made a great story out of it.
I can tell just from looking at Wyatt's web site, that he was gearing up to bring you lots more stories. Maybe someday he'll come back and tell them.
Wyatt's disappeared before this, and always made it back. But I'm not so sure this time. He mentioned a pentahedral time-travel exercise under U.N. control, but I've never heard of such a thing. Believe me, I'd know if it existed.
Wherever you are, bro, keep that pen working. And please don't make me tell your nephews they'll never see their uncle again.
- Calvin
---