You can meet Marvel and DC heroes in these adventures, plus heroes of my own designing. Ever since my own world nearly ended, I fade in and out of existence alongside the Marvel heroes. I'm kind of like that Access guy, except instead of going to visit Superman, I get to read stories about a guy named Ellipsis. But I still get to meet the DC heroes, whenever they come to visit the Marvel Universe.
"Psodyoxmy". (7 May) Me and the Justice League.

Against the Gods. (7 June)
The office is going to the beach, where some of us can go kayaking. I've got my inflatable kayak, but before I can set it up, I'm swept out on the water.
I manage to link up with three of my friends, then start testing my survival lights. Only half of them still work; the other half are soaked.
Then something happens, and Mom's telling me how sweet my survival lights are. Uh oh, I'm in the land of death now.
And now I get my chance to find out what I'd do if the gods themselves told me to work harder. For the record, I'd oppose them. But luckily, I find the elevator out, and don't press the wrong button.
The Adventures of Oliver Cromwell. (10 June)
Someone's been messing with history. They've equipped the Cavaliers and Roundheads with identical luxury motorcoaches, to see who would use them best. The Cavaliers did, as a command center with motivational speeches and sugar mashed potatoes.
This, of course, endangers the past in which Oliver Cromwell repelled an attack by Galactus in 1642 using a specially-equipped windmill. So I'll have to start making presentations in schools and churches, to keep the history alive.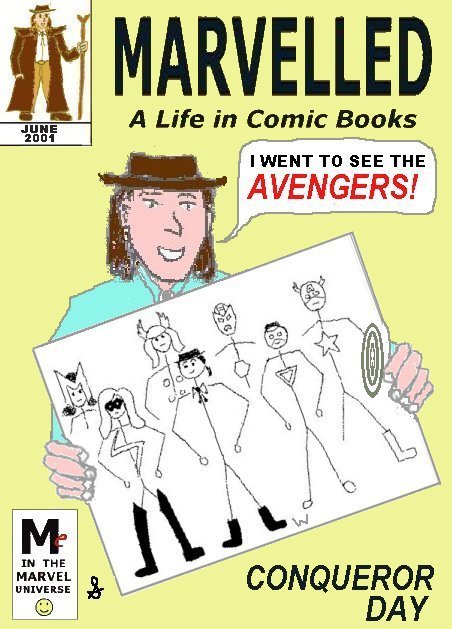 Conqueror Day, or Back in NYC. (12 June) In my experience, the apocalypse always begins in New York City. Why should this time be different?
I've taken a job as a field support contractor for Stark-Fujikawa, who inherited the system maintenance contract for Avengers Mansion. Iron Man wanted them out from the contract, but as long as they signed a non-disclosure agreement and promised to send contractors who'd been in Avengers Mansion before, he didn't have a lot of legal recourse. And that's a pretty short list of contractors. I was near the bottom, but everyone else was busy.
S-F put me up in a cheap corporate apartment uptown, so I had to take public transit to the Mansion. It was August, so I wasn't wearing my trademark trenchcoat, but I had my trademark floppy hat, biker boots and bolo tie on. I would have looked silly in Dallas, but in NYC everyone dresses any way they want.
When I got to the Mansion, the butler showed me in. Really. A butler. Same one as in 1988 when I first went there, even. He said, "Come right in, Master Triathlon is expecting you."
"Master Triathlon" turned out to be just "Triathlon", a new hero. His super-power is, he's three times as good at stuff as the best human athlete. Really.
When I saw Triathlon, he was in the computer room, surrounded by a bunch of Blue Screens of Death. Which is itself pretty attention-getting, except he was staring at a holographic head-shot of a purple-masked man who was saying, "Your challenge is to fix these computers!" Then the hologram blinked out.
Well, Triathlon may be three times as computer-savvy as the best jock, but it's still good I was there to help. It was a virus that I'd never seen before, but then, most viruses are. And they all go away if you replace the hard drives and the right bit of ROM on the control card, then reinstall and restore from backups.
Then the hologram face came back, saying, "You cheated! You had help!" Triathlon, to his credit, said, "Nobody said this wasn't a team event." And so Triathlon and I were declared a team.
Once we got things back online, Triathlon looked this guy up. It was Kang the Conqueror, a time traveller who had a grudge against the Avengers.
And according to monitors (and to Jarvis the butler who was dutifully watching TV while other monitors were down), other Avengers had other challenges. Kang had even dragged a couple of them back from missions, because he really wanted a complete Avengers contingent to take his challenges.