Me in Comic Books:
Startup Escalation 1999 2000 2001 2002 2003 2004 2005 A Prequel Occulator 2006 2007 2008 2009 .
---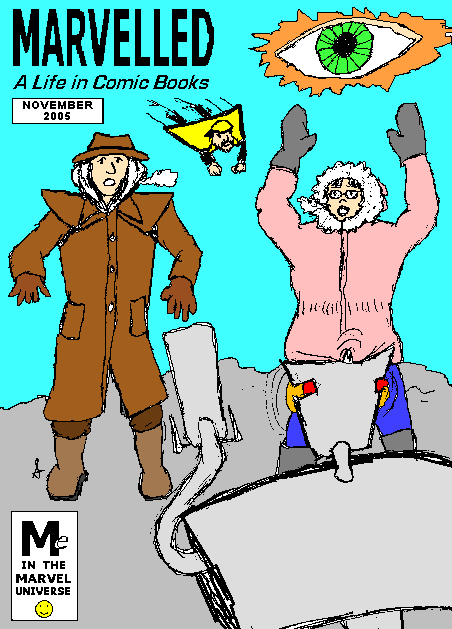 The Adventures of Me 2005
Occulator Compuplex
This is the battle for the end of the world. And of course, I find myself there. Oh, joy. And of course, it starts out in the usual mundane way...
---
I'm walking through a shopping mall in Michigan City-Indiana, looking for a clean bathroom. In one of those back hallways, I find aliens trying to hold a group mind together by chanting "Occulator Compuplex".
I've finally cleared my schedule of work and family concerns. I'm unwinding by helping a friend renovate a Bed-and-Breakfast inn in Michigan City. (3 Nov 2005)
It may be recalled, aliens once secretly dominated in Michigan City. I helped drive them out. But later I worked with them.
It may be recalled, aliens and Earth mages declared last May, the universe was in danger of ending, and the danger was centered on Earth. It seems they were right!
Alien peacekeepers are therefore infiltrating our planet. They're setting up bases in familiar places, like Michigan City. They've set up an alien/human hive mind called the Occulator Compuplex, though it's kind of hard to keep in line.
Why "Occulator Compuplex"? Because it's kind of a hive mind computer, hence the "Compuplex". And it takes input via low-powered lasers to the eyes, hence the "Occulator".
The hive mind wound up at a conference room in this shopping mall, because the aliens secretly own it, and it's a convenient assembly point.
The aliens are worried because of a villain they've been monitoring. This villain has just torn apart one of the Earth's most powerful super-powered creatures.
Spanker 4 is the villain. He is an artificial alien lifeform. My old friends at the FERG hunted him earlier this year, but that didn't work - at least not before the reality shifts hit.
Now apparently Spanker 4 has the means to start his own reality shifts - and, more importantly, the means to stop them forever, once he gets what he wants. He has the Gem of Permanence! The alien peacekeepers have discerned, he intends to use that gem in less than three hours.
His first move was to recreate the United Nations base High Asia, at the Afghanistan / Tajikistan / Sinkiang border. He likes it for his castle.
The Eurasian Doom Creatures happened along, because their Doom Senses were tingling. Spanker 4 promptly dismembered the Doom Panda of Gravity, because he finds these creatures to be silly reflections of true nature avatars. The Little Doom Pony galloped away and escaped.
The aliens' most respected human ally is Ellipsis; they call him the Doombreaker. Apparently he's back on our Earth, after renouncing the place. How swell of him. And apparently the aliens were expecting his help.
But he will be no help. After the last reality shift, Stephen Wolcott is no longer a flying mutant energy-blaster; he's now a techno-musician. All he does nowadays is make alleged music out of the buzzing of bees. He calls himself "Ellipsis Z", and he's a video personality now.
And I heard of him under that name... two years ago, before the shifts, when the real Ellipsis was still around! Don't ask me how. Reality shifts just suck.
So, I'm now the aliens' second choice. They actually call me the Deathbringer. Of course, I got changed by reality shifts too. But I got better. For instance, one of me is the superheroic Powernaut.
But what about Earth's other superhumans, mystics, et cetera? Apparently, wherever they disappeared to, they largely got crippled. They're able to help out with the hive mind, but it's good the Powernaut and I are around to do the heavy stuff.
And we seem to be talking about Omniversal Engines here. They're awfully good at driving reality shifts. But I've had some experience with them. More than once. Maybe I really can help out here.
So, the Powernaut will go distract Spanker 4, while I grab what I can from SpankerBase High Asia.
With the Occulator Compuplex, there was a woman who knew the future, three seconds in advance. But she died, shoving a friend aside to save her life. The rescued woman is with the Occulator Compuplex now.
This woman is named Anne. The Occulator Compuplex saved her life - by sacrificing one of its own. They figured, she was somehow the other part of humanity's best chance.
They were right! Anne has the ability to neutralize "Unobtainium" superhuman powers. "Unobtainium" is the secret substance which accounts for many of my Earth's superhumans.
There have been other Spankers on Earth before our own #4. Medieval Arabs neutralized #3. It seems they found one mystic who had "Neutralize Unobtainium" powers - and that was the Off Switch for their Spanker.
The Powernaut and I both have Unobtainium powers... but according to the aliens, Spanker 4 has "Body of Unobtainium" and is these powers. That's a lot of powers to neutralize, as well I know... but the Occulator Compuplex says it can reinforce Anne's mental fortitude, so as to be equal to the task.
Unfortunately, Spanker 4 isn't just waiting to be attacked.
For starters, he's attacking his alien enemies. He's pulled off a reality shift that removes them from every position of power they ever had on Earth. There goes the Jellyfish world domination. And that's probably what disposed of Ellipsis too.
Then, on a whim, with the mystic energy he got from sacrificing a Doom Creature, Spanker 4 has put the "Lower 48" United States in a djinni spirit jar! And he's set the cities to flickering like candles.
Among other worldwide mayhem, this breaks up the Occulator Compuplex.
The plan goes, the Powernaut goes in and picks a fight with Spanker 4. And the Powernaut, being a superhero, is good at that. So they go flying out among the Central Asian mountains. Meanwhile, Anne and I get to explore the enemy stronghold.
I'd hide things in the basement.
But he, if he's a typical power-hungry superhuman, would hide things in the room with the best view. So of course he has. They're even out on display, in the master conference room.
I know these things. They are gems I'm familiar with (from 1988).
So I try to control them, like I did in 1996. But I can't! Why not?
But before I can figure out... there are incoming superhumans! Duck!
Spanker 4 comes in first. The aliens told me he looked human, but right now he resembles one of those alien killing machines from movies or comic books. Which kind of makes sense, because he is one of those alien killing machines.
He says we will die, yada yada yada. And all our changes will be for naught, for he has the Gem of Permanence and we don't.
The Powernaut comes in fast to protect us, but Spanker 4 slaps him aside.
Then Anne starts disbelieving. That's her power. The Powernaut and I feel sick... but Spanker 4 doubles over!
But then he stands up, and says... "Override unauthorized. Protocol continues."
So, up on the top of a mountain in Central Asia, it's a bright cold windy day. And it's anyone's fight. Anne can use her neutralizing powers, but not decisively. And that might actually be a good thing.
The Occulator Compuplex can't reinforce Anne's powers now... but I can. I have some exposure to the Gem of Permanence.
But then he stands up, and says... "Endtime protocol."
The Powernaut and I are both sick now, but Spanker 4 is on the brink of decomposing... into an airborne mutagen that will put Avian Flu to shame. The non-U.S. half of the Occulator Compuplex told us one last message: the decomposition of Spanker 3 probably caused the Black Plague.
I say, kill the scum! Or deactivate it, or whatever. Humanity will always have disease, but hopefully some day we'll get rid of alien invaders forever.
Fortunately (I suppose), I have an affinity to the Gem of Permanence which Spanker 4 carries. And the Powernaut has an affinity to me, plus that superheroic urge to save the world.
So as we push Spanker 4 to discorporation, the Powernaut discorporates first - and I absorb him! Then I absorb the Gem! No, it's not something I would have thought of myself; I blame the Powernaut. With the Gem, I get Spanker 4's whole body sucked right down my lungs!
And meanwhile, the archvillain Philippe St. Josephe Lateran is hovering around the fight scene, hoping to pick up the pieces.
If he should happen to pick me up, he'll probably have picked up more than he can carry...
... Wow. This is the big one.
I don't have to write my journals now. I can think them. I have "Brain2Web" technology, which I carry with me at all times. And that's a good thing. With Lateran hovering around me, and nobody left to rescue me, this could be the last you hear from me. (4 - 6 Nov 2005)
After-Action Report
The State of the World
Okay, the last entry was not my last. I think.
I've survived interacting with Philippe St. Josephe Lateran. I'm going to assume that means I'm free. Or, at least, he's letting me think I am.
It seems I was too much for Lateran and his bodyguards to safely control. When he tried to make me undergo mental anti-fantasy scenarios (like trying to do software builds in my mind), I just started thinking "Occulator Compuplex". This brought the (now intact) alien hive mind in, and he broke off fast. Then, when he commanded his bodyguards to kill me and Anne, I morphed to resemble Spanker 4 and crippled them!
Then Anne started talking. She convinced Monseignuer Lateran that it might be to his interest to see us both to safety, instead of leaving us on a mountaintop to either die of exposure, or survive and hunt him down for vengeance. It seemed like a good idea to me too, but I kept silent so as to seem like a scary inhuman killing machine. But I winked at Anne.
So Monseigneur Lateran felt the safest course of action was to confine me in a faith-based medical center in India. He'd have preferred a certain superhuman testing center in Texas, known to both him and me. But Texas is not convenient to Tajikistan. The best they can do in India is quarantine me until I less resemble an alien monster.
Thankfully, that happened. I shat out the alien parts one morning. As far as I know. In any case, I look human again.
And Anne was free and called up help. Thanks to the Occulator Compuplex, I walked away. (9 Nov 2005)
Apparently our universe has survived, so what now?
Earth's history stays as its people know it. The people who had more than just one George Bush for U.S. President, that is. The second George Bush (they call him by his middle initial "W", or "Dubya" because he's from Texas) came about in one of the first reality shifts. Not that anybody here remembers any different reality.
The superhumans seem to still remember their own history, though. I do too. They fought hard enough for it (and I worked hard enough to write it down), so it would be a shame to forget it.
But they were hoping I'd restore the real history. I was hoping that too. But once, I altruistically denied myself the power to create reality shifts - at least with the means Spanker 4 had on hand. So, when reality got locked down, it got locked down with President Dubya.
When the Gem of Permanence had power that I could control, it was 1988. I once controlled it and related gems in 1996 - but they were still 1988 gems, and not locked down against me because they thought it was still 1988. Of course, that trick isn't working for me now, because we all know it's really 2005.
... Are you bored yet? Just blame it on time travel. I usually do.
Is the weird stuff all over now?
Apparently not, judging from the World Journal Monthly. They really do real news; they first broke the story of superhuman abuse that blew the old world's superhumans apart.
And the weird stuff is still there in our brave new world, and the World Journal Monthly is still chasing it. But the weird stuff is all unverifiable now. It's as if it's taken a vow to be under the radar. So, people don't believe it as much now.
Are the aliens still here?
Yes! They're not withdrawing from Earth any time soon, because they've seen how our planet is a hotbed of radical universal change. They say they might withdraw sometime, if their Earthling allies can pick up the security load... but they find Earthlings to be corrupt and incapable. It's a lot like the U.S. treats Iraqis in our brave new universe... execpt the aliens are secret occupiers.
The Occulator Compuplex is still hiding out in shopping malls. They keep a small hive-mind active at all times, just to watch.
Their superhuman allies aren't much help yet. After what they went through, they're still a bit unpowered.
As for the Jellyfish who were secretly running the Earth... Of course they're part of the Occulator Compuplex; they helped organize it. Hive minds are their specialty.

Apparently the renegade Jellyfish were Earth's secret masters. But when their homeworld made a deal with them, they were perfectly willing to join the defense of the universe.
So what for the world?
It has no history of superhumans - other than what the Powernaut started.
It has no public superhumans - other than the Powernaut. In secret, there are aliens, and Monseigneur Lateran, and mystic creatures, and forces of nature, and who knows what secret rulers of Earth. But they're secret, so they're not coming out in public to $#@! with history any more.
Aside from superhumans, my world's history is still different from before the Battle for the End of the World - but only in small ways. For a personal example:

Half the Chicago suburb of Schaumburg, Illinois now calls itself South Palatine, Illinois. And it's the rich half of Schaumburg - the half that actually has corporations, a skyline, and a huge shopping mall, so it's getting some serious tax advantages out of this. The rest of Schaumburg has trouble cleaning the broken glass off the streets now. (18 Nov 2005)

In bigger details... I've seen enough alternate worlds, to start to categorize them. It seems the current history of our brave new world is fitting into the "Pax Americana" model, instead of the other popular "Pax Germanica", "Pax Sovietica", or "Pax Universalis" ones. Personally, I didn't see much of Pax Germanica, and Pax Sovietica just sucked, but I'll miss Pax Universalis.
I've only seen one future, but it was scary. The Earth was practically uninhabitable by 2022. Is that still the future? ... Who knows?
So what about me?
I still have superhuman powers, but they're not at Powernaut levels any more. For one thing, when I fly, I once again have to worry about getting tangled up in power lines.
But as long as the weirdness is still around, life is much the same. Since the Battle for the End of the World, I've been briefly turned into a vampire, time-travelled to confront William Penn and then try to survive the Mutiny on the Bounty, and had to repair my face with a stapler. But I've gotten better, thank you superhuman powers. (13, 22, 24 Nov 2005)
And it's just more fun now, without those damn superhumans who felt compelled to play Hero and Villain. Life's exciting enough already, without a morality play in bright primary colors.
Why don't the Powernaut and I just take over, because we're the only active superhumans left?
... What, do I look like Ellipsis? He was way smarter than I, and his power plays still always blew up in people's faces, as witness the Tierra del Fuego War. Lesson learned, at least for me.
Besides, I never was one for dressing up as Hero or Villain - and then taking it seriously.
I guess we'll all see what happens here, with a brave new world exposed to superhumans for the first time. And it seems I'm going to find out first, because I still have most of my powers.
Most of the other superhumans got evacuated from our Earth, before the reality shifts smashed down on superhuman powers. They went to another world, or so I hear.
I, on the other hand, stayed here and took my chances, because I'm really not in it for the powers. I went through a lot of crap, but ironically, I still came out with powers.
It could be, there was a pool of powers to draw on. It's practically a wading pool now, but I sucked in most of it.
So, we have a bunch of minor-powered superhumans, and a bunch of national governments which are already paranoid about their security. I think I can see where this trend is going now...
After-Action Report
An Occulator Compuplex Christmas
or, You're In the Army Now!
In our bold new universe, they've never had superhumans... before me. And I've gone public, thank you so much the Powernaut.
So, The Powers That Be are kind of interested in me. This is much like where I came from, only in an even more militaristic way. For starters, it seems I get Christmas in Iraq this year!
The discussions which led up to this, were almost congenial. They were worried I wanted to dress up in costume and do my own thing, just like the Powernaut would. But I mostly control the Powernaut now, and I was mostly worried I wouldn't get paid.
So, I got assigned as a freelance civilian consultant for one of those Daddy Warbucks companies that got contracts to rebuild Iraq. At least I get hazard pay.

So do Karl and the Powernaut, who came along with me (separately, thank you, now we get paid like three people instead of one).
And so do all the friends I care to recruit. And there are a few. Some are just engineers I know, who like hazard pay. Others are Shi'ite Moslems who've been waiting to visit their holiest shrines in Iraq all their lives. (Hi, Syed!) Others still are just unlucky former superhumans, who'll take any job. Speaking of whom...
One former FERG employee Vince Cortez showed up! I'd missed his tenure and he'd missed mine, but I still recognized him... I saw him at my grave once! And Karl had a nice reunion with the guy.
One former major league baseball player Mark Simon showed up also. He got thrown out of sports for drug abuse, as far as our new history shows... but where we come from, it was for being superhuman. Right now, he's trying to avoid vampiric love. Hey, it's no weirder than my own life.

We all went to Al Damman (a.k.a. Dhahran), the biggest oil city in Saudi Arabia. We got to visit one of those civilian enclaves where they cater to people who aren't Islamic fundamentalists. These places are not exactly rare, but they are fenced in.

Islam Fact: Some Moslems are perfectly happy to sip on wine while they sit on their porches overlooking the ocean! A friend from Morocco once assured me of this. And if one can believe the Internet, Egyptians are known to like a beer on occasion too.
But lots of Moslems don't believe in alcohol now, because the core of the Islamic world got taken over by fundamentalists about 100 years ago. They're called "Wahhabis", and they rule Saudi Arabia now. Really! But the U.S. Gov just doesn't seem to worry about them, as long as they keep selling us petroleum.
Ironically, the parts of Saudi Arabia which have petroleum, were never as extreme as the parts of Saudi Arabia which came up with Islam in the first place. Westerners have actually considered the odds of "liberating" the oil fields from the fundamentalist Wahhabi Sunni Arabs who rule Saudi Arabia... but concluded, it really wouldn't be worth it, as long as the Wahhabis keep pumping us oil.
And so, the Islamic fundamentalist world occasionally finds it convenient to accomodate the customs of foreigners... but only inside compounds that are fenced with barbed wire, and ideally tarped over so people outside don't see people inside having fun. Really.
And so, I went to Saudi Arabia, where I walked through a barracks, found vines instead of sticks, and had to wonder if I had to order beer in French. (17 Dec 2005)
That was just a brief bit of R&R before the main mission, though. My friends and I got sent to Basra, Iraq after that.
All we did was, we maneuvered with British troops. It was silly at times, even involving groups of soldiers in inner tubes to simulate clumped-up civilians.
But we set off a different insurrection than what makes it into the American papers. The American sector is worried about renegade Sunnis, but the British zone has to deal with Iranian-backed Shi'ites.
The locals got set off, when they heard the Brits were having maneuvers with external contractors who had strange powers. Yes, that would be us. Or me, anyway. Yes, really, that's all it took.

A couple of years ago, the British were smug about how they got along better with the Iraqi locals than the Americans did. Iraq was British Empire once, after all. And surely the British knew how to rule things... or so the theory went.
But then a couple of British operatives got arrested by official policemen - and then British soldiers found them held prisoner by unofficial militiamen. Might there be a cultural misunderstanding about what officialdom is about?
... In any case, the locals of Basra seem to want one less layer of authority now. (Don't we all?) And in their opinion, the excess layer would be Great Britain. Their old colonial ruler. Go figure.
And meanwhile, the Americans are interested in the local situation, becaue the nearby Iranians are interested. And yada yada yada. So here we are, American agents with strange powers. And so here are the riots.

So, there was a riot. But the authorities have captured the ringleaders, and taken much credit. It seems they saw this coming, as soon as they put in the proper provocation. Which would be mostly me. They should give medals to all my friends who had to put up with it. (24, 25 Dec 2005)
As ever, I serve best as a blazing bright target... and our Gov contacts seem to know this. I suppose those psych exams they gave me, served some purpose after all.
And, of course, the Occulator Compuplex was watching. The aliens kept their hive mind operating after the last crisis, just to watch superhumans like me. So I told them, enjoy the fun, it's life on Earth. Or at least my life on Earth.
Yes, that's Christmas in Iraq. At least it's what we civilian contractors get, and it's just a taste of what the regular Armies and on-shore Marines get. It's definitely not for everyone, especially not all those servicepersons who actually like Christmas, and left family behind to wonder why Daddy or Mum isn't home then.
But I came willingly. Even on this job, all my friends came willingly too.
They like the extra pay, they get sick of regular corporate stuff back home, so they sometimes like a paid excursion.
And most of them come from outside the Western world, and they don't worship anyone named "Christ". They'll take any holiday they can get in late December, but they'd be just as happy to postpone to January or thereabouts.
The others are nominally good Christians, but Christmas isn't all that damn important to them. Aside from an hour in church on Christmas Eve (which most people skip anyway), Christmas really is a secular holiday. And it's not for everyone.
As for me, I've decided to explore alternatives to (a) waiting for my nephews to melt down when they've been up since two hours before dawn on Christmas Day, and (b) sitting alone in my apartment thinking suicidal thoughts suitable for a Survivor Of The Lost Earth, waah waah. Christmas in Iraq may not be the best choice, but as long as I can avoid those suicidal thoughts, there are still other choices. Maybe I'll find them some day. (26 Dec 2005)
---