---
Prelude: Russia vs. Monaco. Two more countries are getting involved in superhuman politics. This could lead to big things.
Of course Monaco's interested in superhumans. Their main industry is casinos. And they're conveniently independent from France which surrounds them, and not far from Italy. Can you say, Mob?
I've established myself as their lead consultant on superhumans and related phenomena, since I alerted them to an infestation of the Fine Green Paste last month. They had to sterilize their only public park, but at least they're not being overrun by green slime now.
So I've come back to a hotel suite in Monaco. Getting in country was easy, as the guest of the ruling Prince Pierre.
Everyone's sleeping, but music is playing on computer monitors. When I turn them off, Russian language commands appear. Fortunately I read Russian, more or less. So I can respond to the prompts.
As a consultant, I am honor-bound to tell Prince Pierre's agent, Russia has a superhuman initiative too. They're just keeping tabs on Monaco's superhuman initiative. I responded by saying "Hi". (9 Oct)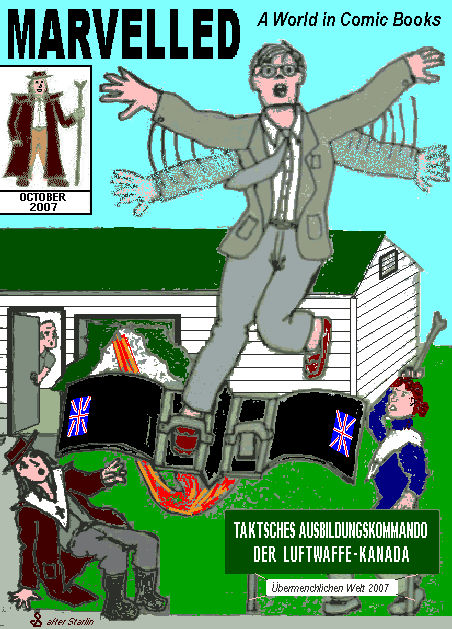 Secret Wings. The U.S. came out of the reality shifts with most of the superhumans, but Russia got the best personal aviation tech. Their "Red Sun" nuclear-powered armor was like miniature Chernobyls waiting to happen, but they had a "Dauntless" flying corps that worked out well for them. Some other nations are trying to catch up. Leading these are Great Britain and Germany.
Now, where would Great Britain and Germany put a secret aviation lab? Not in Great Britain or Germany, because that would just be too obvious. How about Canadian Forces Base Goose Bay? I have an e-mail friend in Labrador who says it might be true. That's about the best evidence anyone will get for this.
Inside, British and German aviators are cooperating to develop personal flight sleds. And they've got some prisoners ("conscripted volunteers") from the general population. It seems they all signed release forms at one time or another, without quite understanding the implications. They were chosen because their brain engrams seemed especially suitable for cybernetic control.
The main concern for me is, the "volunteers" include a Baptist pastor from Lansing-Michigan. Seems he studied at McGill University in Montreal at one point, signed one immigration form more than he needed to get into Canada, then made some spending money by joining a lab project. Surprise, surprise, it was for the Canadian national defense!
I'm helping his wife break him free. I'm involved because I was in Lansing earlier this year, and I went to church. When she started asking in e-mail about shadowy international conspiracies, I seemed to know the most, thanks to my e-mail friends and my Russia and Monaco connections. When my friends are attacked, that's when I start intervening.
We get to Goose Bay via the Trans-Labrador Highway. My car and I have both gone up that dirt road before - but it'll be good to get a dispose-a-car for this mission, with cash. South Lansing has no shortage of dealers to support us.
It takes about three days from the southern Quebec jump-off point at my favorite rate of travel. We do it in two this time, plus two more to get to Quebec from Ontario. At least we're not driving all night the way I've done on one mission.
At Goose Bay I park the car in the woods, sand down the Vehicle Identification Number with a power sander, burn the registration, strip the license place, and throw it in the water. When we leave here, we won't be trying to outrun Canadian forces on a dirt road. (13 Oct 2008)
The target is the North American headquarters for the German Air Force - actually named "Taktsches Ausbuildungskommando der Luftwaffe-Kanada". It may sound like the Nazis took over the world (like they did last year), but it's real. Yes, Germany still has a Luftwaffe, and they take advantage of the NATO alliance to practice over Canada because sonic booms there will only disturb the caribou.
Headquarters looks like a typical house, though it actually has its sign out front so it's not a secret lab. It's located on CFB Goose Bay. Security is loose there, because visitors to Goose Bay almost all come in through the base's airfield. That's why we came up the dirt road instead.
At the house, we put on some Baptist choir robe mantles. For purpose of military justice, we are now uniformed combatants, not the non-uniformed type who get might locked up in the Canadian equivalent of Guantanamo Bay. Which is probably Resolute Bay or some other Arctic island even more remote than Goose Bay, so let's try to avoid it.
When properly uniformed, we shove one of my walking sticks through the glass window, and hide behind the bushes as my grandpa comes to the door to look... Huh? Grandpa? He's looking old and feeble, but I happen to know he's really a practically immortal commando, based near Canadian Forces Base Goose Bay. I'm not sure what brought him in to this mess, and now's probably not the time to ask.
Then, things start flying out the window! The prisoners have been looking for a chance to escape. And they all have secret aviation machines. They all burst out at once, now that the guard's been distracted. Our pastor comes out first.
They all land, mostly without injury. But the sleds are kind of unstable still. I guess they need some work.
By now, Canadian forces are coming. Time to get out, and not to Canadian territory.
We chase down our pastor. He can't walk. I say, "We have to move him! Just a little!" So we do the old shoulder carry.
Fortunately I can dimension-walk, even with a couple of passengers. So we get what we came for. I can't save them all, though. Sometimes not even Superman can do that.
---
With my own limited powers, I do get my friends back to Lansing where they live. In return, they say they'll let me spend the night in the spare bedroom, before my real car comes to bring me back to Port Huron where I live. A night of hospitality is always good enough for me. (12 Oct)
But a Russian man meets us at our door and says, we'll be chased! Russia will protect my friends at a safe house, if they can debrief them. They want me at a different safe house, in London, Ontario! Okay, I think. If the Canadians suspect me of raiding Canada, they'll never expect me back in Canada.
As the Russians lead us our separate ways, they tell me, "Viktor Antonenko says Hello." Oh, goody, I've made friends with a Russian militarist, and now he thinks he's doing me a favor. But my friends could use it. Which he probably realizes.
Britain has a teleporter named Bounder, and Germany's recurited their famous Hurrier. But by the time they're on the hunt, we're gone.
Seduction Day. I've been known to intervene in superhuman affairs, so I'm a target.
At a college resembling the Michigan State University, I follow the women's track team into a class. I sit next to a little Russian woman who's dejected and wants to have sex. I say I'm not ready, so she says, how hard can it be to find it?
She leads me outside to a building alcove, but classes let out and it's suddenly crowded. Even my pastor's wife from Massachusetts (not the one I left in Michigan) is here. Okay, let's just cuddle.
After we separate, I find a plaza with a maple leaf logo. Canada, eh? I pick up a little red maple leaf as a souvenir, then go in a big pharmacy. Next time I'm seduced, I'll be ready. (14 Oct)
... Seduced? On sober reflection, it practically takes an international conspiracy to do that. Except for one vampire... and she was Russian. This seducer was Russian too. And she had the power to attract me into Canada, and make me forget where I was.
More Russians this time? Worth some investigation.
At the Source. When things come out of Russia to affect my life, I can go to Russia and investigate! I can't get into their special weapons base in Siberia, but I can always be a clueless tourist nearby. I have some experience in clueless tourism there. And I can transport my own self there.
In Russia the sun's still rising at 4 am. Either it's a time zone thing, or I set my clock wrong... like it matters, because I have jet lag right now anyway. I find this out because the marching band practices where I'm sleeping. (Of course Russia has marching bands, because they have armies.) I might as well join.
Then I seek refuge in a church basement, but they're closing the church for the day. Boy, I got the times wrong. (17 Oct)
So, as often happens, I hang out in bars. When I buy drinks, the locals talk.
So I find, two Russian flyers have been sent to make an appearance on Crusher Island. They both have new flying suits, with tasteful pinstripes. (15 Oct)
Another Russian flyer has made friends with the powerful-but-simplistic Captain Mighty. They're having a flying race now. (21 Oct)
I also hear of a servant vampire, Vnesa Stalker, daughter of Khrisa Stalker. It seems I missed meeting Vnesa the last time I missed Khrisa. But I think I met Vnesa in Canada! Russians seem to be pioneering the concept of the servant-vampire.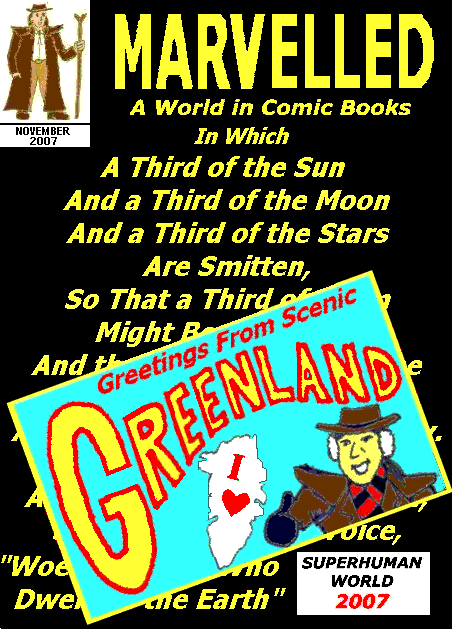 Hung Be the Heavens With Black 2. Is it the end of the world again? Maybe not, but it's some heavy international politics - including a nuclear attack on North America.
When it comes down, I'm still in Michigan, but back in South Lansing.

My Baptist friends there have realized, there are so many Baptist churches there, they could team up and build a boarding school. This takes some effort on their part, since Baptists are especially schismatic. But it's South Lansing, where it pays for Christians to band together.
The Baptist friends whom I rescued from Canada are kind of nervous about staying around. They've decided now may be a good time to take up international ministry, of the sort where the church pays for you to change your name. But they know I can flee on shorter notice, and they'd like me to stay in Lansing in their place.
In short, I have Baptist friends in Michigan. So I get the computer network contract for the South Lansing Baptist School!

Meanwhile I have another job, so I read a photocopied fanzine with tips for writers. One writer from the last X-Men reboot says, just try to be clever for $2 a story. This is useful because I'm writing and drawing Blue Devil now! I'm falling behind, but the first three issues went fine. If I have anything to say about it, Blue Devil will finally be fun again. First order of business: get his best friends out of Hell - as 666's own film crew! Hmm, good thing most Baptists don't read comic books. (22 Oct)
I can do the comic book job from anywhere, but South Lansing Baptists want me in Lansing. So here I am, in a rented house in Moores Park near the river.
Of course I hang out with the Baptists; it's just good business. A bunch of us from the choir are in the Social Justice Committee. When the pastor says we have to go lobby for tax relief during a special Sunday state legislative session, he empties the service out. (26 Oct)
I volunteer at a clothing donation center with them too. I fly everywhere now, just for exercise; it's a useful ability when I have it. At the clothing center they're even used to it. (26 Oct)
No washer and dryer at my house, but I can get that done for free at the school. Too bad on Sunday morning there's a line for the washers. Laundry ministry to the disadvantaged and all that. After I get my clothes in, I can walk up Cedar Street for lunch, but what'll happen to my wet clothes? (31 Oct)
Life's been good... until the 1st of November, when there was the flash in the sky, and everyone's electrical systems stopped working.
I had to deal with electrical contractors at home that morning anyway, so I got up and running first. But then we went out to pull people and dogs from a car wreck on the train tracks. Then I had to reload my cell phone after it malfunctioned. I was supposed to go down to Lansing Baptist school to help out with calculus teaching, but I was late to work. (1, 2 Nov)
The next morning I'm at Sholto's Pub. I'd rather go to Izzy's, but Sholto's is the neighborhood gathering point, because only they have TVs working. I'm giving moral support to one woman who's an emotional wreck.
In the bar, the Weather Channel is on. They're saying their broadcast satellite can only last three days under these conditions, and it's been two already, but it's still worth it. (2 Nov)
CNN is on the other TV. They say the electrical effect was an electro-magnetic pulse from some kind of nuclear device, flying over North America at relativistic speeds. Which is to say, near the speed of light. Electronics on the ground were affected in an hourglass-shaped area from the Caribbean to the Pacific Northwest. Satellites anywhere near that area were affected too.
Now we know, the missile came from the Moon! In response, an assault force of flying Russians has taken over the International Space Station, to prevent the militarization of space... Hey, that was quick. It's like the Russians were ready to take over outer space anyway.
The scary thing is, I recognize the players.
The missile was probably from an outpost of the secret human colony there. The colony itself got forcibly moved to Massachusetts last month. But who's to say their captors got it all?
The Russians have been popping up all over, as well I know. Either their flying corps is hardened against space radiation, or they just don't care.
I happen to know the Russians could be cooperating with the lunar humans; I've been to a meeting where both factions sent representatives. It seems in the ongoing Hero vs. Villain game of power politics, villains have made their latest move.
I think today might be a good day to get out of North America. I'm one of the few people who can. Planes aren't flying yet, but I can just walk - through the other layers of reality. That's my favorite superhuman power.
I've gone to Greenland to camp out, but I sensibly end up in the city Nuuk instead. Bars there are so crowded at lunchtime, I have to buy someone a pitcher when I knock theirs over.

Unfortunately there's not a choice of Belgian or any other good beer on tap. This world doesn't have the freewheeling Greenland Rebellion government. Instead, it has the socialist Greenland Home Rule, which considers any beer other than the three weakest beers of Denmark to be dangerous to the public.
But Greenland's still not too concerned about how you get there, or whether you even have a passport. And it's still a good place for a nap.

My timing is impeccable. Back in North America proper, flying security devices are attacking superheroes indiscriminately, everywhere from Cuba to Vancouver Island. Every superhuman who's ever attacked the Moon is getting special treatment - except me because I'm damn near untraceable at present. I have a credit card under another name for occasions like this.

The Balance has come under attack by one "Exterminating Son", who has a grudge against one of them, Pam Brown the Bride of the Ultimate Darkness. Pam got thrashed and disappeared into a cocoon of darkness, but the others held him off until help came. Which was fine with him; he just wanted to neutralize the Darkness.
DuoPolarity North America came under attack from people in "Insight" security battlesuits. It seems Russell Anvernacht's regained control of Insight!

DuoPolarity has Earth's only currently functional deep space craft, the Challenger II, now known as The Dream. I have yet to hear whether The Dream is still up.
But at least one of DuoPolarity is down. Ted Ketzel got thrashed - and oddly, disappeared into a cocoon of darkness!

Concentrations of major superhumans just got the flying security devices. Crusher Island survived. But with Total Conversion in Indianapolis, the superhuman "Little Bill / Big Bob" was critically injured. (Bill has an imaginary friend "Bob" made of force. Which is to say, Bill is a force manipulator.) Then he was enveloped by darkness! The Ultimate Darkness can't actually heal anyone, but I still think it's up to something with Pam, Ted, and Bill. Whatever it is, I hope it works. (28 Nov)
In Canada, British and German operatives including the Hurrier came under attack, due to their connection with the "Secret Wings" aviation program. Captain Mighty actually sacrificed himself to let the Hurrier get away with a precognitive little boy. The boy had predicted someone would die, and he was right. At the end, a cocoon of darkness came for Captain Mighty - but he refused it! (4, 5 Nov)

Until now, the United States was not playing nicely with most of its alliance partners, let alone with Cuba. But now that several of those partners have come under attack, the North Atlantic Treaty Organization is activating its "alliance" clause again! Cuba's even considering joining in.
Superhumans are activating their "alliance" clauses too. The inhabitants of Crusher Island are even coming out to fight. Fortunately, the island I'm on is quieter than theirs.
Even from Greenland, I can send out e-mail to tell people I'm all right, just in hiding. I send through an e-mail anonymizer for these special occasions.
Some people tell me in response, I need to pick sides. Which presumably means, put my latest uniform (which would be part of a choir robe) back on and fight wholeheartedly for justice. Or else people will suspect me of consorting with villains and sympathizing with villainy... which I'm on record as doing.
I'm sorry, but this month I'm staying out of it. Someone's got to do the things that make life fun, like write and draw those comic books that normal people read... assuming things ever go back to normal.
"Return to normal" means, most people in North America have to replace their sparkplugs and upgrade their computers. Industries are drooling at the new business. It's as if industrialists were part of a plot and they knew this was coming.
There are some threats against me personally.
Even aside from their attacking the International Space Station, the Russians are rousing quite a lot of suspicion. It seems they've learned how to move through the water works maintenance tunnels of Indianapolis, which comes in handy for monitoring the superhumans who are based in that city. (3 Dec)
I've been consorting with Russians since May. It's not helping that next month, I've got reservations for a submarine tour of the Russian Arctic Ocean. (3 Dec)
Some people say I must therefore be in league with Russia. To them I say: Tell it to the apparent superhuman leader Lucianus Autonomus, who lives in Cuba. Of course, a snappy retort never satisfies such people.
But I'm safe in Greenland for the moment. I'd move here, but I still have friends and concerns in North America, so I'm always sneaking back there.
Scouring of the New Shire. Even in grand old hobbit adventures, the victorious adventurers had to clean up their homelands afterward. It seems I have to do that too.
Back in Lansing-Michigan, the mayor wants to put security cameras everywhere as a crime deterrent. Thus far, the best objection has been: Even if the mayor could afford them, who'd watch them?
But in Michigan in our new Superhuman World, there's spare manpower from the Patriotic Homeland Corps. They're funded by South African diamonds or something, as far as anyone can tell. The Corps can spare people to watch security cameras all day.
So Lansing now has functioning security cameras. After the recent EMP, they were actually the first things the city restored! And now they're using the cameras to enforce a curfew against all sorts of public assembly after sundown. Even in Baptist churches. And sundown is about 5 pm in Michigan.
My best Baptist friends are getting ready to go overseas. They've just had the reverse experience of most missionaries: they've been attacked from home! But for a little while longer, they're still around. And they're interested in authority not having such a heavy photographic hand.
When they contacted me, I neutralized the cameras pretty easily. All it takes is some pattern-recognizing "anonymizer" software, and the ability to deliver it.

You may have heard of thefts of data from some dumbshit's laptop computer when he works from home. How about, the people who own the data not only encrypt the dumbshit's sensitive data, they first mess up the names and face-recognition-data in any database he really doesn't need?
So, Govs are now developing "anonymizers". Oh, what a wonderful concept. It just needs a bit more spreading.
In Lansing, I can find the "anonymizer" functions. I then turn them loose on all the video data.
Of course, people can reprogram the video cameras directly... but these are governmental software systems with source control. And I've programmed the source control to put in what I want, with every regular software distribution.
Of course, this is secure distributed source control. So I've programmed the distribution to happen from every computer in their system. Some friends helped me do it any time someone opens e-mail.

I have not quite scoured my Shire in the style of hobbit heroes. But I've at least fought for it, while the mighty warriors have fought for mightier things. And as attractive as Greenland is in November, I'll stay home in Michigan to fight for my friends and my land still.
This rebellion has taught me, function names are among the most important possessions. I'll have to remember this. (23 Nov)
Here in our New Present, we've had interplanetary crises all year. Now they've come down to international levels. And I can see from here, superhumans are messing up this world even faster than we messed up the old one. It's not the end of the world yet... but let's not rule it out.