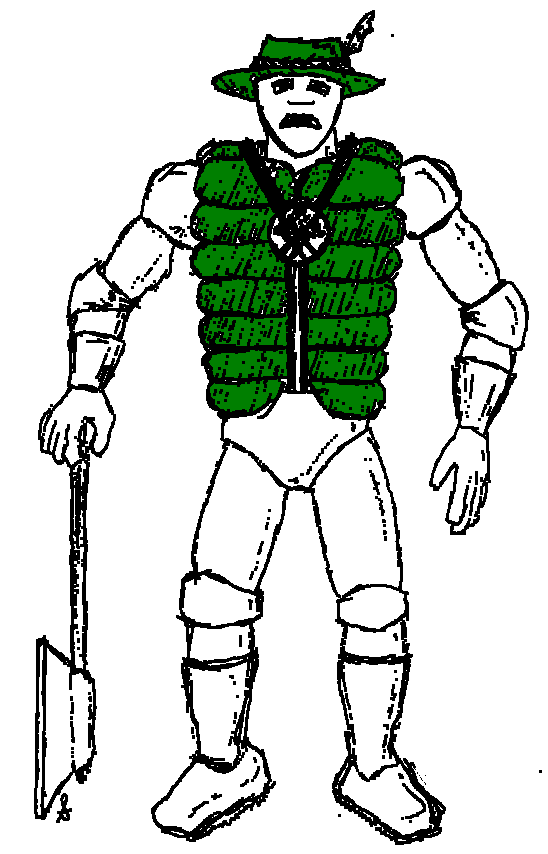 History
In the 1930s, the Shenandoah National Park was established as a nature preserve - with a fancy lodge. There was considerable sentiment among the locals, for removing human habitat in favor of a playground for rich men.
In 1992, a creature from Venus marched across the eastern United States. He crossed the Shenandoah Valley and the mountains on either side of it. There was some favorible sentiment among the locals, for defacing the touristy Skyline Drive in the Shenandoah National Park.
In 1993, a vigilante emerged to defend the local point of view in the Shenandoah Valley. He had rudimentary armor, a flame-retardant gear, and an axe with electronic powers. He identified with the team variously known as "Spaceblood" and "Alienblood" then, because he felt they shared his point of view. He called himself the Mad Axeman from Shenandoah.
In 1995, aliens returned to march that same route. The Mad Axeman from Shenandoah marched with them, to New Jersey. The aliens were telekinetically transported further. The human Axeman was not. So he was mostly a distant observer of the events sometimes known as "Maximum Extremity".
Afterward, the Axeman from Shenandoah faded into national obscurity - but remained locally active and popular. He may have maintained and improved his gear to the present day - and joined the exodus to the Powernauts' new world in 2011.
---
Personality
As strident a nature-activist as one could ever imagine.
---
Powers and Abilities
The Axeman from Shenandoah had homemade powered armor, as advanced as one could imagine for home-built construction in the 1990s. The armor was grounded against electrical overload from outside. He carried an axe with electronic powers and biometric security controls. His hat and vest were retardant to fire and impact.
---
Appearance
Kind of like, the Michelin Man meets the Tin Woodman from Oz.
---
Publications
Earliest Appearance: Powernaut 1993
First Published: role-playing games of the 1990s
Most Recent Publication and Latest Appearance: Powernaut 1995
---
Author's Notes
Originally intended to be part of a satire on the 1990s return of Superman. Eventually made it into role-playing games, and thereby in the canon of the Superhuman World from which the Powernaut sprang. Now that Powernaut Comics has made it to the 1990s, this is his time!
(signed) Scott Eiler, 17 April 2023.