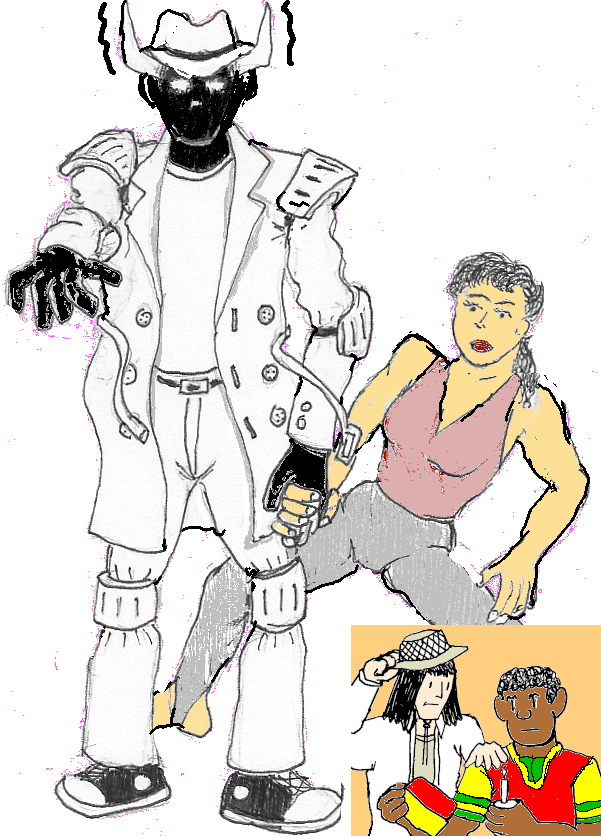 History
Kwame Cannon (born Ron Smith) has been through most of the Age of Heroes.
Kwame is the son of Stonewater Smith and Paula Power, born in 1968 - in Hypergaard! There, due to the villainy of the Hyper-Pyper of Hypergaard, Kwame was revealed to develop psycho-powers sometime in the future.
Kwame spent his early childhood traveling with his father, often along the Powernaut of that era. In 1976, they settled down (probably in Harlem, but definitely not near St. Louis where his father grew up) so Kwame could have a school education. His household wanted for nothing; they got child support from Kwame's mother's friends in Hypergaard.
Kwame went to college in 1988 - while dealing with mental powers he'd acquired during his teenage years. His father didn't know about the powers; Stonewater Smith resumed travelling then.
By 1992, Kwame had graduated college and gotten his own residence in New York City. There he'd taken up his identity as The Devil in White, and met a young superhuman callcd The Dancer. Together they twice confronted Ellipsis, while he was setting up his Total Conversion team in that same city. The first time, the vigilantes failed to stop Ellipsis from obtaining fake passports for his team; he quite simply overwhelmed them. The second time, they all got drawn into the first DuoPolarity reality merge; Ellipsis attracted most of the omniverse's attention then, and barely survived. The Dancer and the Devil in White served in his stead.
By 2004, Kwame had tired of vigilanteism in New York City. The Dancer was ready to operate without him. So he legally changed his name to Kwame Cannon, went to graduate school, and became a campus activist. That was when he formed a friendship with Wyatt Ferguson - who, unbeknownst to both of them, had been with him in Hypergaard, as had Ellipsis.
By 2008, Kwame had joined a support hotline in the Powernaut network . He was part of a team available for missions. That worked out poorly for him, though; he clashed with the new Power Patrol admin, Skyhawk.
During the Powernaut Rapture of 2011, Kwame went to a new world. In 2015, his father finally showed up. They hugged. Everyone said, Awww.
---
Personality
Kwame has had a conficted upbringing, to say the least. Much of his history comes from conflicting realities. He was an angry young man, but he has mellowed with age.
---
Powers and Abilities
Kwame is a low-level mentalist, with telepathic and telekinetic powers. His telekinesis was at one time limited to touch range, but he's extended to sight range since then. He has excellent powers to create illusions. He often uses that to create a disguise for himelf, but this works best on whatever he is wearing.
---
Appearance
As the Devil in White, Kwame used to dress in only white clothes, and made people perceive him to appear with deep black flesh. Nowadays he prefers his own flesh, and multi-colored clothes of West African tradition.
---
Publications
---
Author's Notes
I recently ran across a Powernaut comic in which this character was important. He appears or is referenced in other Powernaut stories, plus some Wyatt Ferguson ones. So I should probably describe *how* important the Devil in White was. Hence the History entries. And he might be topical too.
signed) Scott Eiler, 21 June 2020.