Just last weekend, it was like spring. But winter's come back, to fill the full three months here in the Domination's Core Territories of Illinois. So, the Domination's mighty Near-Arctic Readiness Force has been seeing even more action than expected. And the NARF-Cycle carried the action today.
Tonight, the Domination's coalition partners assembled to honor one of their own. Happy Birthday, Yelena!
Assembly was in downtown Village of Palatine, Core Territories of Illinois, Domination of Eiler. Venue was Emmett's Tavern and Brewery, one of the wave of new Fancy Places invading this former working-class town. And the Dominator was in attendance, thanks to the NARF which provided bicycle transportation despite intermittent heavy snow.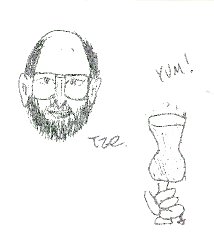 Emmett's was not so fancy as to give its patrons crayons, but it was fancy enough to have paper tablecloths suitable for drawing on. The Domination and its allies therefore exchanged the gift of caricatures.
After dinner, the coalition partners feared for the Domination force's safety. After all, the Domination force had to get back all the way back to EilerBase on a bicycle, along three miles of side roads with intermittent snow cover. The allies only had to get in their cars and brave the main highways filled with the same snow cover, plus Friday night drunks, with much more devastation at stake.
Roads, though mostly clear of snow, were coated with enough salt water to taste the spray. Nonetheless, Domination forces made it home safely (albeit drenched), all praise to the One Maker. But perhaps the coalition partners need the Dominator's Prayer tonight, more than the Domination forces do.
Dread Lord of the Domination, Give Power!