Domination of Eiler: Home The Declaration of Domination Latest Fiction The Dominator
Domination Journals: Typical 1 2 3 4 5 6 7 8 Blog.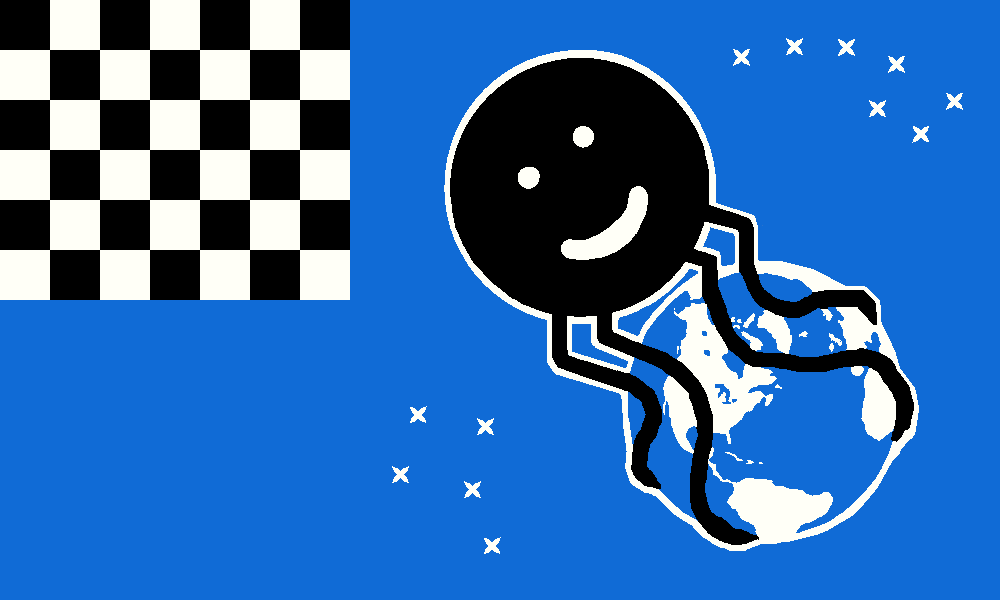 Domination of Eiler Journal #7
Operation Freebooter
Domination of Central Wisconsin, 2005
---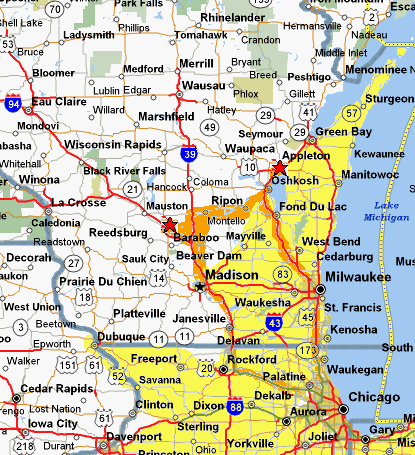 For the benefit of its coalition partners at "Socialist Bureaucratic Commune", the Domination of Eiler now plans its conquests outside the Illinois Core Territories up to a year in advance. The original "Plan A" for the Domination's June offensive had Domination forces airlifting to Alaska to establish an outpost. An entire week was reserved for this purpose.
However, the coalition partner "Untied Airlies" failed to deliver on a frequent flier award which was pivotal to the Alaska operation. 25,000 miles should have sufficed, but now "Untied" wants 35,000 for priority (non-"Super Saver") transport. Of course, an airlift to Alaska during the time of the Midnight Sun is not "Super Saver".
So, the Domination has re-prioritized its operations. With that same week in June, Domination forces could subjugate the large majority of Wisconsin, and extend the Domination's frontline all the way to Lake Superior. This was adopted as "Plan B".
But then, the Domination acquired other targets. In conjunction with the upcoming Domination invasion of Brazil, the Domination of Eiler has scaled back its other objectives for the summer.
Now under "Plan C", only three days plus a weekend are available for the June offensive. But this is still adequate time to expand the Domination's frontline into central Wisconsin. The Domination Guard has assembled an armored and cavalry combined-arms expeditionary force for this purpose.
Domination forces left the Core Territories shortly after 5 pm, and braved the Great Barrier Road (a.k.a. "I-90"). (Operational music "Pirates". This inspires the operational designation "Freebooter", which is like a pirate, only cooler and sometimes less reprehensible, depending on whether their cause wins.)
There was some resistance through Elgin, but (as ever) it evaporated after that. Domination forces exploited this success to penetrate half an hour into Wisconsin, to the town of Janesville, by 7 pm. That town is heavy with hotels, and provided a good break point.
Provider "Super 8" was chosen for barracks, due to proximity to well-known restaurants. There the usual haggling for a quiet room occurred. For some reason, all their king-size single rooms face the highway, and the windows don't deaden out the noise very much. But in the end, despite resistance, the Domination conquered a double room facing away.
Nearby well-known restaurant "Hooters" provided a dinner salad, washed down with the fine draft beer Leinenkugel Honey Weiss of Chippewa Falls .

"Hooters of Janesville" is smaller than many others such as "Hooters of Scumburg", but still a perfectly respectable place to visit Hooters.
Ashley the barmaid was sweet enough to check the Dominator's ID, and then act all surprised to find he's over double the drinking age. Thank you, Ashley.
Ashley was also surprised that any out-of-town force would bother to establish a garrison in Janesville, Wisconsin. Welcome to the Domination of Eiler!
Surprisingly, Janesville provides some tourist attractions, just never all open at the same time (as of this date):
General Motors, whose robotic assembly plant is open for tours Monday - Thursday, 9:15, 10:45, and 1:00.
2009 Update: General Motors has announced it will close the Janesville plant in 2010.
The farm home of Miracle the White Buffalo, a female albino bison, thereby sacred to our continent's First Nations. Open 10 am - 4 pm, at least six days a week. And stop by their gift shop for some bison meat, from some less sacred bisons!
2006 Update: According to locals, Miracle the Buffalo is still alive, but is now brown; she shed her white coat. She is therefore no longer sacred to our First Nations, nor attractive to tourists. Her owner is reportedly relieved to no longer give tours.
2009 Update: Locals and their tourist pamphlets may have been mistaken all along - or else, there's been some serious misinformation going on. Many Internet sources say Miracle the Buffalo died as a ten-year-old in 2004... that is to say, a year before this travelog. Hey, if Miracle still existed with brown fur but her owner says she died, who could prove the owner wrong?
The Domination has chosen to file these Janesville attractions for future reference, and instead press on to the Wisconsin Dells, which promises a day and two nights of fun.
It turns out the Town of Wisconsin Dells is a reasonably legitimate working-class community, complete with freight trains, thrift stores, and Mom and Pop hotels... but you have to go midtown and off Main Street for that, and ignore the resorts, water parks, and trashy souvenir stores that you will see on the way.
Lunch was conquered at the Moosejaw Pizza and Dells Brewing Company. Their bartender gave valuable local intelligence. Namely, Upper Dells boat tour beats Lower Dells boat tour, due to cool rock formations which are the whole original point of Wisconsin Dells tourism.
Many, many water parks and other tourist attractions along the Wisconsin Dells Parkway were bypassed.
Barracks for two nights were found at the White Rose Motel and B&B, midtown Dells.

There was substantial haggling over Internet access (only one house there is wired, and they're not sure whether WiFi works there or not).
The air conditioners (in the B&B part, at least) are those drafty window units (plus a big outdoor central air unit which is louder than freight trains).
But in other respects, the quarters are nearly Domination-grade. And the staff's very friendly.
And they give a discount on the Upper Dells boat tour: just $20 or thereabouts, instead of whatever ungodly price the tour usually charges.

The Upper Dells were therefore conquered by boat, with two shore landings near unusual rock formations. This time of year, the local tour company has 20+ boats running.

Scenery was spectacular. And entertainment was provided by the famous jumping dogs of Stand Rock, recreating the very first instant photograph ever taken of a man in midair.
But the Domination infantry force encountered resistance at the landings, because the trails are all narrow walkways, dominated by waddling senior citizens. Hiking outside these walkways is roped off, and the boat is on a schedule anyway.
Further Dells conquests are therefore envisioned via bicycle, not boat. Hardcore infantry and maritime forces, such as the Domination Guard, are encouraged to skip the tour boat. The walkways are privately owned by the tour boat company, but are accessible for $3 from the road.

Dinner was conquered at the River Walk Pub.

The River Walk is a Fancy Place with lots of lodge-style decor and a nice river view, but the only fancy things on the menu were the specials. The pork chop dinner special was good, though.
Draft beer selection was reasonable, leaning heavily (of course) toward the famous Leinenkugel beers of Chippewa Falls, Wisconsin. If you want anything fancier than that, there's Newcastle Brown Ale, much cheaper than in Chicago!
But its barroom had many raucous and unruly patrons... all of whom were children and their barely competent handlers. At one point, these patrons qualified as bar fighters, even if only verbally. The Domination does not fear a good bar fight, but it strongly prefers the fight involve adults only. Take it outside, Mom and Dad!

The Essen Haus German Restaurant was raided. Some German import half-liters and some actual live polka music was consumed. (Trivia fact: The accordion player knows, Lawrence Welk first started performing in North Dakota!)

The dessert menu was fancy, but it just didn't meet the Dominator's taste. Heavy with chopped nuts, light in coolness. Because...
The Essen Haus has no ice cream! Ice cream, you see, would require a special $100 freezer from Wal-Mart. And it would only complete every apfel-streudel they sell, and satisfy every family's kids. So it's not worth it to them.
The Domination can almost appreciate that child-repellent thinking tonight... but Dom Want Ice Cream! But thanks anyway, Lise the bar goddess.

The bar goddess recommended something half a block away for dessert. The only place which fit that description was an ice cream stand in the back of the Goody Goody Gum Drop Candy Kitchen. (Really. "Goody Goody Gum Drop".) Root beer float, $4! The Domination is ashamed to say, it paid that price.
But the Domination is proud to say, it patronized the nearby High Rock Cafe in retribution, and consumed raspberry sorbet and Berghoff Solstice Wit beer together. The concept of mixing these things may be original tonight to Dells, Wisconsin, Domination of Eiler. And then decaf coffee to wash it all down.
Domination forces reported for complimentary fresh-cooked breakfast in good order, then assembled for a bike mission to the Lower Dells.
Temperatures rising to dangerous levels for bikers. Traffic conditions along parts of the route also dangerous. Therefore, Domination armor was used to take the bike to a staging area.
Lake Delton was then circumnavigated by bicycle. Being only five miles in diameter, the mission was trivial. Disappointing, too; Lake Delton has no public parks, only lots of resorts.
However, trophies were conquered at the local Indian trading post, including a fox head pelt, a grown-up-sized rabbit-skin hat, and an inspirational sticker, "My Heroes Have Always Killed Cowboys".
A pre-lunch salad and some Leinenkugel draft was conquered at the staging area, River's Edge Grub and Pub. The price was right.
Then back uptown, where the Domination Guard infantry walked the River Walk south of town... and found the River Walk doesn't go south. Undeterred, the Domination proceeded anyway, along some very unofficial trails, to the foot of the local hydroelectric dam (which separates Upper Dells from Lower Dells).
There was resistance from river bluffs and rotting fish, but the Domination conquered none the less.
The wisdom of doing the self-guided tour (and not the Lower Dells boat ride) was therefore proven.
A new hiking stick was conquered on the way back, near the Amtrak station. There followed some hours of sitting on the front porch, drinking lemonade, carving the new stick, and hanging out by the pool.
Late lunch was conquered at the Essen Haus. Lunch prices till 4 pm, and Happy Hour 3-6 pm - and until midnight tonight! 3:30 therefore proved to be the ideal time for conquest.
Domination militiafolk were recruited there; hi, Tony and Patricia!
The Domination's portable computer also provided some amusement for Militiaman Jeff. He didn't visit the Web site, though, so he doesn't qualify for "So You Met My Web Site at the Bar".
Then, the H.H. Bennett Museum was conquered. It is the town museum, except operated by the state, because that's how famous this guy is; he invented the stop-motion photograph. But his story and the town's history are inseparable. He made the Wisconsin Dells famous through shameless hucksterism, the first of generations worth.
H.H. Bennett was a champion photographer. But he went out of the photography business in 1905, when Kodak invented the portable camera. Doesn't new technology just suck.
The museum also shows part of a collection of dolls from every North American Indian tribe. Fairly impressive, especially the Cannibal Woman. The Florida dolls and the swamp monster baby from the Houma tribe of (presumably) Louisiana were all labeled "Northeastern" and not with their home states, but that's just a quibble.
And, like most of the Dells' attractions, the museum stays open late, at least during tourist season. Last admission is 8 pm or later!
The High Rock Cafe was then kind enough to provide some soup, cheap Berghoff, and a cell phone platform, so the Domination cyber-force could catch up on e-mail.
Now, another bike ride and hike up the North Dells (operational music "Hold On, It's Coming", thank you Country Joe McDonald for shielding the Domination force's ears from boat-trash famlee trash music on the beach). Then $3 Beer and Polka Night at Essen Haus. Well, every night is Polka Night at Essen Haus. Life is good.
Domination day of rest... but really, the troops are just uninspired. 95-degree temperatures have settled in everywhere within driving radius. It's a whopping 5 degrees cooler to the north, but there are strong storms moving through.
The Domination Plan for this operation allows for three different major objectives: Chippewa Falls to the west, Wausau to the north, or Sheboygan to the east. None of these sound particularly tempting today, though. All things being equal, Sheboygan is easier to get home from, and is preferred.
However, Sheboygan is more of a one-day target than a two-day target. Domination armor therefore spent the day driving east through barely-inhabited farmland, then conquering several targets of opportunity around Lake Winnebago, mostly air-conditioned.
Oshkosh is a bleak place when it's that hot out. (It tied its record heat today.) Even its Aviation Museum (actually, "EAA Air Adventure Museum") was intimidating under those conditions, and was bypassed. Likewise, the "Country USA" music festival going on that weekend. But its Public Museum has:

An impressive collection of World War II memorabilia.
An antique bike replica that you can pedal.
An Apostles Clock, which is like a cuckoo clock, only with Jesus and the apostles instead of cuckoos.

Neenah has a big art museum, but the Dominator prefers history museums. Domination forces settled for a drive along the scenic lakefront.
Appleton is the prize of the day. There, these targets submitted to the Domination:

The Hearthstone House, the first hydroelectic-powered house in the world. Thomas Edison himself supplied its first light bulbs. Plus, it has an antique bike replica that you can pedal. (Domination troops have gone forty years without seeing even one - and then twice in one day!)
The Outagamie Historical Museum. It's a typical county museum, but probably the only one in America where one of the exhibits on distinguished local citizens is for Harry Houdini.

And the exhibit tells a lot of Houdini's secrets, because museums live for uncovering secrets. (Hint: spare keys.)
Boy, the magic community was offended when this exhibit first came out. They said, Houdini wanted his secrets to be destroyed when he died. And if only they had destroyed his secrets, they wouldn't have this problem now, would they.

Late lunch at the Stone Cellar Brew Pub. They're the new proprietors of Appleton's oldest brewery. Ten types of beer brewed on premises, $2.25 a pint during Happy Hour - plus, $2 bratwurst sandwiches all day. And, it's in a nice cool cellar! Not open until 3 pm - but the troops are late for lunch today anyway.
The Do North Map Store, soon to be known as the Appleton Map Company. Boring new name, but good maps. A laminated wall map of North America was conquered. Also, valuable intelligence was provided on one more local target...
The Paper Discovery Center. Alas, only open until 4 pm, so it resisted the Domination's assault... for now.
Barracks and dinner at the Radisson Paper Valley Hotel. Finally, an actual Domination-grade chamber, complete with a relatively quiet central air conditioner! Parking is not provided, but it's only $1 at the city garage next door, so who cares.
There's a convention at the hotel... but it's the Goodwill Industries and Thrift Store national convention, and not terribly rowdy. Appleton has at least three Goodwill training and community centers there, and two large thrift stores.
The storms have arrived in town. A quiet night in the hotel, and sports pub ($3.25 22-ounce Leinenkugel drafts, 1-7 pm each day), and whirlpool, and sauna, is therefore planned.
Domination day of resurgence.
Indications are, Sheboygan's best hotels are booked solid this weekend. So, Domination forces are staying on in Appleton to ensure complete subjugation! The bicycle and infantry forces are spending the day on patrol throughout the community. These targets are submitting, one by one:
Before

After

The Paper Discovery Center. Usually $4 admission, just to see some paper facts and paper company propaganda. (Paper trivia: Elephants eat enough cellulose to make paper from - and some people do, once the elephant is done with the ingredients.)

But Saturday is Do(mi)nation Day (Free Admission, but drop some money in the donation box). And today, volunteers were on hand to help visitors make their own paper! The Domination exploited this opportunity aggressively.
Domination engineering staff went away with a self-made print of the Earth (a.k.a. "The Thing Which Must Be Dominated"), made from recycled Garfield and Dilbert Sunday comics. Dilbert's lazy friend Wally is working harder now... for the Domination!
Gift packs of authentic elephant dung paper were conquered at the gift shop. It's never too early to buy Christmas gifts, especially ones that show your relatives how much you care for them!

Bazil's Pub and Provisions. Elk burgers for $5, and microbrew on tap! The Domination can sense the love from Wisconsin today.
The Appleton Artwalk. The Paper Discovery Center is allied with eight art galleries and sympathetic businesses, along the main street downtown. If you get five of them to stamp a passport, you might get a prize. And these targets are so closely spaced, the Domination troops conquered all nine!

No trophies were taken, but some vanilla soda was captured, at Brewed Awakenings, the local coffee shop that competes head to head with Starbucks. The Domination allies itself with the local artists, in supporting the local product.

The Weis Earth Science Center, operated by the University of Wisconsin in nearby Menasha. It's not well marked, but it's open 7 days, so if the door looks locked, try it anyway. Some cute minerals were conquered in the gift shop.
The Fox River Brewing Company, in the big Fox River Mall near the highway on the west side of town. Blueberry (seasonal) and seven other beers on tap, $3.25 each! The pizza isn't quite up to Chicago standards, but the soup's just fine, and the beer is excellent.

And it's next to a full-service sports shop, which is convenient when the bike gets a flat... as happened today, fortunately within walking distance of the mall.
Also near a boot shop, which is convenient when the troops get tired of all that walking, in worn-out four-year-old boots. As often happens during Domination, the troops had already marched far enough to raise blisters.
The rest of the mall, of course, was just like any mall, except for ads. This mall was heavily advertising this year's big-budget Fantastic Four movie, showing in the theatre down the street... in two weeks. The Domination has seen the future... and it looks just like 1961! (The Fantastic Four's origin year. Get it? Also the Dominator's origin year, which is a good omen for Domination.)

Bourbon Street, a two-story bar and grill in downtown Appleton, under new ownership. But boy, it's dead on Saturday night. It's got everything a good nightspot has - except a band or a deejay, and it really shouldn't expect XM Satellite Radio to pick up that load.
Copper Rock Coffee Company, the local place that competes with Starbucks and stays open past dinnertime. Live music, too - if the three-piece jazz band could only set up on time. Still, much more lively than the bar and grill.
Appleton has gotten much conquest from the Domination. The merchants there have eagerly exposed each other to the patrolling Domination forces - or as one merchant put it, "cross-publicizing" each other.
For example, one of the coffee shops is part of the Appleton Artwalk, which was publicized by the Paper Discovery Center, which was publicized by the map store, which was convenient to the riverside brew pub.
Also, museum staffpersons eagerly recommend other museums.
In short, "cross-publicizing" seems to be working for Appleton.
The Domination expeditionary force went into Rapid Deployment mode this morning. Return from Appleton to the eastern fringe of the Core Territories took under three hours. (Operational music "Up There, Down There".)
The Domination bakery "Krispy Kreme of Grand Chute", on the way out of Appleton, gave each trooper a fresh hot donut while leaving town. They do this for each Domination citizen who stands in line there.
The Domination brewing facility "RAM of Wheeling", on the way into the Core Territories, is hosting the troops while this final summary is written, and filling the Domination growler with trophy beer.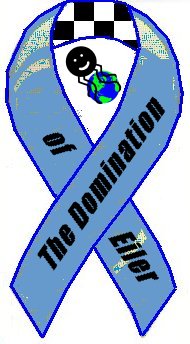 Overall, this operation is successful. The Dominator is pleased.
Many trophies have been captured.
Much fine beer was consumed, of Leinenkugel Honey Weiss quality or better (which is to say, better than Bud or even MGD), and all on draft. Wisconsin is much better in this respect than Missouri is.
Much work has been done on the Domination's fiction-blog June episode.
Much (well, some) bike riding was done.
A hiking stick was harvested, to bring glory to the Domination's Hall of Sticks.
The Domination's frontline has been extended, about 30 miles northwest in central Wisconsin.
And the 90-degree heat was avoided, if only for one day.
As ever, Domination of Eiler forces return triumphant, all praise to the One Maker.
(signed) Dominator S. Eiler, Fist of the One Maker, for the Domination of Eiler.