Me in Comic Books: Startup Escalation 1999 2000 2001 2002 Never Was 2003 2004 2005 2006 2007 2008 .
---
The Adventures of Me 2002
Make It Never Was
Dedicated to Irma of Hoffman Estates, Illinois, who was a real-"life" counterpart to part of this adventure.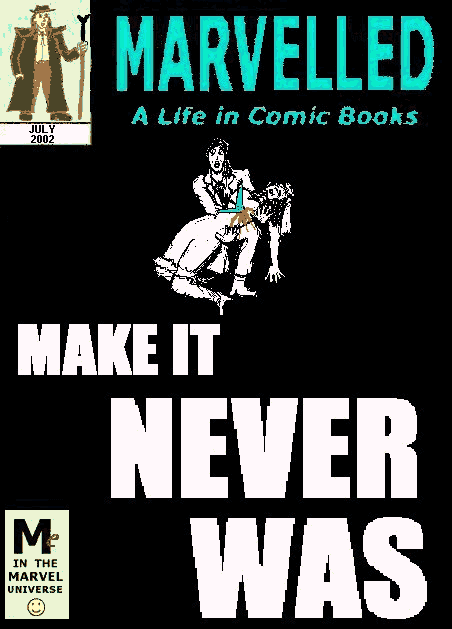 This is the story of the day I got married. But as ever in my life, that led to lots of other stuff. Even unto death.
Part 1. Unbeknownst to me, the superhuman Ellipsis has made his way into Stark Industries, and is soaking up repulsor rays from the superhuman Iron Man. Ellipsis is a mutant supergenius energy wielder, and Iron Man is a highly-trained battle-armored warrior who works for Stark Industries, so it's just natural that they have this superhuman bonding fun together. But there's a strange thing about this: Ellipsis lives in one universe and Iron Man lives in another.
... Yeah, I know this detail about superhumans bores you. Tracking the superhumans is a hobby for me, but it's not for everyone. But I do have some more important news to report...
I'm getting married to my friend Judy!
We've certainly been through enough together, starting with one of those robot attacks, and proceeding all the way to Plan Joab, our own response to international terrorism.
I'm surprised anyone would put up with me that long, especially when she has children and I don't.

But those kids I see in her house, are all her nieces whom she's raising, because her clan takes "godparent" duties seriously. At least she does; her husband wasn't into it, and left her years ago.
But now the oldest niece is with the Navy in the Med cleaning up the terrorists, and the others are off to college, so Aunt Judy's dance card is wide open, so to speak.
And so's mine. All my efforts to find work have slowly fallen apart.

So after we get married, we're both taking jobs as missionaries with WorldVision in Russia. What the hell, I can't find another job.
I've kept the ceremony relatively small and secret. I haven't even told my friends about it. I told people at my latest temp job that I was going hiking at lunchtime instead, to commemorate my last day on the job. But the word gets out, and the church is full. Actually, I'm kind of gratified. But then...
A machine flies in from nowhere, shoots a laser beam through my new bride, and disappears. She's dead.
There's only one thing I can do. When I leave home in the morning, I usually leave with a superpower that's different each day, and I find out what it is when I need it. Today I need a Cosmic Reset Button. And I get it!
So as I kneel over my bride's dead body, I say, "Make It Never Was."
(10 July 2002)
Part 2. Unbeknownst to me, there's a small assassin machine that moves across dimensions. Ellipsis chased it into a Stark Enterprises workshop. He's still chasing it across the dimensions, and Iron Man is chasing him. Yes, they can both do this, thanks to their life support and navigation abilities. Meanwhile...
I wake up on the day of my wedding, but I can't find my good suit. (Rented tuxes are for the weak.) And I know there's something else I've forgotten... but if I knew what it was, I wouldn't have forgotten it.
So, I put on my best pants, throw my best jacket in the back of my car, and head for work. When lunchtime comes, I head for the church... but it's locked, with nobody there.
I start making phone calls. The church pastor knows nothing about a wedding. And Judy's not home. I talk with her youngest daughter, though. It seems Judy's joined the Peace Corps and gone to Africa... without me.
That's what I forgot. I forgot the sight of my lady bride lying dead in my arms, and wishing I could do anything at all to change it. It seems my wish came true.
Well, Judy's alive now, but otherwise this turn of events just sucks. And someone just has to be held accountable for it.
Years ago, I had a tracking power that was good enough to let me chase people across the planets. I need that power now... but I don't have it. I do, however, still have a passport with the Stamp of God on it; I've used it to escape from a prison in another universe before. So I open it. And I land...
(9 July 2002)
Part 3. Unbeknownst to me, there's a lab that has its own plan to turn back history. They're measuring how well their plan is working now. Meanwhile, in the place where I land...
It's the year 2022. But the future is not bright, by any definition of the word "bright". Nuclear war has finally come and gone.
Time Magazine is still there to chronicle the survivors. It's down to one cover sheet, though. The cover shows factoids like, "National Capital: Rockville, MD", "Commander in Chief: Secretary of the Treasury", and "Trainvilles Left: 3". It's nuclear winter, in all its no-longer-hypothetical glory.
I've heard it said that no writer should ever waste time describing clouds. But the clouds are kind of important here, because it's always cloudy. Not just grey clouds, black clouds. And no heat's getting through. "Summer" may come soon, but it looks like I'm the only one here who'll see it.
Still, I've heard that even in the worst drought-ridden village in Africa, people never entirely stop laughing. It's true here too; people here are still playing the role-playing game "Teenagers from Outer Space". At least they're trying to have fun. I'm even running the games for them, because I seem to be healthy despite it all.
I usually have a superpower whenever I need it, and I surely need it now. My superpower for the duration is, "Eat Rads." It's a good choice, because it's the only way I'll survive this.
There's only one other person who looks like she might survive. She says the Panther Spirits are sustaining her. Even though she's a young white woman named Kristi. Riiiight. But whatever she's on, it seems to be working.
We both spend a lot of time looking after the dying.

My kinsmen back in the real world accuse me of avoiding death, But then all my relatives die hundreds of miles for me, so the most I'll admit to, is not actively seeking death.
But it's not like I have the luxury of being uncomfortable around death; after all, I'm a champion of Death.

But anyway...

Besides that, I'm trying to keep a train running for the "Trainville" we live in. Why trains? Because:

Trains have built-in power plants that normal people have a chance of operating.
Plus, people think the metal trains might give them marginal protection from radiation.

Besides that, I'm the only person here who's capable of getting an issue of Time Magazine published. I promised the last guy who was working it that I'd see his issue get out. And it helps keep morale up here, so I've stayed on. So that's distracting me from my vengeance quest.
But nobody around here knows who I should be looking for anyway. And I don't have tracking power now, so I can't find it on my own.. The Stamp of God brought me here, and it has its own reasons. So, I'm stuck until something happens.
At the end, we get visits from superheroes or aliens or Asgardians, nobody can quite tell. Except for me: I know Iron Man, and I know Ellipsis. The final issue of Time splurges on a new photo and a banner headline, "Will They Save Us?" I'm guessing not.
I'm known to both these characters, since I've messed with both their universes.

Ellipsis does not remember me fondly, because I screwed up a geopolitical situation he set up in Greenland once.
As for Iron Man, in his universe I've been known to fight the Avengers, his world's mightiest heroes. All by myself, almost. And to make amends, I once helped one of his alcoholic superheroine friends get drunk. What I lack in sensibility, I make up for in stupidity.
But we're all a long way from home, so under the circumstances, they're still willing to swap information with me.

Some of the assassin machines went to attack a friend of Ellipsis. He stopped them, but they retreated into another reality... that of Iron Man. Ellipsis followed. Hence the stereotypical "Let's Fight Each Other And Then Team Up" situation.
Now, of course, it's Team Up. Ellipsis and Iron Man have both came here to track those assassin machines, and they have a line on them. The panther woman and I follow them.
We wind up at a lab, where a coughing old scientist admits all. He had a plan to turn back history.

He stumbled upon a U.S. lab which produced "doomsday weapons" which could travel through time. He decided, it was definitely the time for doomsday weapons.
He programmed them to seek people who were indirectly responsible for the war. Apparently Judy was targeted because with WorldVision in Russia, she saved the life of a soldier who helped launch nukes later.

His plan seems to have worked. His instruments show, two waves of chronal disruption are travelling forward from the past. The first wave should be here soon, and wipe the place out. I'd guess he started that wave, when his machines killed Judy my bride.
I started the second wave of oblivion, when I first made things Never Was. But my own wave isn't going to make things worse for him, because (1) Judy's alive now, but in Africa and probably not going to save anyone who will grow up to fire nuclear missiles, and (2) this guy and his world will still be Never Was.
Well, I've found the man who killed my bride. And he's already under sentence of death and oblivion. Maybe I'm just tired, but I guess my throttling his damned throat would just be counterproductive. Especially when a couple of superhumans who hate me are looking on.
The trouble is, there are still these assassin machines which are able to travel through time, so they might escape the end here.
Ellipsis and Iron Man are heroes. Or at least they are highly motivated superhumans on a mission. So they say they'll stay to deal with those nasty machines.
I am not a hero. I'm just a guy who came here for vengeance, and got sidetracked away from that goal. I'm done here. I'm going home.
Kristi the Panther Girl has to make a snap decision . Her mission is survival, because the Panther Spirits told her to. Or something. So, is she going to devote the last ten minutes of her life to fight some evil machines that her own world let loose, or will she go support life somewhere else?
Kristi seems ambivalent. But time has almost run out. So I get out, dragging her with me.
When my new friend Kristi and I get back from the nuclear holocaust to civilization, we're both weaker than we want to admit. I let her crash at my place, while she decides what to do with her life. We'd walk on each other's backs for mutual relaxation, but we're too tired to stand.
Of course, Kristi is angry for how I dragged her here. But we're both too tired to argue about it much.
To improve Kristi's mood as we recover, I take her out to the nearby Douglas State Forest. There she can at least commune with deer, if not panthers. She finds that good enough. And thankfully, this month is not hunting season.
Eventually, Kristi makes friends with my fellow Mashantucket Pequot tribesmen, and gets a reference to a tribe out west, which is interested in that Panther Spirit connection she brags about. Too bad I have no Panther Spirit to find me a job.
So here I am again, with no job, and no lady in my life. Jobs I can always find more of... but in retrospect, I should have known that my getting married to a nice lady would be a sign of the Apocalypse.
(22 July, 24 July, 10 August 2002)