Domination of Eiler: Home The Declaration of Domination Latest Fiction The Dominator
Domination Journals: Typical 1 2 3 4 5 6 7 8 9 10 11 Blog.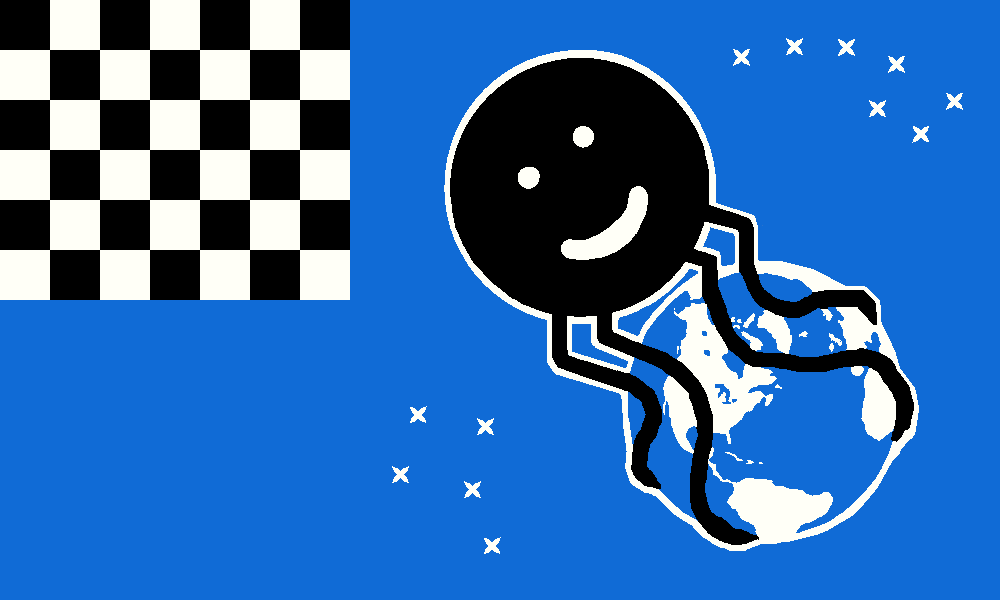 Domination of Eiler Journal #10
Operation Camelot-Song
Domination of Chicago's Theatre District, 2006
---
What Is the Domination of Eiler?
---
In one sense, "The Domination of Eiler" is a political entity modeled upon the Holy Roman Empire. Which is to say, it works through national and local political entities, but transcends nation-state boundaries. You may already be a citizen without knowing it!

In another sense, "The Domination of Eiler" is a pen name for an amateur but very prolific web journalist. Perhaps you may enjoy these travel writings, given this simple guide:

The Domination of Eiler is led by, of course, the Dominator.

Its chief military force, and bodyguard of the Dominator, is the Domination Guard.
The Domination's world headquarters is in Scumburg-Illinois, near Chicago. As such, Chicago is an occasional target for Domination patrols.

The Domination of Eiler is seizing a target of opportunity in Chicago-Illinois. The Monty Python musical "Spamalot" is playing there. And one suspects, "Spamalot" won't be getting recycled into community theatre, the way the Wizard of Oz prequel "Wicked" will be in a few years. When there's a Monty Python big budget musical, one has to seize the moment.

This operation is covering downtown Chicago, which the Domination patrols semi-regularly. Last year's Consulate Raid gave valuable intelligence on how best to patrol downtown Chicago. This year, the Domination exploits that intelligence.

<!a href=../ribbon.jpg> <!img src=../ribbon.jpg height=200 width=120 align="right" alt="Ribbon of Domination">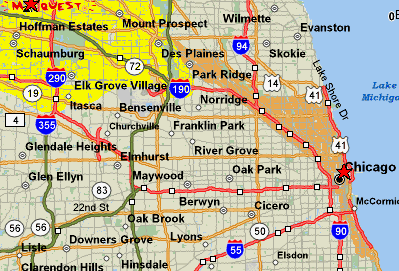 Day 0: Thursday 4 May 2006
Evening consumed in operational planning. In short, the reservations aren't made and the bags aren't packed yet.
The Cass Hotel hosted the Domination forces during last year's operations. But this year, it is under new management and wants to charge double the price. Bypassed in favor of "Red Roof Inn", whose website offers a better price than anything Orbitz.com knows about.
Theatre tickets purchased for full price plus service fees at Ticketmaster.com. Some other sites offer a few dollars off, but you have to get the tickets shipped to you from the people who bought them in the first place, instead of just picking them up at the theatre. Most other sites are scalpers. Happy hunting.
Day 1: Friday 5 May 2006
Chicago conquered by bicycle! The Conquering NARF-Cycle mountain bike, that is. The Domination's expeditionary forces found out long ago, hardiness beats speed on an extended bike trip.
Weather conditions nearly ideal: cloudy with Fahrenheit temperatures in the 50s. Which is to say, shorts weather by Domination standards.
A four-hour ride brought the Domination force the thirty-five miles (or so) from Eiler-Base Scumburg to the snooty "Magnificent Mile" district, tired but victorious, and with no worries about bicycles left at the train station.
The usual misadventures occurred while navigating through town of Des Plaines. Railroads, highways and rivers in the town are major impediments to bicycle travel. Good thing the Domination bicycle force had a map.
"Chicago River North Branch Trail" and scenic "Chicago Lakefront Trail" both useful for close approach. The trails are connected by eight miles of urban street, with signs posted to direct the cyclists away from the main roads. Not the most direct approach, but good enough.
"Red Roof Inn" hotel room and shower subdued. It's about as small as a room can be, but surprisingly quiet for how close it is to the street. Being on a side street helps. And the view is unmistakably Chicago, right up close. The John Hancock Tower (distinctive second-tallest Chicago building) has the final word on the view.
Lunch conquered at nearby "Timothy O'Toole's". This being Cinco de Mayo, the best lunch special at this Irish pub was a burrito. Plus the Leinenkugel Big Butt Doppelbock of Wisconsin.
After quiet time (read: unsuccessful nap), the Dominator put on his fancy clothes, even unto the Bolo Tie of Labrador which transports nicely via bicycle. "Spamalot" tickets were then picked up at Cadillac Palace theatre, with plenty of time to spare.
Down the street, the Ford Oriental theatre declined to sell any tickets for "Wicked" the next night. They suggested 2 pm Saturday. But there will be better things to do then, now that a Domination bicycle is finally stationed near a Chicago bike trail.
Apparently, both "Ford" and "Cadillac" theatres established their corporate sponsorship long enough ago that they're traditions now. Kind of like the northside Chicago baseball venue "Wrigley Field", but not like its southside rival "U.S. Cellular Field".
Before the show, decaf cafe latte (which is to say, vaguely coffee-flavored hot milk) conquered at very quiet "Au Bon Pain" in theatre district. The "Corner Bakery Cafe" next door was doing much better business, but had longer lines.
... Domination in the Chicago Theatre District is complete. The Dominator has now seen an entire big-budget musical presentation of "Monty Python and the Holy Grail", including an expanded version of "The Camelot Song" performed by a dance troop on stage. What more can one ask of live theatre?
Also, more audience interaction than anything other than an improv show. One wonders if they always select the same place to hide the Grail, though. Given some of the props and the dialogue, it might be hard to pick any other place.
The Dominator got a Domination-grade seat. No Holy Grail under the seat, but still second row balcony, on the aisle, on the side with the men's room, and convenient to a beer stand which was selling "Holy Grail Ale" for the occasion. Really.
Small pub crawl after theatre. But Chicago pubs are often disappointing. Tonight no exception.
The Boss Pub had quick service, a food menu at 10 pm, and readily available seating. It is also supposedly nonsmoking, but they violate that rule blatantly, and are looking for a citation. Dial 311 anywhere in Chicago, and you too can rat them out!
Fado Irish Pub had a band and no cover charge, but barely any seating and practically nonexistent service. At two points, one of the other customers had to flag down the bar staff to get them to notice new patrons, including the Dominator.
Oh well, this will just make the Domination more ready for tomorrow's activities.
Day 2: Saturday 6 May 2006
The Domination of Eiler has gone to great effort to bring a bicycle to downtown Chicago, and to store it in a place convenient to a fifteen-mile lakefront bike trail. The undominated southern part of that trail is crying out for Domination today.
But first... it's Free Comic Book Day, which is practically a Domination holiday. And since last night went kind of late, it's also time for the Breakfast of Champions!
Mission for comic books accomplished on foot, not bike. Bicycles in downtown Chicago need enough chain to lock two wheels, and ideally the seat too. The Domination only brought along enough for one wheel. Not to worry, the bike will get its chance to shine later.
On the way to the nearest comic book shop, target of opportunity McCormick Tribune Freedom Museum submitted a lot of multimedia displays about freedom of expression and freedom of the press. Plus a free mousepad with each $5 admission.

The museum was pleased to point out, "United States" presidents as far back as John Adams Sr. have censored the press.
Museum is conveniently located in the Chicago Tribune building. Presumably owned by some guy named "McCormick" who also censors the press - execpt it's not censorship when it's your press, it's editorial control.

Target Graham Crackers Comics submitted free comic books for Free Comic Book Day. Artist Skottie Young was on hand to sign his own free "X-Men / Runaways" Marvel comic!

Boy, his work looks like the same cartoony stuff that fanboys curse on the latest round of "New Warriors". But it's still better than the Domination's engineering draftsmen can do, so no complaints here.
Besides, fanboys are obviously not urban hip cool like Skottie Young is. Even his signature is art. Or at least graffiti.

Target Rock Bottom Brewery submitted the first meal of the day (hence the term "Breakfast of Champions"): Chicken Mac & Cheese, washed down with various beers of the Rock Bottom Brewery of Chicago.

One Chicago policeman came in on neighborhood patrol, similar to that of the Domination Guard, only he washed down his Chicken Mac & Cheese with iced tea and lemonade.
Rooftop Beer Garden open, but kind of disappointing. Decent enough setup, but limited menu, and even the hotel rooms here have better view.
Then, the long awaited bike patrol on the Chicago Lakefront Trail. Weather conditions were good enough to put on a postcard. Complete with rows of trees in bloom. And fields of dandelions gone to seed. Ain't nature grand?
The Domination Guard force and some associated biker/jogger militia overcame heavy opposition on the downtown bike trails, from swarms of people waving the Polish flag. The Polish Constitution Day Parade was just letting out. Largest Polish parade outside of Poland!
Opposition dropped drastically after the first few blocks, though. Then most of the bikers and joggers dropped off. Then all of the trailside restrooms were locked. Then some of the passers-by started looking at cyclists like each one had two heads instead of two wheels. Welcome to southside Chicago.
Still, the Domination Guard penetrated all the way to the end of the trail, at 71st Street. In Chicago, only the southside streets are numbered. The higher the number, the farther south you are. And the poorer the neighborhood.
The Guard force made it into some nearby neighborhoods at the south end. These seem to be entirely congenial, at least to the casual observer. After all, how poor can you be, if you can walk to the big-city beach? But riding a bike further south along the lakeshore might still be a bad idea, because it's not beach there.
Dinner back in "Magnificent Mile" district, at "Heaven on Seven", Cajun food good enough that Chicago has more than one restaurant of that name.
The original is in the "Loop" district, and attracted the attention of the Domination patrol by sending someone out to the street in a crawfish suit. This paid off for their Rush Street spinoff.
Ask for the house special hot sauce, and you'll get a choice! All tables have a selection of at least twelve.
Plus, on draft, three microbrews including a Scottish ale from Munster, Indiana of all places.
"Heaven on Seven" was indeed a Domination kind of place. It could have handled dessert too, but the forces went foraging for dessert elsewhere, just for fun. It wasn't supposed to be a pub crawl, but that's the way it turned out.
After-dinner beverage at Brehon Pub. Yum, Guinness. But waah, no dessert.
Another after-dinner beverage at Clark Street Ale House. They had the Two Brothers Raspberry ale of Warrenville, and many other similar beverages. And free pretzels. But waah, no cooked food at all, which kind of rules out dessert.
Dessert finally at Starbucks, along with warm coffee-flavored milk. One supposes it was inevitable.
Day 3: Sunday 7 May 2006
Kingdom-of-Heaven obeisance at St. James Episcopal Cathedral. Yes, the "Magnificent Mile" has a couple of churches, but that part of town is so snooty, the churches are both cathedrals.
After last year's Chicago operation, the Domination knows to sit on the right side of the Episcopal cathedral, so as to see the choir and organist who sit on the left.
Cathedral of St. James trivia: Their pipe organ was featured on the "Styx" rock song "I'm OK" in 1977!
The Domination Train was selected to take the Domination bicycle force back to the Township Palatine, thereby leaving Sunday afternoon free for mandatory post-vacation recovery. Every Domination of Eiler vacation practically needs a vacation to recover from.
Bicycles are welcome on Chicago Metra Rail during off-hours, but bring a cord to tie it down. Bungee cords work best.
This practice, though entirely sensible, was news to the Domination. But the bike rules are posted at the stations, or at least at the big Chicago station. So the Domination read the rules and didn't look entirely clueless.
The Domination force had no bungee cord, but was still adequately prepared with materials at hand, without even resorting to belts or duct tape.

Bike locks can do part of the job. Remember: In Chicago, bikes need a lock for each wheel anyway, or else the wheels go missing.
For the rest: The Domination has luggage, and luggage has straps. Had those failed, even the Dominator's stylish Bolo Tie of Labrador would have served.

The Domination patrol even guided some European visitors in securing their bikes, in a much more useful way than the train's own patrols did. The visitors had to use their belts, though.
Domination expeditionary force debarked intact (well, almost; the bike horn decomposed during handling on the train) and victorious at Palatine train station. Emmett's Tavern provided the wrap dinner.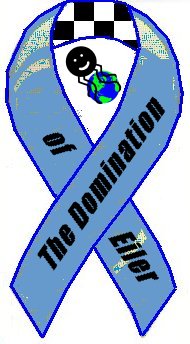 This operation shows these signs of success:
Targets subdued each day, including some of cultural or historic value. If one counts Chicago Tribune propaganda as history and Monty Python's Holy Grail as culture, that is. And of course, the Domination does.
Some trophies captured. But let's not load down the Bike of Boundless Conquest too much on these bicycle missions, okay?
Much bike riding done. The Domination's bicycle frontline has been extended on a scale not seen since the Lap Around Rhode Island in 1994.
Much fine beer consumed, largely of brewpub quality, and all better than Bud.
Some pulpy science fiction read. And free comic books too.
Much work done on the Domination's fiction-blog April episode. As ever, real adventures take priority. But thanks to the fairly predictable ending of today's real Domination adventure, the wrap dinner was able to wrap up the fictional one!

But no sticks carved. Oh well.
Still, Domination of Eiler forces return triumphant, all praise to the One Maker.
(signed) Dominator S. Eiler, Fist of the One Maker, for the Domination of Eiler.