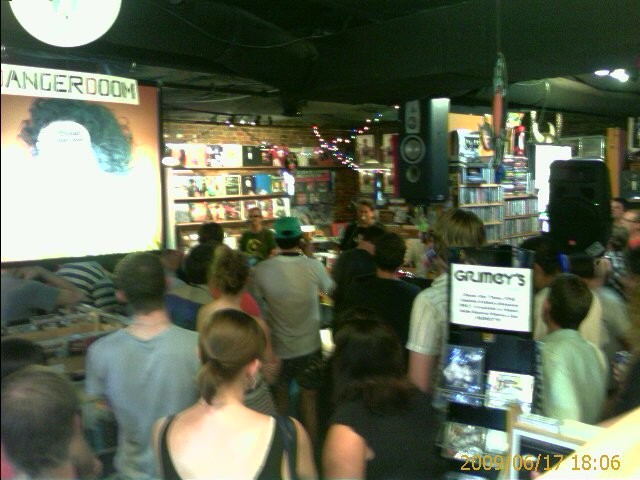 The Meat Puppets for free in Nashville. Not the best photo op, but at least there was one.
"Holy $#!+, it's just like high school! Most folks are tying their boners in a knot waiting for Eddie 'Mumble Mumble' Vedder to play, and we're standing here going, 'What the #3!! is wrong with you people? The *@(%ing Meat Puppets are playing!'" - Sean L. Maloney, Nashville Scene, June 11-17, 2009.
After last weekend's music festivals, visitors to downtown Nashville (a.k.a. "Music City") have had to walk carefully to avoid tripping over Dolly Parton, Elvis Costello, and quite a few other famous musicians. But as usual the Domination of Eiler avoids these big-ticket celebrities, and chases the equally good acts that appear on small stages. The Dominator's high school classmates don't recognize John Mayall, Wishbone Ash, The The, Kathy Mattea, King Missile, or Cracker... but the Domination of Eiler does. The difference might be, the Domination of Eiler has garrisoned Boston and Chicago, while most of the classmates haven't gotten out of Indianapolis.
The Meat Puppets are most famous for having Nirvana play three of their songs on MTV Unplugged once. Tonight they play in a Nashville bar... but they warm up in a record store, with free admission to the general public! Now that's Music City.
The Domination of Eiler in turn warmed up, with a bicycle-based pub crawl. One of the pubs had a "Week of Recovery" sign up. Perhaps the visit of the celebrities of music (and their fans) has been rough on them.
Dodged a thunderstorm on bike, and arrived at venue about 5 minutes early. Show started maybe 5 minutes late. Entire store filled up by then.
Some people brought the whole family, including the bored kid, the toddler and the baby! The kids were entirely tolerable, but the Domination of Eiler felt bad for them.
Stage not well-visible; go figure. Not exactly a big venue - but also not well-planned. How much do a couple of risers (one for each of two lead singers) cost for these occasions?
More surprising, the "M" rack of CDs (near the "L" rack which the Dominator reviewed extensively during the concert) had absolutely no Meat Puppets for sale! Perhaps these coveted CDs were only available to lucky fans near the stage. But as a business model, this sucks.
Meat Puppets did their three most famous songs as expected, plus "Comin' Down" (especially appropriate for some Tennessee mountain hikers) and one more recognizable one (sadly not "Party 'til the World Obeys", but instead "Touchdown King" from that same album). Meat Puppets were on the Conquering Cell Phone soundtrack last month, so the Dominator knows his Meat Puppets fairly well.
Four or five apparently-new songs were performed. Worth getting the new album, if there should be some record store which will actually let the Dominator place his hands on it.