| | |
| --- | --- |
| Bicycle Travelog of Central Michigan, 2008 | |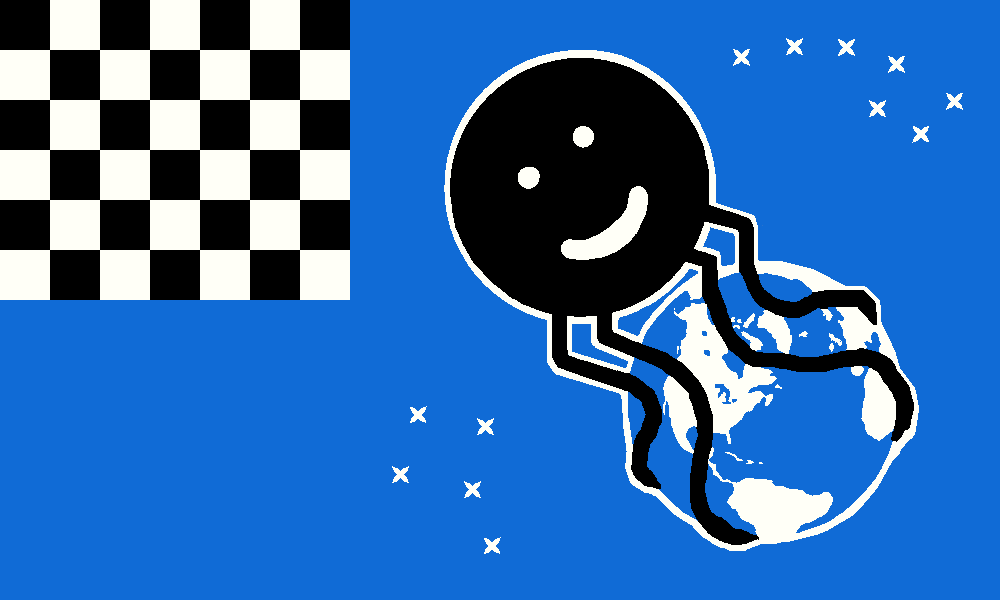 Domination of Eiler: Home The Declaration of Domination What is the Domination? Latest Fiction The Dominator
Journals: Typical; ('04) VT WI WI IN; ('05) IL MO WI WI; ('06) IA IL MI WI WI WI; ('07) ?? ON MI; ('08) IN <!a href=../journal/journal19.htm> MI MI.
Blogs: ('05) 1 2; ('06) 3 4 5 6; ('07) 7 8 9 10 11; ('08) 12 13 14 15 .
This Trip: Thu Fri Sat Sun Mon Tue Wed Thu Fri Sat
Domination of Eiler Journal #19: Operation Learn to Ride
---
What Is the Domination of Eiler?
---
In one sense, "The Domination of Eiler" is a political entity modeled upon the Holy Roman Empire. Which is to say, it works through national and local political entities, but transcends nation-state boundaries. You may already be a citizen without knowing it!
In another sense, "The Domination of Eiler" is a pen name for an amateur but very prolific web journalist. Perhaps you may enjoy these travel writings, given this simple guide:
The Domination of Eiler is led by, of course, the Dominator.
The Domination's world headquarters is now in Lansing-Michigan. As such, some nearby areas in the North Eileranian heartland are targets for Domination patrols. Central Michigan is among these.
It's summer vacation time, including a trip to visit associate-Eilers in Kalamazoo-Michigan. The question is, what else to do for a week? If weather permits (and it seems to), it'll be time for a big bike trip.
This will serve as an affirmation of Domination of Eiler energy policy. Domination bike vacations date back to the mighty Lap Around Rhode Island in 1994. Three years ago (when New Orleans sank), the Domination publicly called for more car-free and plane-free vacations. Now that gas consistently costs more than milk, people finally catch on.
This will also serve as a disaster preparedness exercise. To the upstagement of New Orleans and firestorm-prone San Diego, this year's disasters are on the Domination frontline on the Mississippi River in Missouri, Illinois, and Iowa. Analysis of recent disasters shows, bikes will get farther faster from urban disaster zones than cars will.
In the news this year: New Orleans musicians have formed a band called, "Second 9-11", to call attention to their own unique plight. Seems we're on Third or Fourth 9-11 by now. And there's none to blame but our own overpopulated selves.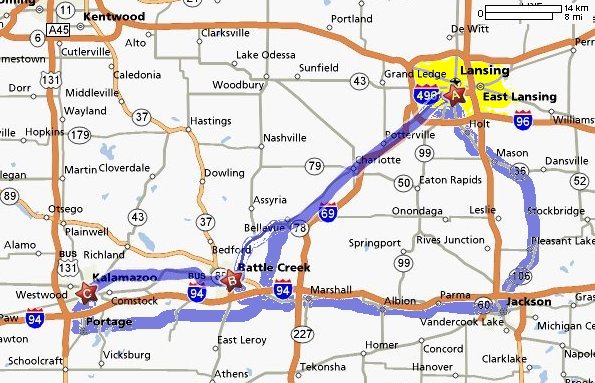 ---
Day 0: Thursday 19 June 2008
Charlotte Night
This stage of the tour has these checkpoints.
Breakaway from South Lansing at 5:15 pm.
Mile 7, 5:55: Departed Core Territory at Don's Windmill Truck Stop of Southwest Lansing. 10 miles per hour so far.
Mile 8: Non-Domination barricades encountered, attempting to prevent southbound transit on the I-69 frontage road. This being a disaster preparedness exercise, the Eiler expeditionary force was prepared to circumvent authoritarian barricades. In the Domination of Eiler, "Road Closed" usually means "Bike Lane". Indeed, the force sped up.
Mile 12, 6:20: Rest stop in Potterville, a.k.a. "Gizzard City" and home of annual fried chicken innards festival. Apparent non-existence of a "Gizzard City" restaurant on main drag was disappointing. Compensated with Tilapia Parmesan at Charlie's Bar and Grill.
Mile 12, 7:20: A five-mile ride awaits, but this is standard after-dinner exercise in the Domination of Eiler.
Mile 17, 7:45: Barracks prearranged in Charlotte at Comfort Inn. Very quiet, and nearby an Applebee's. Good enough for dessert.
Wrote this wonderful journal throughout, with new journalling equipment. It will eventually serve nicely, after some hardware store helps teach it not to slide around on the dining counter. And it can post the updates from the road!
Listened to wonderful music throughout, on the Conquering Cell Phone which is currently dominated by fifteen bands including Ben Harper, Santana, and Tool. (Operational music, "Learn to Swim".) Unlike previous vacation, batteries are upgraded and have no complaint. If only it could keep better track of what it's already played, it'd be Domination grade.
The main attraction of I-94 Exit 104.
---
Day 1: Friday 20 June 2008
Exit 104 Day
Free hotel breakfast available, but just had an apple and a pastry. Moved out in good order by 10:15 am.
Mile 1, 10:30 am: Stop at hardware store.
Mile 3, 10:45 am: Traffic radar clocked the expeditionary force at 14 mph going out of Charlotte. However, the pace soon dropped due to a head wind, rolling terrain, and just surviving the tedium and the sun.
Mile 12, 12:15 pm: Rest stop at Plezmor Lounge in Bellevue. Hardware for computer mounting is working nicely.
Mile 12, 1:30 pm: Twelve more miles await, but less headwind due to southward instead of southwest trajectory. Also more shade due to it being a side road.
Mile 24, 2:30 pm: Due to heavy occupancy of other Battle Creek hotels on Friday night, barracks prearranged at Quality Inn at Exit 104 of I-94, intriguing home of the Te-Khi Motor Court and Bar. Other than that and six more miles into town, Exit 104 has little to offer. But it's relaxing.
Down time at hotel with king-size bed, whirlpool, ice machine, and Cajun-style hotel bar with good beer. Pasche's Seafood Kitchen may be the only Cajun chain restaurant with locations in Battle Creek-Michigan and Rutland-Vermont.
Dessert at truck stop lounge (Clyde's Side Door) 'cause there's pie. But turn in early, 'cause tomorrow's a big day.
The Domination of Eiler has actually published a story about Exit 104. It's satisfying to see, Exit 104 really could hold campsites for most of the tribes of Israel.
Southern Michigan is the home of Rural Free Mail Delivery. See also:
---
Day 2: Saturday 21 June 2008
County Road Day
Big hotel breakfast, with Belgian waffle and sausage biscuit and gravy. Moved out in excellent order by 9:15 am. Thirty miles to go, and associate-Eilers waiting. Also, storm front approaching - and the route goes right toward it.
Mile 10, 10:30 am: Made it past Battle Creek suburban mall district (once occupied!) and into a countryside reminiscent of New England. Head wind again, out of the west. But it is no match for today's big breakfast. The Domination of Eiler is bursting with energy today.
Mile 14, 11 am: The hamlet of Climax is roughly halfway, and was recommended as a rest stop with ice cream. Unfortunately the public library knew nothing of ice cream in town. Also, town's only restaurant / tavern not open before 3 pm. So, had a short break at library, convenience store, and picnic table - then kept going.
Mile 22, 12 noon: Proper rest stop at Peterson and Sons Winery which was beside the route.

Wine tasting $2 USD, or free if you buy something.
Many non-grape wines available, cheaper than their traditional counterparts because they actually use local fruit. This often happens around the Great Lakes.
No chemicals added. And they're proud to say, they wash their grapes first.
But they won't ship their wines. The proprietor Mr. Peterson says, learning to print out a shipping label is haaard. And his sons are no help, because they either don't like wineries or they have their own now.
Mr. Peterson is 62 years old and wants to retire. Better come see his wine cellar while you can.
The troops went away with a bottle of red grape wine, such as the allies might like. (The Dominator actually prefers blackberry or cherry, but he's not dragging any wine bottles back to Lansing.) Also bought an insulating sleeve - which can protect the wine from summer today, then go back to Lansing around a bottle of ice water.

Mile 27, 1:15 pm: Rain imminent. But troops are now in Portage, the destination town. Portage is proud of its bike trails, of which it has more than one. Which is unfortunate, because the troops got on the wrong trail.
Mile 29, 1:30 pm: Light rain starts. The allies soon call and advise of oncoming rain. Fortunately the Conquering Cell Phone was already on duty to play Ben Harper music, and took the call without interrupting the last two miles of riding.
Mile 31, 1:45 pm: Arrival. Allies kind enough to have garage door and leave it open.
Eiler clan activities consume the rest of the day. An evening baseball game of local team "Kalamazoo Kings" was involved. Baseball did not end in time for bed for little boys or Dominators, so left early. Much appreciated.
---
Day 3: Sunday 22 June 2008
Kalamazoo Night
Day consumed in church and home activities with associate-Eilers. A family excursion to a Civil War reenactment was suspended due to the likelihood of soldiers ducking the rain. Instead, played a card game about roads, rivers and rails. If they put some bike trails in the game, it would be just like South Lansing.
Vacation resumed at 7:30 after family dinner.
Barracks at Comfort Inn of downtown Kalamazoo, by Academy Avenue. Promptly explored the block.
Cheap beer night at Rugger's Up and Under Pub.
Fancy coffee shop at Dino's Coffee Lounge. Open until midnight.
But coffee shop was bypassed, in favor of the new Domination of Eiler custom of munching ice cubes in hotel room. (Dentists please don't worry. Most commercial ice cube makers produce such soft soggy ice cubes, it might as well be snow cones. Besides, most of the Dominator's teeth are armored with heavy metal crowns by now.)
---
Day 4: Monday 23 June 2008
The least ambitious vacation day since the Quad Cities.
Stationary day! Downtown Kalamazoo is almost worth a full day of occupation on its own. The remainder will be restful - and catchup with the regular duties of Dominance. What with being a good uncle all weekend, journalling and e-mail have suffered.
The Kalamazoo Valley Museum (on some maps as the Kalamazoo Public Museum} is self-restrained: it only has the history of its town since its founding, not since the Ice Age. And it has fun stuff for kids and Dominators, like hands-on microclimate control.
The usually trusty Olde Peninsula Brew Pub was open but has had a "kettle event" (as newly-dead George Carlin might have not put it) and could not provide its raspberry wheat beer. One regular wheat beer and a spinach salad sufficed.
The Bell's Brewery Eccentric Pub (at their former world headquarters) took up the beer burden. If one is familiar with their "Oberon" beer which is like Blue Moon Belgian White, one should try their barrel-fermented "Uberon" which is darker and half again as strong.
Rehydration and a nap ensued, back at hotel within walking distance.
Shakespeare's Pub gave good beer and chili. (According to town museum, there actually was a local businessman named William Shakespeare Jr., and he built this building.) But it's Domination steak time. So, simply asked the nearest patrons. This led to...
Burdick's Pub inside the Radisson fancy hotel.

Reportedly if you go to Zazio's in same hotel, you'll get the same steak and pay more.
The most Fancy Steak Place locally is named after Wild Bill Hickok. He is apparently a local citizen (though for all the local museum said, he just inspired cereal boxes). Of course, fanciest does not always mean best.
At Burdick's the Dominator chose the flat iron steak, which on this menu is sliced and mixed with rice and veggies. There may be better ways to get pure protein, but in the Domination of Eiler this is seldom a priority. Humans are omnivores.

Finished up at beer at Rugger's and coffee at Dino's . College students heavily present at coffee shop, probably for wireless access. But in the Domintion of Eiler, wireless access is perfectly happy to go back to the hotel room with the Dominator.
The enemies of America are honored. See also:
---
Day 5: Tuesday 24 June 2008
Battle Creek Day
Moved out in reasonable order by 10:45 am. Late start, but fast day on country roads. New operational music, "Don Quixote". Just 25 miles to downtown Battle Creek.
Mile 16, 12:15 pm: Rest stop in Augusta, with beans and franks courtesy of Barking Frog Pub.
Mile 18, 1:15 pm: Fort Custer is an active military base, and its military cemetery is alongside the route! Given the non-urgent nature of every vacation activity this week, it would just be wrong to not stop and honor the dead.

Many World War 2 veterans and their wives are buried there - including some Germans! They were prisoners of war there, mostly dead in a bus crash. They have been honored annually since 1953.
... Remember, these Germans fought to defend a death camp system. At that rate, the fundamentalist Islamic enemies of the the civilized world will be likewise honored by 2013. And that's not necessarily a bad thing.

Mile 20, 1:45 pm: Start of an off-road bike trail, saying 5.5 miles to town. A pleasant surprise, exploited to the fullest.
Mile 22, 2 pm: Local trail merges with the local equivalent of the Appalachian Trail! Little-known "North Country Ice Age Trail" is apparently for U.S.-sanctioned hiking from upstate New York to North Dakota via southern Ohio and the Mackinac Bridge. Really.
Mile 23, 2:15 pm: Helped a "ride to live" cyclist put her rear wheel back in its proper place, so she could get to a job interview alongside her son. The Domination of Eiler grants its protection to all within its power. Really.
Mile 24, 2:30 pm: Sadly, Kellogg's Cereal City museum (previously conquered in September 2001 during a rather improvised vacation) is now closed forever. Oh well, no buying new T-shirt at gift shop.
Mile 25, 2:45 pm: Barracks arranged at AmeriHost Inn downtown. Actually much cheaper than nearby Exit 104, and with similar amenities.
Battle Creek has some attractions yet to be dominated. Two hours remain for these today. Oh well, no nap.
The Kingman Museum has lots of natural history. Which is to say, some fun skeletons including a sabre-tooth tiger. And random specimens of other life - including a large collection of human fetuses! Admission usually $5 USD, but today was Do(mi)nation Day for grownups because children had already overrun the complex, so it was kind of disorganized.
An Adventist Historic Village was accidentally discovered on the way to the museum, and conquered on the way back.

The Seventh-Day Adventist Church considers this village to be a mission field, and actively supports it. A volunteer there will gladly spend 90 minutes letting you look inside some old buildings, while telling you of the shared heritage of Jesus of Nazareth, the Saturday sabbath, Battle Creek, sanitariums, electric lights, exercise equipment, the Titanic, and breakfast cereal. Cereal City used to tell this same story, but they left some parts out. Must be experienced to be believed.
Free admission, but well worth $5 USD in the donation jar.

After a hygiene break at hotel, conquered a pork salad at Arcadia Brewing Company. Yes, you can add pulled pork to any salad there. Don't say "added calories", say "added protein from non-grain-fed sources for muscle enhancement". Also, coffee stout on tap, but the rest of their beers are traditional.
The rest of downtown Battle Creek tonight is an odd mix of abandoned and overcrowded. One venue has an outdoor band and is doing great but has no spare bar seats; others are inside the local Fancy Hotel and have four servers for every customer. Settled for an Irish pub in between, but still negotiating for dessert. Bartender said "Yes, but..." which is the wrong answer. Let it all wash into the seas of the Dread Lord's forgetfulness.
... And that's finally it for today, aside from a much-deserved dip in a hot tub. Just have to dodge "Free Appraisal Day" (a.k.a. "Treasure Hunt") back at hotel, if it's still going on.
... Well, no, not by then. Pool closed too. Battle Creek nightlife is now judged to be existent but suck.
The Fancy B&B of Marshall is practically a motor inn now.
---
Day 6: Wednesday 25 June 2008
Marshall Day
Moved out in good order by 10:30 am. The main delay was rain showers. More rain coming later: a storm front approaches from Chicago. This may be an abbreviated travel day. Marshall is twelve miles away.
Mile 3, 11 am: Got on wrong road out of town, and now it's raining. Add three miles, and reacquaint the Domination of Eiler with the back roads of Calhoun County.
Mile 15, 12 noon: Rain soon ended (for now), and Marshall was still easy to reach. It has a brewing company and at least one functioning museum, so it may fill the day.
On the surface, Marshall has two hotels and an Applebee's by the highway, so it's at least minimally survivable. But deeper into town, it gets more interesting. Visitors are advised to keep going past the fountain.
Rest stop (and ostrich burger!) at Stagecoach Inn. Its sign says "Guest Rooms", but don't believe it.
Down the street, though, National House Inn Bed and Breakfast was happy to provide a guest room, suitable for nap. But first, there are museums!
The American Museum of Magic has two floors of stage magic memorabilia. The walls are papered with original magician ads from 1820 onward. And unlike some museums, they reveal no secrets. Houdini would be pleased.
The Honolulu House is prominent local citizen stuff - and they're digging pretty deep for "prominent". This citizen was the U.S. consul to the Sandwich Islands - which is to say, Hawai'i. The architecture is fancy Victorian, with a tropical touch not entirely eradicated by subsequent tenants. Largely original furnishings, too.
After nap time, Dark Horse Brewing Company submitted pizza and beer. Not open before 3 pm, though (else it would have submitted in the early going). They have good product, but are advised to not seat rowdy underage patrons at the bar, even if they are "just children".
Dessert at Schuler's. Peppermint ice cream pie was extremely pricey but tasty.
---
Day 7: Thursday 26 June 2008
Territorial Road Day
Every city from Detroit to (probably) Benton Harbor has a Michigan Avenue. This was formerly known as the Territorial Road, the first road of the Michigan Territory. This road has played a role in every day of vacation for the last week, albeit mostly as a road nearby the route. Today it becomes the main route. Out here, it's quiet enough for bicycle use.
Moved out in good order by 10:15 am. Thirty miles to go today, and it'll be hot in a typical Midwestern summer way.
Mile 11, 11:15 am: Vehicle maintenance stop in Albion. The town has no bike shop, but two hardware stores and a gas station managed together to inflate the rear tire, identify the proper size replacement tube, and provide an emergency spare. Restaurants including a "Cascarelli's" exist, but rest stops are more fun after 2/3 of the trip than 1/3.
Mile 20, 12:45 pm: Rest stop in Parma. Ferg's Parma Pub provided a grilled sandwich.
Mile 30, 2:30 pm: Downtown Jackson has no hotels. From the look of it, it's even more depressed than Lansing. But it does have a Chamber of Commerce, capable of directing the weary traveller back out toward the highway. This is not exactly surprising.
Mile 35, 3 pm: After extensive negotiation with local providers for two nights of Domination-grade accomodation, Comfort Inn reluctantly submits. If one believes their agent, the last non-smoking room in hotel became available during negotiations. The day's thunderstorms start shortly thereafter.
An additional day has been reserved to subdue Jackson, which seems to have as many brewing companies and almost as many museums as Marshall. For tonight, nearby Rocky Top barbecue place will submit good national beer and a one-pound pork chop. Probably dessert at Red Lobster chain place near hotel, then just hang out at pool.
Two less-than-stylish pillars of the community: frivolity and Republicans. See also:
---
Day 8: Friday 27 June 2008
Jackson Day
Good local beer has not survived in Jackson. According to the Web, the brew pub closed years ago, after a flawed attempt to survive on sales of Bud clones. There goes half the tourism. Family attractions will have to take up the load.
The Under the Oaks monument was built at the site of a park where the U.S. Republican Party was formed in the 1850s. (Insert cheap-shot Republican joke here.)
The Cascades Illuminated Falls are open with $3 admission, but not until dusk. This is an illuminated water show, and does its business after dark. Gee, what's the point of having an outdoor water park if it's just for looking?
The Ella Sharp Museum is the prominent-local-citizen installation.

This citizen's claim to fame is, she inherited a farm and gave it to the city when she died. It's practically a historical village now, with farmhouse tours on the hour.
A newer building contains the town history since the Ice Age, peaking in the glory days of smokestacks. Jackson wanted the state capitol, but it got the state prison instead. One exhibit just says, "It's hard to judge recent history." Art galleries also available, including duck carvings.
Admission $7 USD, with some slightly cheaper partial options. On-site planetarium with laser light shows extra, if you catch it when it's open in July.
Jackson has done its duty to the Domination of Eiler expedition. But that will be about it for tourist attractions on this vacation. The rest of the day will be spent around hotel, getting staff and coaches to make some rowdy high school sports team not interfere with bedtime.
The zero point used by Michigan surveyors is aptly marked with nothing. See also:
---
Day 8: Saturday 28 June 2008
Homeward Day
There may be future Michigan bike trips, to Ann Arbor or various northern points. But that's really quite enough for this one.
High school boys did interfere with bedtime, but no more than the Dominator's kidneys usually do. Moved out in good order by 11 am; delay solely due to rain. Forty miles to Lansing, but the cold front is here!
Mile 3, 11:15 am: The Lansing Road of Jackson is not suitable for egress, because cars may demand the privilege of passing bicycles two abreast, so someone has to lose. Cooper Road chosen instead. This puts the South Michigan State Prison astride the travel route! Visitors not encouraged; unlike in Maine, the state prison furniture shop is not open to the public.
Mile 13, 12 noon: The closest thing to an attraction along the ride is the Meridian - Baseline State Park, at the zero point used by the state surveyors. The park is much smaller than maps indicate, and has no markers or facilities. Beware mosquitos!
Mile 21, 12:45 pm: Ingham County has its own zero point, nine miles north of Michigan's but still in the middle of nowhere. One mile short of this point, the expedition turned toward Mason, the county seat for Lansing-Michigan, and only one of four county seats for the residences in Domination of Eiler history. (The others are Chicago, Indianapolis, and Worcester-Massachusetts.)
Mile 26, 1:15 pm: Mason has a functioning Historical Society, conveniently open 1 to 3 pm on Tuesdays, Thursdays and Saturdays. Main attraction, a functioning pump organ they'll actually let you play!
Mile 26, 1:45 pm: Rest stop with fried steak at Mason Jar Pub and Grub. One local was suitably impressed that someone would ride his bike from Lansing to Mason - and he didn't even know it was by way of Kalamazoo.
Mile 27, 3 pm: Reports of a Ma and Pa hotel in Mason are true. This could have been usual in case of weather or fatigue, but otherwise it's just boring. And it's enough like a typical Saturday afternoon right now, that the bike's on autopilot for the Great Hall of Eiler.
Mile 35, 3:30 pm: Re-entered the Core Territories of Michigan on Cedar Street in Holt. Cedar Street is made for much more traffic than it gets on Saturday afternoon, and has a paved shoulder.
Mile 38, 4 pm: Stopped at local park to finish the vacation ration of trashy science fiction. It wasn't quite so trashy that the Earthlings had sex with the Martians, but it was trashy enough that they found out how each others' parts worked.
Mile 40, 4:30 pm: Return to the Great Hall of Eiler. A nap and a wrap dinner soon follow.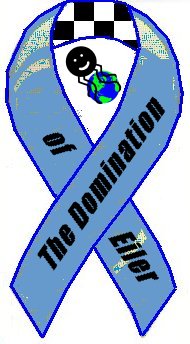 The operation has shown these signs of success:
The Domination will admit to these operational shortcomings, though:
Domination of Eiler forces have returned sore, bitten and burned but triumphant as ever, all praise to the One Maker.
(signed) Dominator S. Eiler, Fist of the One Maker, for the Domination of Eiler.