| | |
| --- | --- |
| Travelog of Upper Peninsula Michigan, 2008 | |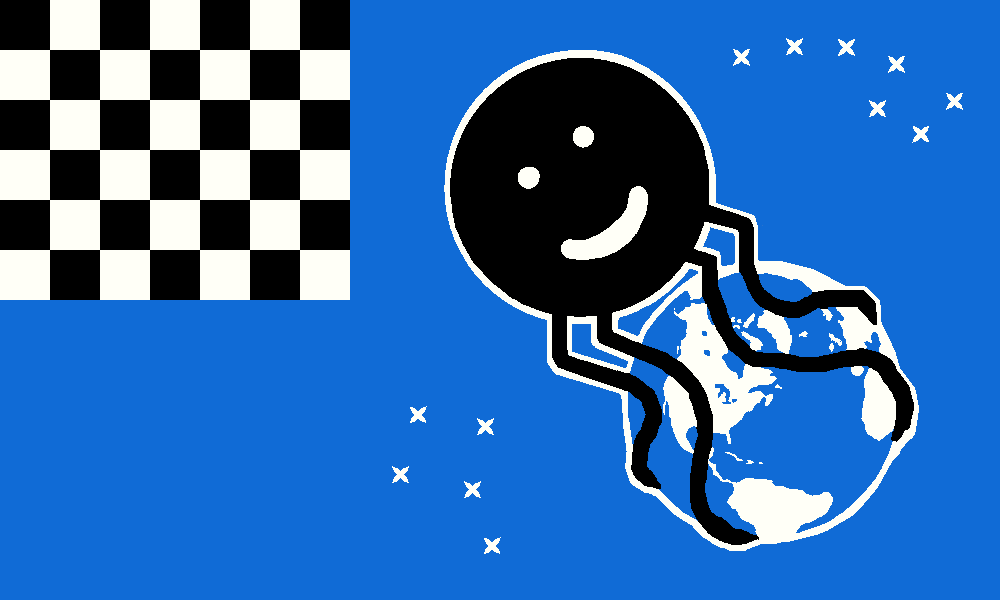 Domination of Eiler: Home The Declaration of Domination What is the Domination? Latest Fiction The Dominator
Journals: Typical; ('04) VT WI WI IN; ('05) IL MO WI WI; ('06) IA IL MI WI WI WI; ('07) ?? ON MI; ('08) IN MI <!a href=../journal/journal20.htm> MI.
Blogs: ('05) 1 2; ('06) 3 4 5 6; ('07) 7 8 9 10 11; ('08) 12 13 14 15 .
This Trip: Mon Tue Wed Thu Fri Sat
Domination of Eiler Journal #20: Operation Edmund Fitzgerald
---
What Is the Domination of Eiler?
---
In one sense, "The Domination of Eiler" is a political entity modeled upon the Holy Roman Empire. Which is to say, it works through national and local political entities, but transcends nation-state boundaries. You may already be a citizen without knowing it!
In another sense, "The Domination of Eiler" is a pen name for an amateur but very prolific web journalist. Perhaps you may enjoy these travel writings, given this simple guide:
The Domination of Eiler is led by, of course, the Dominator.
The Domination has bases in Palatine-Illinois and Lansing-Michigan, and its forces often shuttle in between. This time the long way.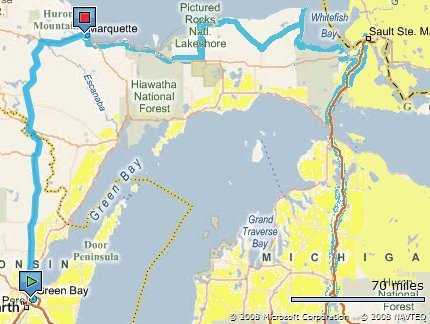 It's vacation time again, including a trip to visit associate-Eilers in Kalamazoo-Michigan, and a trip to the EilerDepot in Palatine-Illinois. The question is once again, what else to do for a week? For various reasons, the Upper Peninsula of Michigan has been targeted.
On the Lake Superior shore, there are reportedly some brewpubs and shipwreck museums to conquer.
When the associate-Eiler from the Lower Peninsula heard about the original plan for patrols in conquered Lower Peninsula territory, he recommended approaching via the Mackinac Bridge. This is only slightly out of the way from Chicago, and the traffic's better too.
Besides, the Domination of Eiler has never invaded north from Lansing. It's mostly subjugated already - by expeditions from Illinois and even Massachusetts. It's Michigan's turn to host the domination of northern Michigan.
---
Green Bay pioneer town by the highway.
Green Bay downtown mall.
Day 0: Monday 1 September 2008
Return to Green Bay
Woke up at 6 am after a sound night of sleep. Departure from temporary EilerBase unusually early - 8:30 am.
The Domination frontline lies at Green Bay-Wisconsin. Plan today is to move one hour beyond, to Iron Mountain-Michigan. But instead decided to treat Green Bay to a third wave of Domination. Previous waves in 2000 and 2006 bypassed some resistance.
The historic village at Heritage Hill State Park finally submitted. Open daily through Labor Day, which today fortunately is.
Previous allies at the Days Inn and the Titletown Brewery welcomed the Domination patrols back. It's fun to get to a town and already know where to eat and sleep.
Just a bit of barhopping after, but not much. The combination of Monday and Labor Day makes Green Bay's nightlife look like something from a survivalist novel. Speaking of which...
In the news today, Hurricane Gustav made landfall at Cocodrie-Louisiana. Raise your hand if you've been to Cocodrie... the Domination of Eiler has! They build on stilts there, so they're probably okay, all prayers to the One Maker.
---
Outpost of the Iroquois in Wisconsin.
Day 1: Tuesday 2 September 2008
On the Frontline
Awoke at 6 am again, but observed sleep discipline until 8:30 to ensure no need for nap. New habit of munching 200 fluid ounces * of ice cubes per day leads to extra bathroom stops in morning, but otherwise helps counteract 90-degree temperatures and contributes greatly to mission readiness. And complimentary hotel waffle breakfasts ensure the ability to skip lunch if necessary.
On the way out of Green Bay, the Oneida Historical Museum submitted one room of exhibits, plus a replica longhouse which the Frontline of the Domination of Eiler now bisects.
The main lesson is, one of the Five Nations of New York maintains a colony in Wisconsin - and they print their own license plates, which one may see on the street!
Trophies were conquered in the gift shop, including an Iroquois Confederacy flag to fly in the car alongside the U.N. and Domination flags. Any trophy flag is worthy to do this, especially if it comes from the Frontline.
Advanced beyond the Frontline into Iron Mountain-Michigan. Michigan Welcome Center was subjugated, but local historical and mining museums resisted. These are theoretically open on Tuesdays even after Labor Day, but the operators may step out for lunch or whatever.
Instead, moved quickly across the Michigan Upper Peninsula. State Road 95 was ideal for this purpose, and offers cabins, fishing, and "pastie" meat pies - none of which were sampled, because the museums and brewpubs of Lake Superior await.
Fortunately, dodged an approaching storm front. Unfortunately, evil enemies of the Domination stole an hour in the middle of the woods, at a time zone boundary. This means no more time to conquer Michigan museums today.
Therefore just conquered some stuff at Ishpeming-Michigan tourist store, including long-sought "Say Ya to da U.P., eh?" bumper sticker. Then found barracks near the Jasper Creek Brewery, first of four brewpubs to conquer. There really is a Yooper accent, once you get in this deep.
Happy Hour, this fine journal, the hotel pool, and the last four comic books from this month's shipment should suffice for tonight. Half the Upper Peninsula, all the target museums, three more brewpubs, and the main part of vacation await tomorrow and beyond.
---
Welcome to Marquette! See our lighthouse!
Buy our minerals!
Leave town and see the sunset!
Day 2: Wednesday 3 September 2008
Marquette Day
Most tourists come into the Upper Peninsula from the east, via the Mackinac Bridge. This time the Domination of Eiler dares flank its opposition, swoop in from the west, and conquer the deep parts first - just like the cold front did yesterday. There is every reason to believe today will be the height of vacation.
In Negaunee, the Michigan Iron Mining Museum submitted exhibits on the thing the Upper Peninsula contributed to the World Wars. 90% of American iron came from there in WW2, by their claim. Short hiking trails on site; a new hiking stick was conquered.
U.S. Highway 41 is quite congested, but the mining museum is down a pleasant side road which goes all the way to the beach, albeit back across 41 and past Northern Michigan University. Overcame local opposition and thereby approached downtown Marquette via lakefront road from the north.
The Dominator's beer sense led him with record-setting accuracy to the Vierling Restaurant / Marquette Harbor Brewery. Imperial pints of beer including Blueberry Wheat and some chicken salad were conquered.
The Marquette Historical Museum is conveniently two blocks away for post-lunch rest stop. Main two exhibits are on Yooper culture. Rocks for sale in the gift shop.
The Marquette Maritime Museum is also nearby on the waterfront. U.S. Coast Guard reluctantly allows museum visitors to be escorted into the Marquette lighthouse (tower off limits), but the tour gets down to the laundry room in the basement. Otherwise, the museum is mostly about shipwrecks.
Staying in Marquette near the attractions is pricey: $120 USD or so, even off season. Tourist hotels cluster on the way out of town (or into town for westbound visitors). So at 4 pm stopped by the Goodbye Center (or Welcome Center westbound) to get info on eastbound lodgings. Either of two towns may serve:
Munising (30 miles from Marquette) has typical small-town amenities, plus lake cruises to go see the shipwrecks.
Grand Marais (50 miles beyond Munising) is down a side road and even smaller (much like Cocodrie-Louisiana), but has a brewpub! Therefore selected per original plan.
Traffic is a minimal factor, even on these two-lane roads. Logging trucks exist but are westbound toward Wisconsin, and most other traffic likes to go 75 mph. Therefore made 80 miles in 90 minutes, including a worthwhile stop to ask a park ranger for directions so as to not get trapped by a road closure on the short cut.
Barracks at North Shore Lodge, a motel room which would overlook Lake Superior if the dunes weren't in the way, and half the price of downtown Marquette. Dinner (broiled whitefish and cherry ale) at Lake Superior Brewing Company per the plan. Bike ride in between (at last).
---
Actual infamous Great Lakes artifact. See also:

Where the Iroquois once invaded Michigan, here's another lighthouse.
The Soo Locks are overkill for some boats. See also:
The Soo Bridge
Day 3: Thursday 4 September 2008
Lakefront Day
Cocodrie-Louisiana is sending Michigan its weather. In advance of the rain front, the Domination of Eiler goes forth.
Only two targets are planned for today, both at Whitefish Point... but many others have come in view. Rebellion is widespread among these, but that in turn leads to even more Domination.
Muesems of Grand Marais: Rebellious. Old Post Office museum under construction, open 2009. Two other museums open weekends-only after Labor Day.
Lake Superior State Forest: Honored ally. Submitted a scenic drive east from Grand Marais, plus a chance to sit on the beach and carve the new stick. Drive was on dirt roads, of about backwoods Massachusetts quality - but that's fine for the Automobile of Dominance.
Great Lakes Shipwreck Museum, Whitefish Point: Ally. Submitted a historical village including lighthouse (tower off limits), beach, and many artifacts including the actual sunken bell from the Edmund Fitzgerald. But more was expected.

Lodging is available on site, in the Coast Guard's old lifeguard house. But bring a friend to share the room, because it costs $300 USD. They call it "$150 Double Occupancy" to make it sound better.
Food is available on site, but it's snack bar pasties and gift shop fudge. Don't even think about beer, or any kind of food after visitor's hours - unless you bring your own, in which case, why pay $300 a room?
Sound system in museum building frequently plays that famous Gordon Lightfoot song about the Edmund Fitzgerald. Remarked to admissions clerk that song was getting tiresome. She said, "Tell me about it."

Town of Paradise: Rebellious. It is nearest Whitefish Point, and might well be expected to take up its tourist load. It does have a selection of hotels, but just one cheap bar where the best draft beer is Budweiser. Occupation was therefore deemed irrelevant.
Tahquamenon (or whatever) Falls Restaurant and Brewery: Rebellious. Prime target for today, but evaded the Dominator's formidable beer-sense by operating out of a state park and not putting up directional signs! Gee, hope that business plan works out for them - if they're still in business.
Point Iroquois Light Station: Honored ally. Submitted two rooms of exhibits plus a boardwalk, and you can actually climb their lighthouse tower. (History lesson: The Iroquois never lived here, but they did unsuccessfully invade in the 1600s!) Light rain by now, but Domination gear good enough for an outdoor walk.
Bay Mills Casino and Resort, Brimley: Rebellious. No draft beer in hotel bar. Therefore chose not to expose car overnight where frustrated gamblers might break in. Also kept the new Iroquois flag out of sight, in case the Ojibway Nation which operates the casino is vengeful for that past invasion.
Ramada Plaza Hotel Ojibway, Sault Sainte-Marie: Ally. Submitted a room with nice amenities including HDTV, but at cost like unto downtown Marquette. But by then the Domination force had fought road construction and gone without lunch or nap, so met the Ramada's terms and tolerated much haggling for a quiet non-smoking room.
Moriarty's Alley Irish Pub, Sault Ste. Marie: Rebellious ally. This same pub submitted ten years ago, and they gave a good steak dinner tonight, but they also let a whiny infant into the bar side. Aren't there laws against child endangerment or something? But other bars in town were even worse, either smoky or creepy or not serving good draft.
Soo Locks Visitor Center, Sault Ste. Marie: Honored ally. Submitted a rest stop, plus a boat transit. Ten years ago the Dominator was accidentally on hand to watch the Great Lakes' largest freighter (the Paul R. Tregutha, according to the Visitor Center) barely fit through. But the Soo Locks tour boat fits just fine. The lock operator is happy to talk to tourists, even though it's raining. The guy inside the Visitor Center is actually paid to keep it open 9 am - 9 pm!
Captain's Pub and Grill, Sault Ste. Marie: Honored ally. The hotel bar has Killians on tap, and access to the nice desserts from the hotel restaurant. Good enough.
The expeditionary force has drawn its new Frontline along the Superior shore, and linked it back to the Domination of Eiler. But useful targets remain within. They will submit tomorrow.
---
Gaylord-Michigan has so much Swiss pride, it shows on their water tower.
At least when this museum sells rocks, they tell a story.
Day 3: Friday 5 September 2008
South to the North Country
In the ten years since the tip of the Upper Peninsula submitted to the Domination of Eiler, the cities of Sault Sainte-Marie and Saint Ignace may have added a new museum or two. But these are not places that the Domination needs to risk conquering more than once.
Instead, caught up with phone messages and e-mail (no service since Green Bay), then pressed south. Stopped to ensure that nothing had been left unconquered in West Mackinaw City. Needn't have bothered.
City of Gaylord was selected for lunch stop, being home to the next target brewpub. Selected for dinner too. Local historical museum in between, and bike rides and a nap. This is the way Whitefish Point should have worked out.
Big Buck Brewery and Steakhouse has venison sausage and jalapenyo meatloaf, plus eleven flavors of beer to wash it down, including pumpkin ale. In the Domination of Eiler, it is never too early or too late to drink pumpkin ale.
Otsego County Historical Museum. Artifacts and local history. Check. Gaylord is mostly famous for its wooden shoe molds. Bought some cute rocks in the gift shop, 5 cents apiece.
Gaylord is also so proud of its Swiss heritage that it calls half its businesses "Alpine", with architecture to match. The tourist bureau also tracks the elk herds for the convenience of hunters. Otherwise ambiance is much like Marshall-Michigan.
At recommendation of barmaid, barracks at Royal Crest Motel. Not all that cheap, it being Friday night, but said to be cheaper than the chain hotels by the highway. And it has a great hot tub and sauna, well away from the families at the pool.
---
Though the CCC and their museum are both closed, their trees remain. See also:
The CCC Museum
Central Michigan University has two of the world's largest Petoskey stones.
Day 5: Saturday 6 September 2008
Homeward Day
Expeditionary force is now less than three hours from the District of Dominance, Lansing-Michigan. But targets yet remain, possibly worth spending another night.
Higgins Lake State Park has a Civilian Conservation Corps Museum... closed Labor Day through Memorial Day, which the park ranger neglected to mention when selling the $8 day pass. Oh well, got some hiking in.
During hike, a crown wobbled off one of the Dominator's teeth. Tried to glue it back on with portable repair kit, to no avail. Not the best of mornings. But nothing to cancel vacation over, since dentists won't care until Monday anyway.
City of Houghton Lake is capable of providing food and pond-front lodging... with a sort of cheap Rhode Island beachfront ambiance. Having just conquered the real thing at Lake Superior, the Domination moved on.
City of Mount Pleasant has a casino, a university whose team is safely down in Georgia today, and the Mountain Town Station Brewery and Steakhouse. This doesn't show up on brewpub lists because their descendant company the Mount Pleasant Brewing Company grew into its own brewery. Still worth occupying for lunch, though. The Dominator managed to gum down some chicken ravioli, with the help of pints of raspberry wheat beer.
The Central Michigan University has a Museum of Cultural and Natural History which is worth seeing for free. It has big rocks, interesting squid models, and one panel which probably tells the CCC's story as well as the CCC Museum could have.
That's about it. All today's places are survivable and may be worth reoccupation in future. But the Dominator's own bed is about an hour away now, and it's sounding attractive.
---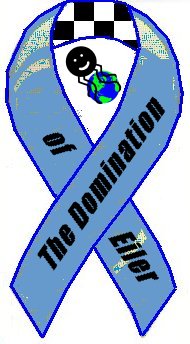 The operation has shown these signs of success:
The Domination will admit to these operational shortcomings, though:
No work done on the Domination's fiction-blog August episode. But was almost caught up with the story line already.
Still the Domination of Eiler forces return triumphant as ever, all praise to the One Maker.
(signed) Dominator S. Eiler, Fist of the One Maker, for the Domination of Eiler.