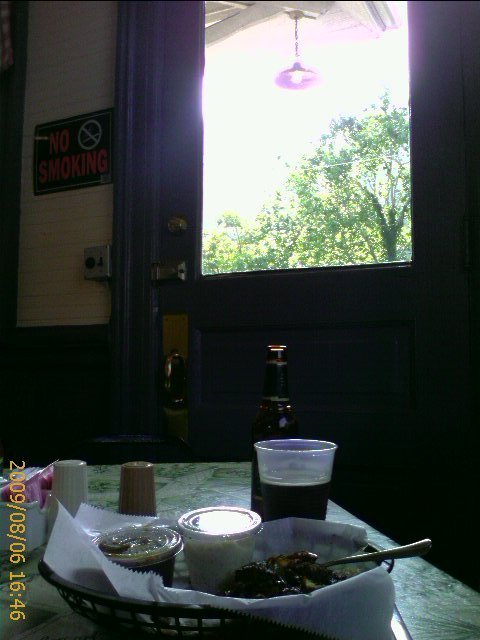 Rustic dining at the Cumberland Gap. See also:

Another Domination day of moderation.
Asheville-North Carolina is known for moderate climate, culture, and beer; according to visitor guides, it has twenty museums and six breweries. It also has traffic and parking issues. So might as well admit, not going to conquer everything of value in one trip, even if taking two more days. A representative sample has therefore been expediently chosen.
The Thomas Wolfe Memorial is the Famous Local Novelist town museum. The state of North Carolina gives tours of his ancestral boarding house for $1, with free parking. Thanks, NC tax dollars!
Had a pint on the way out of town at the Asheville Brewing Company. Free parking on street for two hours, or (as recommended by the helpful staff) just borrow a space from Wachovia Bank.
The North Carolina Homespun Museum commemorates the Biltmore woolen industry that made Vanderbilts their local money. So looked for that museum near the Biltmore Mansion, but that turned out to be entirely the wrong part of town.
While in Biltmore Village, the Domination of Eiler affirmed for the third time its policy of not visiting Vanderbilt family mansions. (Also not in Hyde Park-New York and Nashville-Tennessee.) But did take a picture of the gate house, which is the size of an apartment building.
The Homespun Museum hides up in the hills, in a back lot of the extremely fancy Grove Park Inn, at which ten U.S. Presidents including the current one have stayed. Had lunch and some Highland Brewing Company beer at the inn; that makes two local breweries out of six.
Finally in the fabric museum itself, found that the Mrs. Vanderbilt of Asheville-North Carolina practically created the homespun fabric trade - as a hobby. She used factory connections and child labor to do the "warp" part, and farmed the fabric out to local crafters to do the "woof". Museum is free admission - as is a classic car museum next door!
By this time, the Domination of Eiler decided Asheville had been acceptably pacified. The expeditionary force therefore retreated, out scenic I-40 / I-81 / U.S. 25E toward the Cumberland Gap. The plan was to stop in the first place off the interstate highway that had food, beer, and bed all within walking distance of each other. Driven past marginal habitations by forces it barely comprehends, the Domination found near-ideal lodging in the Cumberland Gap itself!
Near the Cumberland Gap in Harrogate-Tennessee, there is a Lincoln Memorial University. Colonel Sanders helped sponsor it. And it has a Lincoln Museum! Half an hour is sufficient to see it, if you observe Domination of Eiler museum discipline: "Famous citizen display. Check." It should not take much longer than that, even for museum visitors who care.

Abe Lincoln didn't come from Tennessee, but his ancestors did! Good enough for this museum.
Sadly the staff report, Fort Wayne-Indiana closed its own Lincoln Museum. One supposes, that museum's business plan of paying each customer a penny to attend didn't work.
In Tennessee they have a better business plan: $5 admission. This being half an hour before closing time, they let the Dominator in free. He in return put $5 in the donation box.

There is a village of Cumberland Gap-Tennessee. One has to study maps in advance and pay close attention to highway signs to find it. In that village there is now:

A barbecue place: Chew Choos BBQ and Brew. It looks like the region is slowly getting used to the repeal of Prohibition.
A diner: Webb's Country Kitchen. Good for dessert, but get there before 8 pm!
The Olde Mill Inn Bed and Breakfast. Domination-grade room for under $100.
Hiking trails - including to the tri-state point of Tennessee, Kentucky, and Virginia. Dinner and bed are close enough to the tri-state point, to make possible an after-dinner walk there! But since sundown over the hill is about 90 minutes before official sundown, stayed below and found two new sticks to whittle.
An all-night bicycle museum! Donations only.
This day has just become the prizewinner of the whole vacation. The Consort would love how it ended.