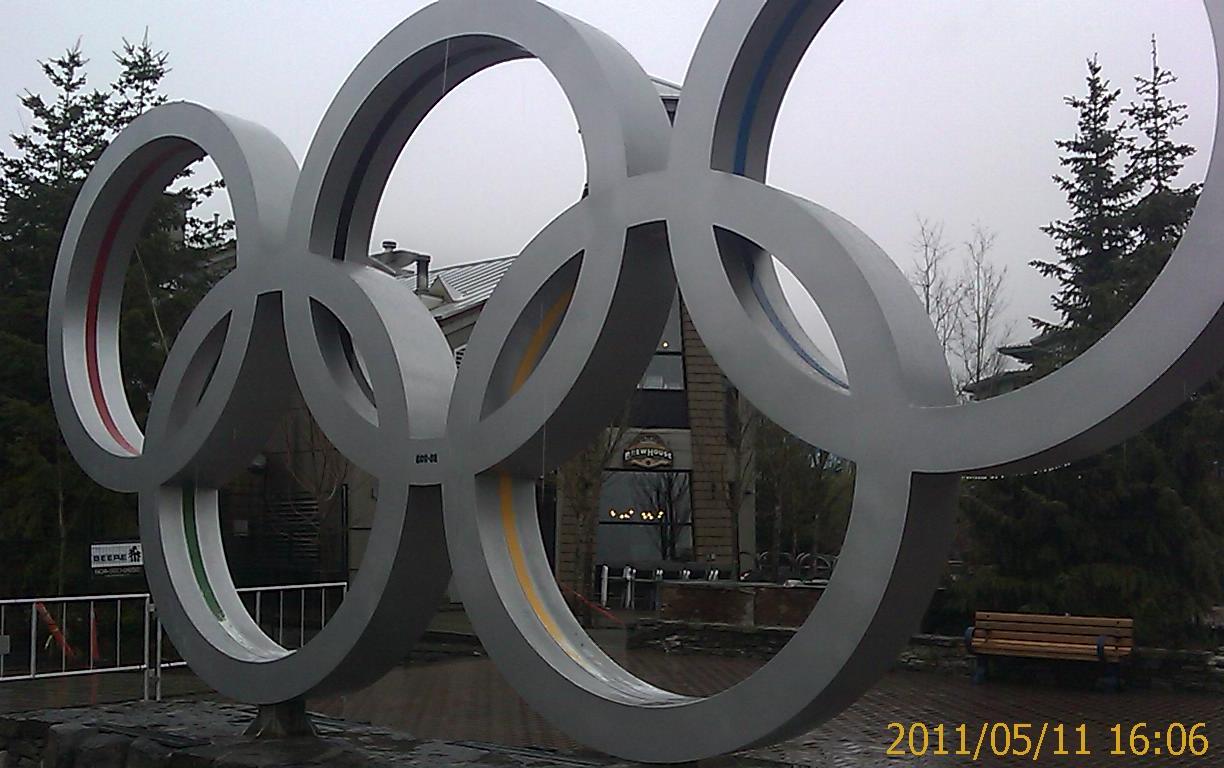 Olympic brewery in Whistler-BC. See also:

Subdued the Kamloops Museum before leaving town. Town history, check.
Today is a travel day. The next major target is Whistler-BC, home of an Olympic park city to rival anything in Utah. Though it's four hours' drive from Kamloops, it's been expediently chosen because there's practically nothing in between.
Getting from Kamloops to Whistler requires three major right-angle turns from reality.
The first takes you off the newly built express highway to Vancouver, onto the old Trans-Canada Highway which is considered the scenic Fraser Gold Rush route.
The second takes you off that highway onto the road which goes north, ultimately to Alaska. But that's a popular road in British Columbia. The province is improving it.
The third takes you onto a road which leads back to Vancouver, over the mountains the most convoluted way possible. At the sea end they call it the Sea to Sky Highway. At the sky end they call it Route 99, and only paid drivers or crazy people drive it, at least this time of year.
Near the sky end of the Sea to Sky Highway, there actually are hotels and tourism. One can take a Victorian ranch tour, and find how the successful immigrants sold food to the get-rich-quick schemers... which is inspiring, but the Domination of Eiler already learned that lesson yesterday. So it just stocked up on tasteful earrings made out of local jade and hematite at a nearby gift shop.
So, over the mountains again.
Pulled over at a hydro-dam recreation area on the way, and conquered a new hiking stick of sturdy hickory. British Columbia, check.
Not a lot of traffic. And at least on this mountain road, even the tanker trucks pull over to let people pass when they can. The Domination took advantage three times and yielded once.
But the roads themselves were scary. Temperatures got down to 37F degrees. One lake was still frozen. And there was unidentified white stuff on the roads. Maybe those crafty Canadians build their roads out of shiny quartz just to scare people, but it seemed safest to assume it was ice.
Still, after 4.5 hours of hard driving, the expedition came into Whistler-BC. The town has a major attitude, because people are still skiing here even in May.
Other British Columbia towns may have only paid parking, but their Visitor Centres will give you a coupon for free parking. In Whistler, you have to pay to park even at the Visitor Centre.
At other British Columbia towns, the Visitor Centre will call for hotel rooms for you. In Whistler, they just give you a phone which links to a reception desk, which insists that you recite your credit card number over the phone while people are listening. Um, isn't that the sign of a scam? The Dominator responded by whispering and sticking his head down a wastebasket.
In every town the Domination cares to occupy, parking is either free or takes a token fee. In Whistler, the tourist bureau claims every hotel charges $22 extra for the privilege of parking your car there.
(To Whistler's credit, there's an unverified rumor that hybrid cars park free. That is good for the Domination of Eiler. 30.4 mpg average for the trip. On some of those downhill stretches, the vehicle was not only on electric motor, the motor was charging!)
In Whistler, won through to an "instant deal" hotel: Crystal Lodge. It was on the other end of town from the local brewery, but that just meant ten minutes' walk. It'll be spa time later, then early bed time.
Bypassed many, many cute shops on the way to dinner. When the revolution comes and the Domination of Eiler assumes formal power, it will give Whistler over to the nearby depressed First Nations - provided they keep the ski slopes running for the amusement of the Domination's citizenry, and don't just turn it into another casino town. If they loot it instead, set up roadside vending stands for the contents, and turn the buildings into animal pens, sweat lodges, and authentic First Nations historic guest lodging, that would be awesome.
Also bypassed dessert back in the hotel. Its Wi-Fi has a paranoid hotel web page login which doesn't play nicely with the Domination's preferred operating system.
The technical analysis went round and round... "But our Wi-Fi works for everyone else" / "But my computer works at even the humblest bed and breakfasts". The tech support is some guy in Vancouver, and was unavailable for comment.
This hotel found no solution. It immediately lost the right to offer dessert. So did the nearest restaurant, for similar reasons. Finally settled on another BC-local chain restaurant, which uses standard Wi-Fi security. What a concept.
Merchants of the Domination of Eiler: It is your job to attract customers, not customers' to adapt themselves to you.