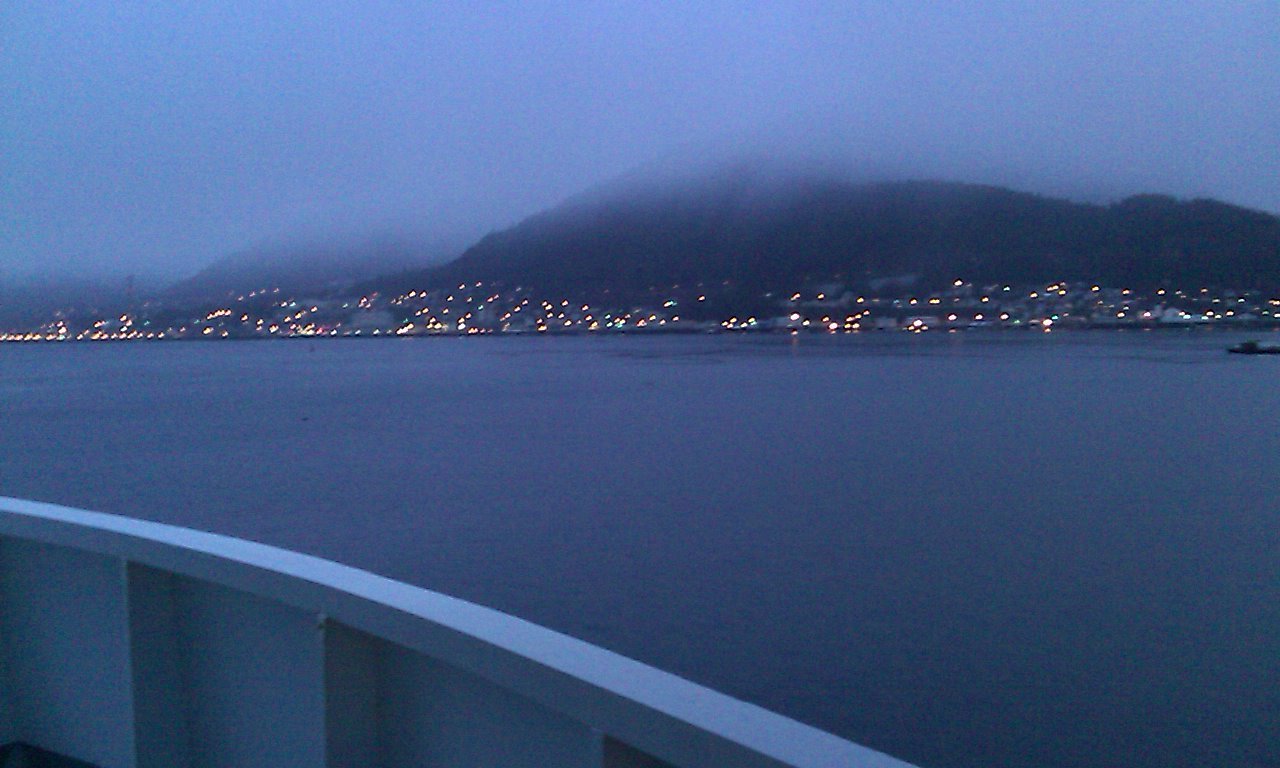 Ketchikan from the water, at what passes for sunrise. See also:

The day started way too early: more rough sea at 3 am (all the natives knew to expect that), and ferry landing scheduled for 7 am. But since Saturday was a day of rest, the Domination was ready.
Two miles from ferry landing to downtown, through a mostly working-class waterfront, with rain/snow, on bicycle, carrying full luggage because the Ketchikan ferry terminal has no lockers, and uphill at the end. That was about the longest two miles in Domination history.
Lodgings previously arranged at Cape Fox Lodge, fanciest hotel in town. Spent seven hours (so far) waiting for the Domination-grade room, because weekend guests clung on to their waterfront views even after checkout time. The Domination shall remember this when its own checkout time comes. Still, that gave time for breakfast, church, lobby cyber-integration with hotel systems, and Sunday dinner.
Reindeer sausage omelet for breakfast in hotel restaurant. Venue is favored by at least one howler monkey clan, at least on Sunday. Future breakfasts might come from the diner down hill which serves reindeer steaks.
Merchants and museums of Ketchikan are shut down for Sunday morning. Taverns are an option, because in this time zone NFL football starts at 9 am. (At 3 pm one may hear the phrase "For those of you expecting to see 60 Minutes...") Still, taverns were bypassed in favor of a walking patrol.
The Domination of Eiler welcomes the Episcopal Church of St. John of Ketchikan-Alaska, and vice versa. Pioneers founded that church in 1903, so it counts as a historical attraction. And being welcomed to town is an awesome way to start a vacation patrol. Being welcomed into Alaska is almost like being welcomed into Heaven. But still, skipping the public tuna casserole dinner at 3 pm.
The Domination was not sure its computer systems would play nicely with Alaskan networks. The Conquering Cell Phone doesn't much like the phone network here, but the "Thunder Child" traveling computer eventually worked with the hotel Wi-Fi. So, full online capability is established, including photo transfer because Thunder Child and the latest model Conquering Cell Phone work together as never before. Didn't comment on various stuff to the usual extent, but still caught up with important public opinion on whether writing stories is fun and whether college football should be banned because Joe Paterno might be a pederast-enabler. (To future generations: Don't even ask, at least not about Paterno. It's not worth it.)
Sunday dinner at Annabelle's Keg and Chowder House, where paradoxically steak salad is much cheaper than halibut salad. It's kind of like how beef is cheap in India.
The weather is welcoming the Domination of Eiler to Alaska in its own way. It shifts among fog, rain, snow, and partly cloudy every fifteen to thirty minutes. U.S. government has NEXRAD weather radar through most of southern Alaska, but they don't even try to keep up with Ketchikan.
Scenery is also welcoming. The town and its waterways are surrounded by mountains, in a way not even Montana can claim. The hotel is about eighty feet above sea level, and the snow level is about eighty feet above that... So far, windows have been the best way to view this. Scenery patrol tomorrow. Hotel patrol tonight. Alaska cable TV, prepare to submit!